By Guest Blogger Virginia Champoux-Sokoloff
When I was young, no one told me what to expect out of life. They'd just say life is filled with ups and downs, so you gotta learn to roll with the punches. Good advice? Maybe. But what if all you needed to do was invest in what you have, trust your gut, go after what you want, and have fun doing it?
I graduated with a degree in Communications. I then climbed the professional ladder and landed a high pressure, demanding job in Public Relations for the International Air Transport Association. In the midst of it, I met an amazing man and got married.
From the very moment my husband Jay and I decided to share our lives together, we were faced with serious decisions. Jay suffers from cystic fibrosis, so a regular 9-5 job would be difficult since he would likely spend lots of time in the hospital. It then became our priority to shape our life in a certain way, so that we could deal with unexpected hospitalizations.
Building a family was also something we both wanted for ourselves. And being a carrier of the gene myself, this meant that we needed to turn to adoption to prevent our child from living with the disease. We did, twice, and I am so grateful for it.
I'd always been very passionate about traveling, a perk of my PR job. I remember going on business trips, and scurrying around cities looking for those little shops that would sell fun, funky and unique products I could bring back as souvenirs.
One morning it hit me. What if I opened up that little shop I was always looking for when traveling?! I knew there'd be major upsides in terms of making my own schedule – a real concern given my husband's illness. Having our own business also meant that either Jay or I could be home with the children at all times, a choice that proved to be very important as our young daughters adapted to a new world.
The result was Mortimer Snodgrass, then a 500 sq ft gift store.
As with any new business, the process of starting up was a challenge. People would tell me we were crazy, especially with little to no knowledge of how to run a retail store. The business grew and we had to learn to rely on our staff more and more when Jay's life challenges threw us curveballs.
Through it all, optimism, our passion and our complementary skillsets fueled us. And by surrounding ourselves with an excellent manager and good staff, we have been able to keep our family as the priority.
Now, ten years later, I can certainly say this was amongst the best decisions of my life!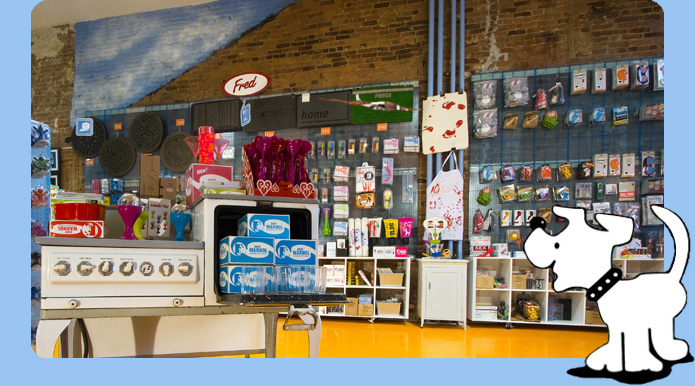 In the process as a mompreneur, I have learned a few lessons about life and business. Here is what I know:
1) Bring YOU into your biz
Our store is really an extension of us. We always say that everything we sell is something we would either buy for ourselves, or for our friends. Your identity influences the business you create. Embrace this!
2) Trust your instincts
Ten years in, we have never done research, and have rarely sought and paid for professional opinions. Every business decision we have made, from renting space to choosing products has been pure instinct. We trust our gut and it has worked almost every time.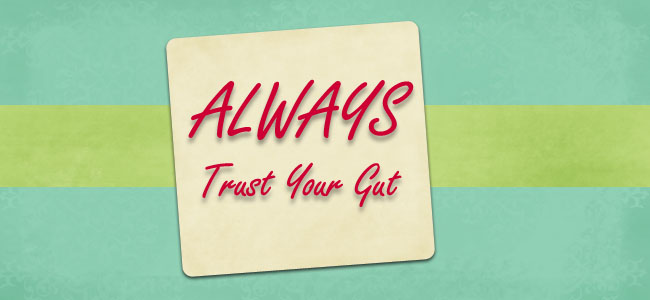 3) Love it or leave it
You've heard this before, but the fact is, whatever you take on won't be successful unless you absolutely love what you do. We play to our strengths and split the work accordingly. This allows us to go to work and LOVE what we do. It's essential!
4) The people make the environment
Dealing with rude suppliers, impolite staff and angry types negatively affects you and your business. The beauty is you get to choose whom you conduct business with. If you work well with someone, it's worth nurturing those relationships. In the long run, everyone will be better off.
5) Treating staff right pays dividends
We've all had horrible bosses. Don't be one. We've found that the more we open up to our staff, the more likely they are to go above and beyond for us. They embrace the spirit of our store, stick around longer and put more energy in their work.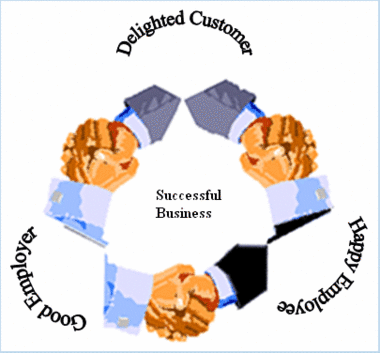 So say thanks. When you catch staff doing something right, praise them!
6) Failing is fine (and inevitable)
Mistakes are one of the best forms of education out there. Don't beat yourself up when they occur. We've ordered the wrong products, rented the wrong spaces, but I cannot imagine where we'd be if we had not committed these errors, and learned from them.
7) You cannot please everyone
Regardless of what you do, how good your service is, the effort you put into something, sometimes the result is still a disgruntled customer. Don't waste time worrying about this. You cannot please everyone. Trying to means you'll end up pleasing no one.
8) Entrepreneurship's schedule is a blessing and a curse
Starting a new business? All the power to you! Just understand the schedule is both amazing (i.e. – you make it) and awful (i.e. – the buck stops with you and only you can handle certain situations that can arise). It does not come with an "off" switch. So, while we've been able to eat dinner together as a family frequently, there have been times where we have had to drop everything and deal with the business.
9) Hard decisions are hard, but need to be made quickly
We've all had to fire someone, or drop a long-term supplier whose products aren't selling anymore. Letting these types of matter percolate too long does nothing to solve the problem. Get on with the tough stuff.
10) There are no rules.
Ten years later we still have no business plan. We get up everyday, we work hard, we have fun, and we laugh with our staff, and with our customers. Sometimes, we cry a little too. But we love it, that is all that matters!
Because after all, what is life without loving what you do, and who you're doing it with?
~Virginia
—
 About Virginia Champoux-Sokoloff…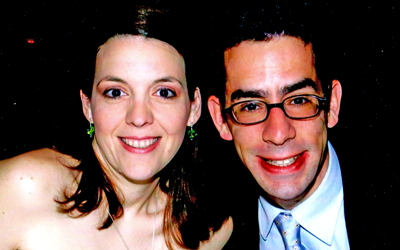 Virginia Champoux-Sokoloff is the co-owner (with her husband Jay Sokoloff) of Mortimer Snodgrass, a funky and unique gift store in Montreal, Canada that celebrated it's 10th anniversary in October 2011. Now located in a central mega-store in Old Montreal and online, Mortimer Snodgrass continues to provide fun, funky and unique gifts to tourists, lifelong Montrealers, visiting celebrities (Halle Berry is a fan of the store) and customers as far away as Chile. Though Mortimer, the now 11-year-old dog that inspired the shop's name, has retired from the daily grind of greeting customers, Virginia's two young daughters love helping out around the shop.
—
Tell us, if you're a mompreneur, what have you learned along the way about life and business? Share your tips here…
xoxEDxox