So, I figured today I'd lighten the mood around here. All the Blog posts I have been reading and writing lately have been a little heavy. But that's just what life is… a series of movements, one happening at a time. With all of life's challenges, or with your children graduating and trying to guide them in the right direction, or going off to camp, or trying to get through tough economic times, or getting unstuck in your life, or just trying to juggle it all, I am reserving today's post to laugh and be silly. Cuz I think that many of us often take ourselves WAY too seriously, and well, today you won't! I am guilty of it, we're all guilty of it. Today I want to uncage the silliness in all of us. I'm declaring today, GET SILLY DAY!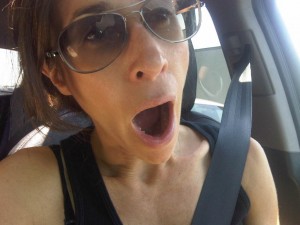 So in a world that rates people on financial worth, social status, job description, your degree of expertise, today you're gonna find your funny-bone. In a world where meats and sunscreens are being recalled for killing us, today you're gonna laugh. In a world where you might feel like you're sitting in a bowl of cherry pits, today you're gonna take a mental break. And finally, in a world where you blow things out of proportion and agonize over the small stuff, today, screw that shit!
Here's a list of 5 reasons why you shouldn't take yourself so seriously:
Being the "serious type" requires a lot of work. Overwork can lead to stress and anxiety. Stress and anxiety can lead to premature wrinkling. Okay? Enough said.
You'll start losing friends. People don't wanna hang around the eternal pessimist. No one likes the "kvetch!"
Cuz there will

always be someone richer, smarter and thinner

. You'll never win that battle. So love what you got and enjoy the riches you have!
Cuz laughing a lot has been proven to be the equivalent of a daily vitamin. Those who laugh a lot experience more energy and vitality. Fact. Laughter has been known to also strengthen your heart!
Cuz how you feel RIGHT NOW is always fleeting. Nothing lasts forever, neither good nor bad!
So, instead of discussing the economy, or the extreme heat in Montreal as we are, or the friend who's talking behind your back, today, just TODAY, put it on the backburner. We can't constantly live in a state of seriousness. It's just not good for our health.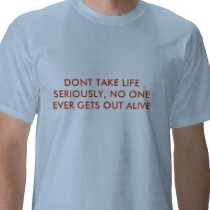 So now that you know you shouldn't take life so seriously… Sit back and enjoy a good laugh.
http://www.youtube.com/watch?v=piOs9vaQal0
http://www.youtube.com/watch?v=j_pFTAY7MF8&feature=related
http://www.youtube.com/watch?v=LBC7pilGoPc
http://www.youtube.com/watch?v=w5yW32xxK1Y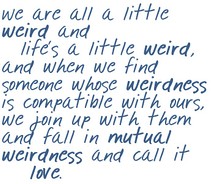 So go ahead and embrace your silly, funny, and not-so-serious side. Get off the fence and get jiggy with it!
xoxEDxox
And tell us, what thoughts make you LOL and feel silly? Upload your funny links! We wanna laugh!