If there are  two people in this world I would love to sit down with over a great cup of coffee, or a big bowl of pasta and a glass of Cabernet, I am sure you could guess who it would be. Hello Bucket List!!! — Oprah and Ellen of course. No big surprise there. But there has been a story I have been chasing for over a  year. Why? Because she fascinates me. She always fascinated me. Her life story. Her father–  singer of one of my favorite music bands OF ALL TIME. She– a childhood star, who seemed to have it all, and then somehow fell off the right path along the way.
This is my candid interview with Mackenzie Phillips – actress, musician, mother, bestselling author, recovering addict, incest survivor, animal lover, and all around, kind human being. We could have talked for hours– two honest women, just trying to do the best we can in this world.
Without further ado, my interview with Mackenzie Phillips.
What was your childhood like, the daughter of THE Papa, Papa John Phillips, from the legendary music group, The Mamas and The Papas. Hanging out with the Rolling Stones, amongst others, I cannot imagine, was a  "normal" upbringing, in the sense that the rest of us imagine as normal.
When I was really little, I lived with my mom in Virginia, and my dad was this big rock star. He wasn't around a lot, but it was exciting. We'd watch him on The Ed Sullivan Show and all these programs, and it was really exciting to have this famous dad.  But it was also kinda weird, because he wasn't around. And I REALLY wanted to be around him. My brother and I really missed him.
My dad pretty much lived his life on the road… with new wife in California (Michelle Phillips). My parents split before I was born, so I didn't spend a lot of time with him when I was little, despite this yearning to.
My mom however, was, and continues to be the dearest person I know. We've always been particularly close. Today she is in assisted living, lives close by, we laugh and we joke, and we eat dinner with all the old ladies. It's kinda fun.
How did you get into acting, and notably, that famous role as Julie Cooper on One Day At A Time? I still remember to this day, trying to fall asleep, and my mom's hysterical laughter in the next room.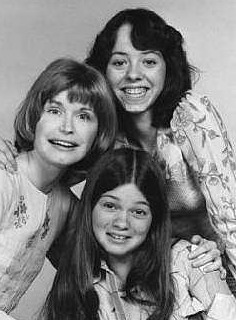 I was in a band when I was 12 years old. I was in a hippy school, and many of the parents were all entertainment people. We put together a rock band, and every Monday night was 'open mike night' at The Troubadour, a famous club in Los Angeles. The guy who was casting American Graffit was at the show one night. He then came up to me after and said, "Would you be interested in being in a movie?"  I was all excited, and in this valley-girl voice answered, "Oh My Gosh, that would be soooo cool!!!" I auditioned with a bunch of girls and I got the job!
American Graffiti ended up becoming a defining movie of the 70's – it's AFI's Top 100 Movies of All Time. It was George Lucas' first theatrical release. So, American Graffiti became this huge hit, and I didn't have to audition for One Day At A Time. I was fifteen, and didn't think that the show could run for so many years -I did it from age fifteen to twenty four. It was THE MOST AMAZING experience. We had so much fun on that set. We were all like a family.
Describe what it was like to star in one of the biggest TV hits, earning back then, $50,000 an episode at such a young age? Who was guiding you and keeping you grounded during those formative and impressionable years?
Yes, that is the truth. And as I just said, we were a real family on the set of One Day At A Time. Monday to Friday we'd just hang out and laugh, and play and work. It was a much less cynical time– it was the 70's. I was so full of possibility, and we had a blast.
As far who was guiding me? My aunt Rosie, my father's sister was my guardian and I lived with her. She was on the set with me every day. Rosie tried to guide me. But I was footloose and fancy free. Living the life, and running around town, starting from a very young age. My adult co-stars tried to give me guidance, but I was gonna do, what I was gonna do, when I wanted to do it. No one was able to stop me. And I wish now that I had been more receptive to their advice many years ago. But that's just the way it was.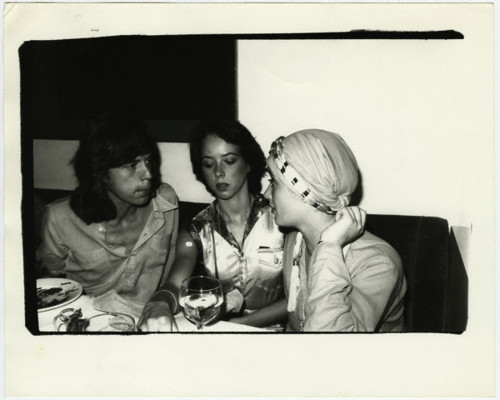 We have read about drug abuse, sexual abuse and a traumatic past. Can you clarify fact from fiction for us, and how you finally decided it was time to "get off the fence" and turn your life around? Was there a rock bottom moment for you, that became your "AHA" moment to get clean.
My son was born in February of 1987. I was traveling with my dad at the time in a new version of The Mamas and The Papas. We had been on the road for many years, touring with the band all over the world– 180, often 200 days a year on the road. My boyfriend was in the band at the time (he's my son's father).  He was a rock n' roll guitar player, a very talented guy. Then he left the band. Then my son Shane was born, and I was still abusing drugs.
In 1992, I hit a wall, hit rock bottom and went into rehab. I stayed sober for ten years. I had the most wonderful time driving my son to school, working as an actress. I started doing a Disney series, and we lived in Vancouver for three years. It was a blast. Canada became a second home to me. And then the show ended, and I bought a great house in LA, which I'm still living in today. I call it the house that Mickey Mouse built, because it basically came about because of the Disney Channel. They were very good sober years.
That leads us to, how did you come to write your riveting memoir, High on Arrival? I watched you appear on The Oprah Show in 2009 and tell her how you first tried cocaine with your father at 11 years old, and that you carried on a sexual relationship with him for ten years. I cannot imagine what either of that must have been like. Can you touch on that.
I had been approached in 1980 to write my memoir, but I wasn't ready to tell the whole story. Then, in 2008, I was asked again. It was time.
When my father became terminally ill,  I experienced a whole array of emotions. But I was mostly angry at him. I was able to talk to my dad before he died and was in the hospital every day by his bedside. He was not conscious at the time, but I could tell from his eyes that he could hear what I was saying. I held his hand as he died. And when he passed away, I thought, "Crap. Now what?" He had never told me why. Why did you do this to me, Dad? How could you have?
I used the word "consensual" in my book, in reference to the ten year sexual relationship with my father, because I was groomed to believe it was consensual. Over time, after the book came out, I got a lot of feedback. And I learned after, that there is no such thing as consensual incest.  There is no such thing as consensual sex between a father and a daughter. There's not. And I'll leave it at that.
What words of advice would you give to someone struggling with addiction and trauma? What does it take to pull yourself out from the darkness and begin to walk towards the light.
I'm gonna answer this one in a bit of a roundabout way. The incidence of addiction in survivors of sexual abuse is so high, that it's shocking. So it's hard to talk about one without the other. What I would say to someone struggling with trauma or addiction, (I'm not a professional, I wish I was) is that, there is another way to live. And you don't have to keep beating yourself up for something that wasn't your fault.
I had to finally own my truth, and get off the fence, speak my truth, and walk free. It took me fifty years to get to that point. I'm going to be 52 this year. And I feel like I'm finally there. People would always say, "What's wrong with her? Why does she keep crashing and burning? Why does she keep hurting herself?" I was living the effects of my past in my present, and I couldn't separate the two until I got help– until I sat down, and told my story, and got it off my chest. And just because you don't have a national platform with which to tell your story, doesn't mean that story shouldn't be told to someone.
There are so many people currently living with an abusive past, as I have, that feel that they have no voice. And who live in silence and shame. Tell somebody. Get help. Just because you can't do it on Oprah, doesn't mean it can't be done. It's time to bring this issue into the light. Just look at the past week. Cheryl Burke has just announced she is a survivor of sexual abuse. That male politician as well. And even those five Browns children abused in an incestuous relationship with their father. When I watched Tyler Perry on Oprah, I sat on my couch and I wept. People are starting to come forward and say, "Me too," holding up their hands.
For survivors of incest to tell their story is a very difficult thing to do, because of the inevitable backlash from family members who are often in denial. Who will say, "Oh she's a liar," or "Oh she's crazy," or on my case, "Oh she's a drug addict, and was high all those years, and don't believe anything she says." I have lost my siblings and no longer have contact with them. I would love to speak to them, but they don't speak to me. I miss them. But it's a small price to pay, to give a voice to thousands of people who don't have one, to help other people.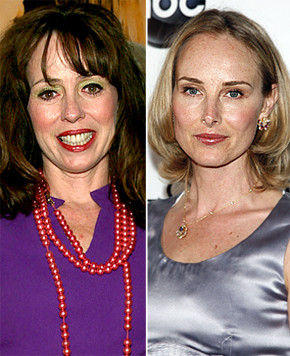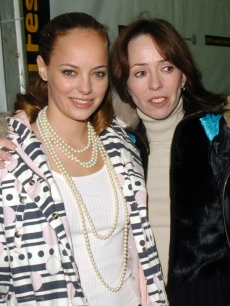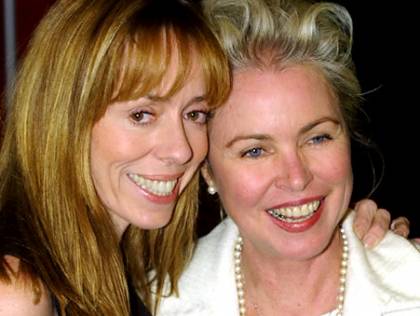 What has being a mother to your only son taught you?
I have the most wonderful relationship with my 24 year old son, Shane. He lives at home. Last night at home, we had this big party at my house, with my son, his friends, and a bunch of guitars, amps, drums and music. People singing. I remember the first time I held him in my arms, and I looked at him, my first thought of course was, "He's beautiful and he's here," but then I went, "Oh, I owe my mother a big apology. I get it now. I get why she was always– 'where are you, what are you doing, who are you with?'" And I called my mom and actually apologized, and told her that I never understood the depth of the connection between a mother and a child, until I held my own child.
Looking into my son's eyes for the first time, was one of the most defining moments of my life. And what he taught me was; if you come from a place of love, you can never go wrong.
What do you see for Mackenzie Philips when you look to the future? What is the vision, the goal, the dream?
Gosh, there are so many different things I want to do.  I really want to be of service to the addiction community, the community of recovering addicts, and sexual abuse survivors. And if I get to do that through acting, or being an advocate, or both, that is very fulfilling to me. It's important to me to be a part of a community in which I have a real stake in. I'm working on a few things right now, which I cannot share, but I'm hoping I'll be able to make an announcement soon.
I'm a happy grateful person, just with a really screwed up past. That's all. When people see me on the street, and recognize me, they come up to me and say, "Oh, you poor thing." And I'm appreciative, but I think, "Don't feel sorry for me. I have lived a life of amazing abundance and incredible opportunity, and a lot of love. Don't feel sorry for me, because I have triumphed."
What are the top 5 things on your Bucket List, since I like to inspire my readers to dream, write it down, and then move to action.
I can only think of one. There's only one: to become a Grandma. 🙂
——————————–
BIOGRAPHY:
Mackenzie Phillips was born in Alexandria, Virginia on November 10, 1959. She is a mother, actress, musician and writer of the bestselling memoir "High on Arrival."
In her bestselling memoir, High on Arrival, Mackenzie's astounding, outrageous, and often tender life story unfolds, and she shares her lifelong battle with personal demons and near-fatal addictions. She overcomes seemingly impossible obstacles again and again and journeys toward redemption and peace. By exposing the shadows and secrets of the past to the light of day, the star who turned up High on Arrival has finally come back down to earth — to stay. With her honesty and candor, she has become a brave voice for victims of sexual abuse and for those recovering from addiction and substance abuse, as well as an advocate for the humane and ethical treatment of animals and the adoption of rescue pets.
Mackenzie's true life story and the outstanding success of her book High on Arrival has led to guest appearances on The Oprah Winfrey Show, Larry King Live, Good Morning America, The View, The Joy Behar Show and many other television shows. High on Arrival premiered in the top 3 of the New York Times Bestseller list and is a national bestseller.
If you have a comment for Mackenzie Phillips, please leave it here. She'll be reading.
xoxEDxox