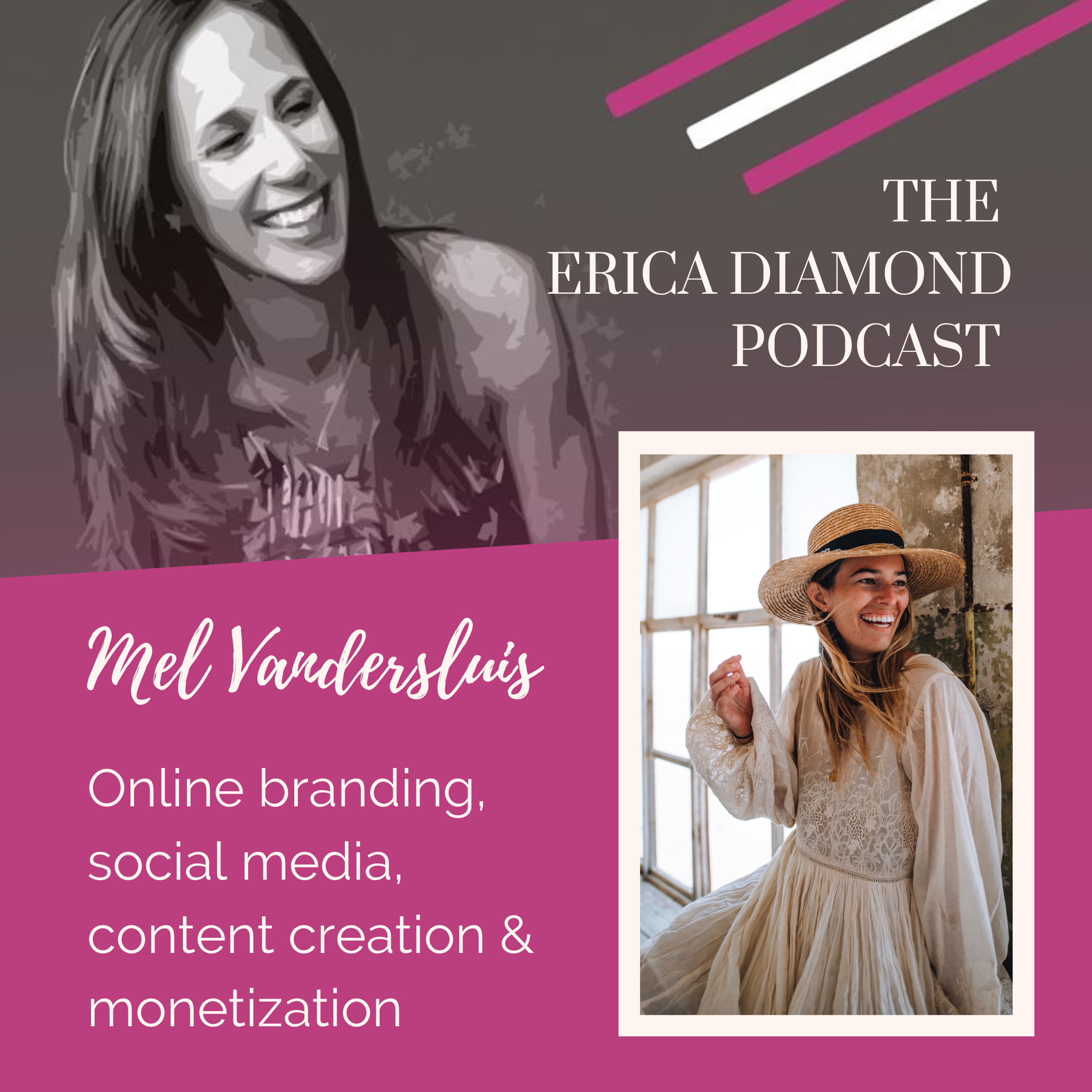 Episode Summary
Welcome back to the Erica Diamond Podcast. While creating Busy to Bliss, my first online course for busy women to reclaim their time, energy & well-being, I met Mel Vandesluis. We hit it off instantly and I knew I wanted to bring her onto the show to teach us all about upping our branding game, our social media game and our online businesses.
For those that know me, know that entrepreneurship and marketing are my first loves and passions, so I'm excited to have Mel on the show!
Many of my female readers are mompreneurs, entrepreneurs and business owners took their businesses online when COVID arrived last March. We had to learn how to sell our brands in a very crowded space and stand out in new ways order to stay relevant.
On this episode, Mel teaches us how to curate beautiful Instagram feeds, how to grow our following, and then how to monetize our following converting those eyeballs to dollars and those followers into customers.
In This Episode
How did you get started as a content creator
What do you love most about your job
For anyone looking to share their brand or product or service with the world, what are your 3 biggest tips to getting started?
Let's talk instagram a little. What exactly should we be posting and how frequently should someone be posting.
Let's talk hashtags. What's the deal there?
And once we're on Instagram, do we have to dabble in reels, stories, IGTV? It's a lot. What's a must do, what's a nice to do?
Should you be on all platforms?
The photos in your feed are gorgeous. What are your three biggest tips for taking great photos

 on our smartphones 

Best tips for editing our photos so they look as great as yours, and what apps do we need on our phones?
If you 're looking to monetize your instagram feed, where do you begin? Give us the sparks notes version!
How do you manage being online for work and unplugging. I imagine it's a delicate dance. mental health piece
What's next for Mel?
About Mel Vandersluis
Mel Vandersluis is a content creator and professional travel photographer. She's worked with large companies like American Express, Aeroplan, Fairmont Hotels as well as tourism boards all over the world, and you need only to visit her on Instagram to see her talent, and feel her calming vibes.
Links
Learn More about Your Host
Teaching women how to prioritize self-care, Erica Diamond is a leading Expert in Lifestyle, Wellness and Empowerment. A Certified Life Coach and Certified Yoga & Meditation Teacher, Erica is the Founder and Editor-In-Chief of the Award-Winning Lifestyle Platform EricaDiamond.com® (previously WomenOnTheFence.com®),Lifestyle and Parenting Correspondent on Global TV, Host of The Erica Diamond Podcast, Keynote Speaker, Course Creator & Teacher of Busy To Bliss, and Author of the women's entrepreneurial book, 99 Things Women Wish They Knew Before Starting Their Own Business.
Erica Diamond has been named to the coveted list of The Top 20 Women in Canada as well as FORBES Magazine's Top 100 Sites for Women. Erica Diamond was the Spokesperson for National Entrepreneurship Day and is a Huffington Post contributor.
To learn more about Erica Diamond, visit her website EricaDiamond.com
Don't forget to SIGN UP for Erica's newsletter and tips:
https://ericadiamond.mykajabi.com/subscribe
If you liked this, then listen to the podcast episode for even more. And don't forget to subscribe to the show!