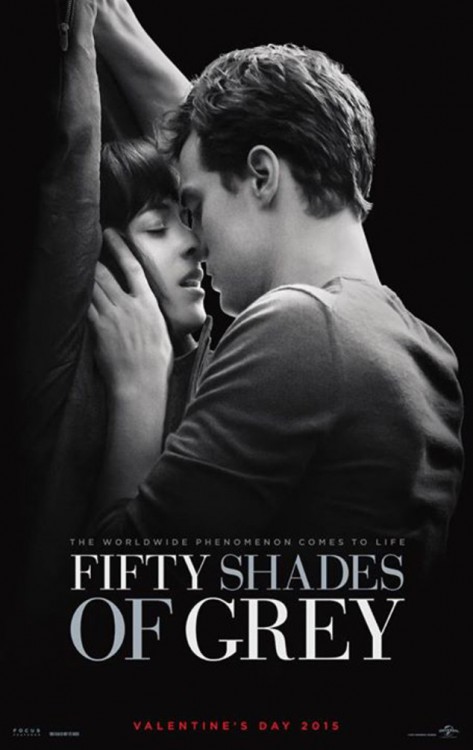 I saw it.
Last night.
REQUEST: Please consider today's post the equivalent of a romance novel review. Let's not make into anything more than that today, shall we? 
But first, let's recap a blog post I wrote on March 30th, 2012:
Ladies, this book is hot. REALLY hot. And I'm not embarrassed to say that I put down an incredible memoir to be taken away by Fifty Shades of Grey. Hell, I don't even read fiction, but I had to see what all the hype was about. Well, I had NO idea what I was in for. I am halfway through, and I'm HOOKED. Smitten. I find myself sneaking moments to read whenever I can– hockey practice, carpool lineup. The buzz is everywhere. Conversation flowing amongst all the yummy mummies I meet. Women telling me their whole bodies "tingle" when they read this book. Or that they just wanna go home and f— their husbands. We discussed it at my girl's dinner this week and we talked about it while I served hot lunch at school yesterday. But I will tell you, I have rediscovered my husband again because of this book. I kid you not. It has done wonders to our marriage. Let's just say, my husband has never been so thrilled to see me reading.

The interesting part is, most of the women reading about the sadism, masochism, and domination in this book are not sexual deviants at all. These women are lawyers, doctors, accountants, soccer moms, bright women. NORMAL women. That is what blows me away. Smart and well educated women are coming out and saying things like this is the best book they have ever read (hard to believe I know, but true)! Parts of the book do irk me (Anastasia's extreme submissiveness and Christian's controlling ways), but it hasn't stopped me from reading yet.

Oh yah, and it's a trilogy, by the way (the gift that keeps on giving)."
So, what did I think of the movie? And I went with my hubby by the way, who had one line to say, "The acting was terrible!"
Really, buddy? You didn't seem to mind those sex scenes!
But I digress…
My recap in a nutshell:
Sex scenes were erotic but could have been so much more. They did leave quite a bit to the imagination, but I was hoping for MORE. Call me a smuthound, but I wasn't shocked.
Movie really wasn't very good, but I could have sat and watched another two hours. Easily.
I did feel like I was watching a skit out of Saturday Night Live at times.
Jamie Dornan is the most gorgeous man I've ever seen. In my life. Like ever. Like really ever.
I thought Dakota Johnson was adorable in the movie. Well played.
I think some women, even powerful and smart women, like the concept of being submissive or dominated in some aspects of their multi-faceted lives – Christian Grey represents the man who comes in, takes over, and handles things. Some women find that a turn-on.
I'll be at the next movie. And then the next movie after that.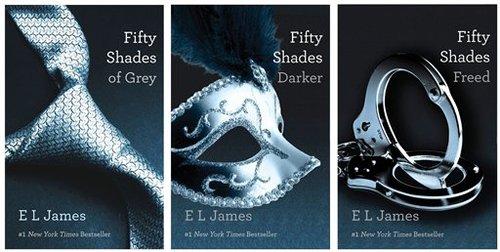 During the movie, when Christian takes Ana to his "playroom" for the first time, my husband whispered in my ear that he'll also take me to our "playroom" in the basement – not of sex toys, but our playroom of mini sticks and Xbox One. So erotic! 😉
Alright, let's get a LITTLE smart now. My goal is to throw a few ideas your way and get your perspective. I read on the Internet: "It's taboo for women to admit that they watch pornography, but for some reason it's O.K. to admit that they read Fifty Shades." Why do you think that is? What does the popularity of Fifty Shades say about the modern woman today? Could this be the beginning of a new revolution, acknowledging the female as a sexual being, possibly just as sexually charged as her male counterpart? Could this be the turning point in a "new normal" for women? I'd really love to know your thoughts.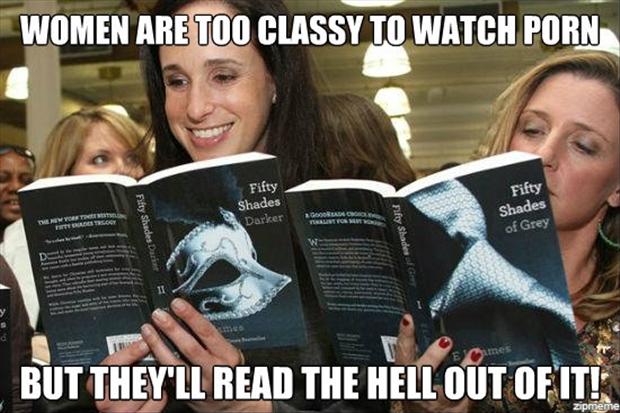 Additionally, if you saw the movie, or are planning to celebrate Valentine's Day with Christian Grey, I wanna know too.
And lastly, I leave you with Queen Ellen. She's the bomb.
Happy Valentine's Day weekend ladies. Happy sexing! 😉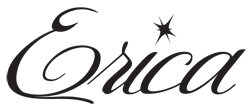 Disclaimer: If you're going to read this blog post on the Fifty Shades movie review, I caution you to also read this excellent post:  http://www.scarymommy.com/a-letter-to-my-children-about-fifty-shades-of-grey
For the sake of our daughters- we MUST have the discussion about boundaries, limits, respect, abuse, stalking, saying no, and control. I was just a housewife watching from my above P.O.V.
And we must also teach our sons the same lessons about respecting all these limits and not violating them.
—
UPDATE:
February 18th Global TV segment of Fifty Shades of Controvery