Good Morning. Happy Friday! Sorry I haven't checked in since last week. We just returned from the most incredible, magical vacation in Disney World, Orlando. It was something that we booked pretty much last minute – the tickets were so cheap, and so we impulsively said, "Let's do it!" Considering my husband and I are hardly impulsive spenders, this came as a wonderful surprise.
The trip was a 10 out of 10. It was our first time in Disney World, and beside seeing commercials on TV, we had no idea what to expect. We got the "park hopper" passes, which let us jump around from park to park. For the rookies like me, there are four parks– Magic Kingdom, Animal Kingdom, Epcot and Hollywood Studios. We visited every park except for Hollywood Studios, only because we finished our last two nights in Universal (Hello Harry Potter!!)
I am blogging for all those who asked me about deets and suggestions in Disney. Today we're keeping things light (they got a little heavy around here lately, so we're switching gears for today). If you save up your money and head over to Disney World, a few suggestions to make your trip great:
Did I say "If you save your money?" OH YES! Save LOTS of money. This is no cheap vacation. Drinks in the park are practically $4.00 each… that adds up my friends. All the souvenirs your kids will want – MUCHO MONEY! And the park passes aren't cheap either – but of course WORTH EVERY PENNY! You will NOT regret it.
If you're like us, and hate crowds and lines, get to the park at opening, get the FAST PASS for the rides you don't want to miss (Splash Mountain, Space Mountain, etc…) and BE PRODUCTIVE. No breaks till lunch – we went hard 9 till almost 1. Then we ate a nice lunch in the park so we could head back to the hotel for an afternoon chill session by the pool. Yes, this type of vacation is not for everyone. Some people stay in the parks all day. But we were there for 6 days and wanted a nice balance of fun and relaxation.
So if you decide this kind of trip is for you, where you're park hopping in the am's and relaxing in the pm's… you can head back out to the park for dinner and more entertainment. The night parades are fun, and there are amazing fireworks every night at 9PM in Epcot. We had a fun dinner in "China" at Epcot one night. This way, you will also get your money's worth.
If it's your first trip, as it was ours, try and look for a great deal where you can stay ON-SITE. That's a big suggestion.
We rented a car, but I really don't think you need one. All the buses are free if you're staying on site, and you can hop on or off at any time for the parks, right through till around 1am!
Universal Studios: If you stay on-site (also preferable if you can find a good deal), your park tickets automatically let you fast-track the lines. Awesome! The park opens early for you too when you stay on-site and you can enter before the general public. We headed right to the new Harry Potter Park- it was amazing. We stayed at a great hotel with a fun water slide, and again, those "jump the line" passes come with your hotel stay.
If you're like us, and aren't buying Disney 101 Guides, relax, and take your adventure as it comes. We planned NOTHING in advance. We booked our character meals the day we got there. We also made our dinner reservations when we got there as well. But be aware, restaurants DO BOOK UP. So at least a day before or the morning of is good to ensure you eat where you want to.
The Character meals (where you eat with princesses, Pluto, Goofy, Chip N' Dale and more) are a must of course. One meal is good enough for your kids to hug them and pose for photos. 😉 If there is ONE THING you could book before you go… this is it. Also again, not cheap, but a must for first timers, I think.
And finally, if you were going into the vacation burned out like we were, and are overwhelmed by all the people who say, "you have to do this," or "you have to do that," — just go with the flow! If you don't hit all the rides, it's not life or death. There are plenty of other ones to find. Also, some of the shows are cute– Monsters Inc, Nemo show etc…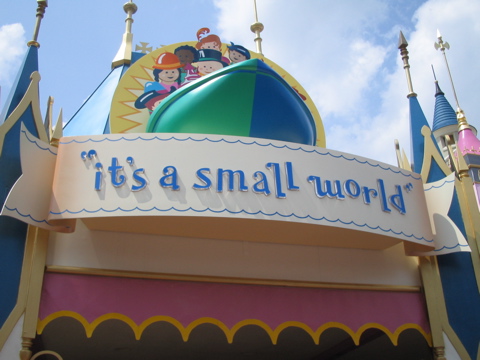 A few highlights:
We spent an amazing 24 hours with my husband's sister and brother in law. They live in Florida and drove to the park to be with us.
We lost my 7 year old at the pool for 3 minutes. He went to the bathroom (right next to where we were sitting) and then crept off to the water slide without telling us (so unlike him) and my husband and I were screaming his name. It was quite the drama. Walkie talkies going until we found him around the other side of the waterfall talking to the lifeguard. I was shaking and crying, my husband was shaking and we ordered a stiff pina colada right after to calm the nerves. Yes, ok, that sounds like an oxymoron… pina coladas aren't very stiff, but you get the picture.
We spent Valentine's Day with our dear friends who moved from Montreal to Orlando. Nine people – 4 adults and 5 kids eating a romantic meal at Nascar Grill at City Walk in Universal. 🙂
And finally, enjoy some of our highlights… I haven't downloaded our camera pics, so these are some of the Blackberry shots.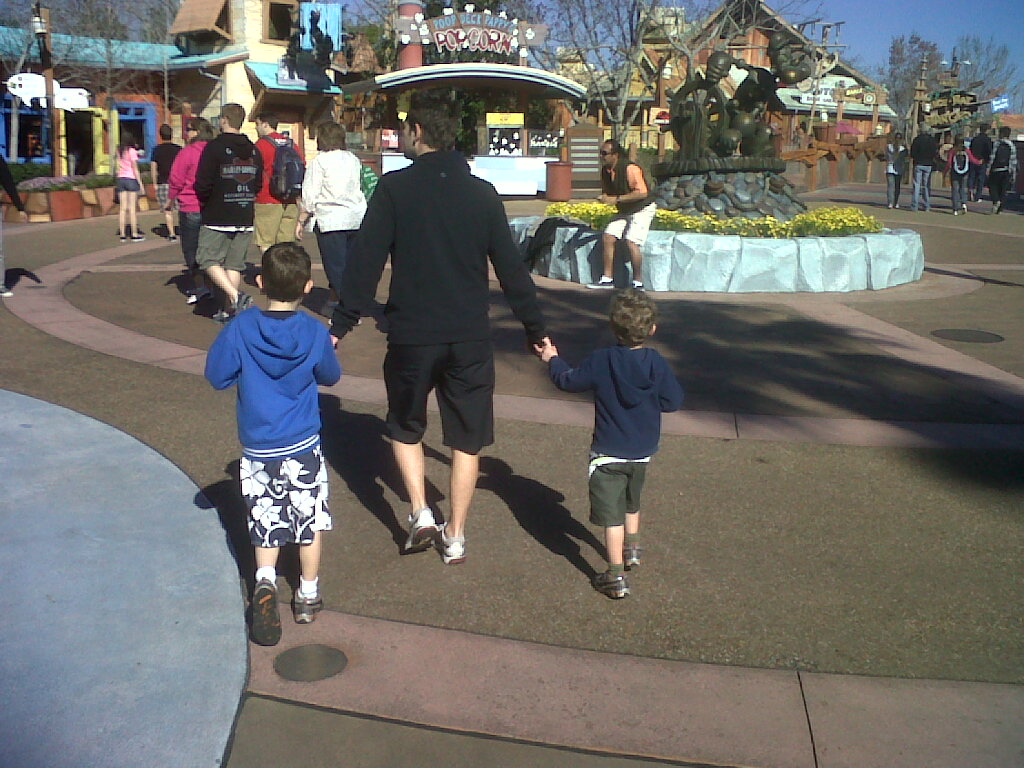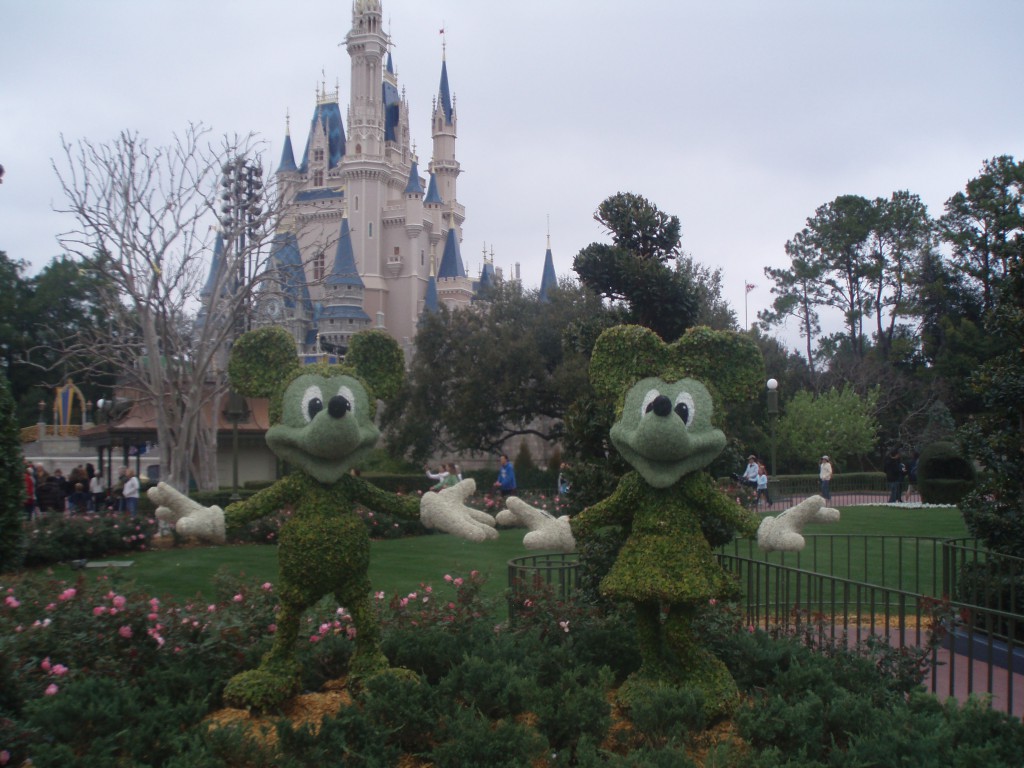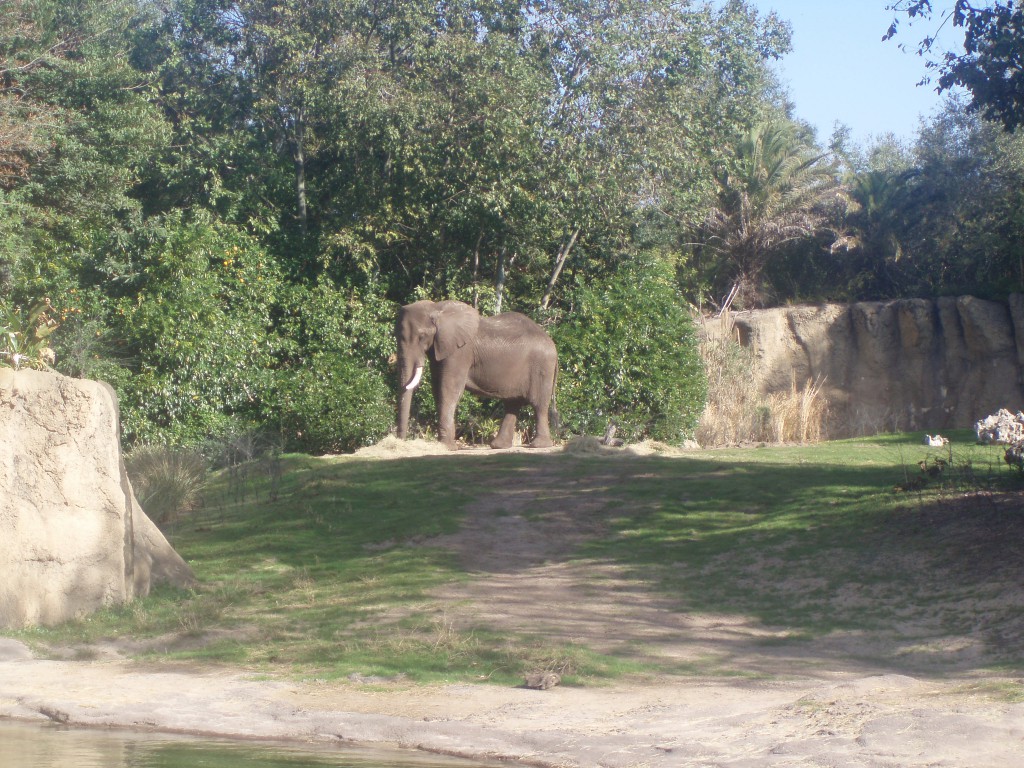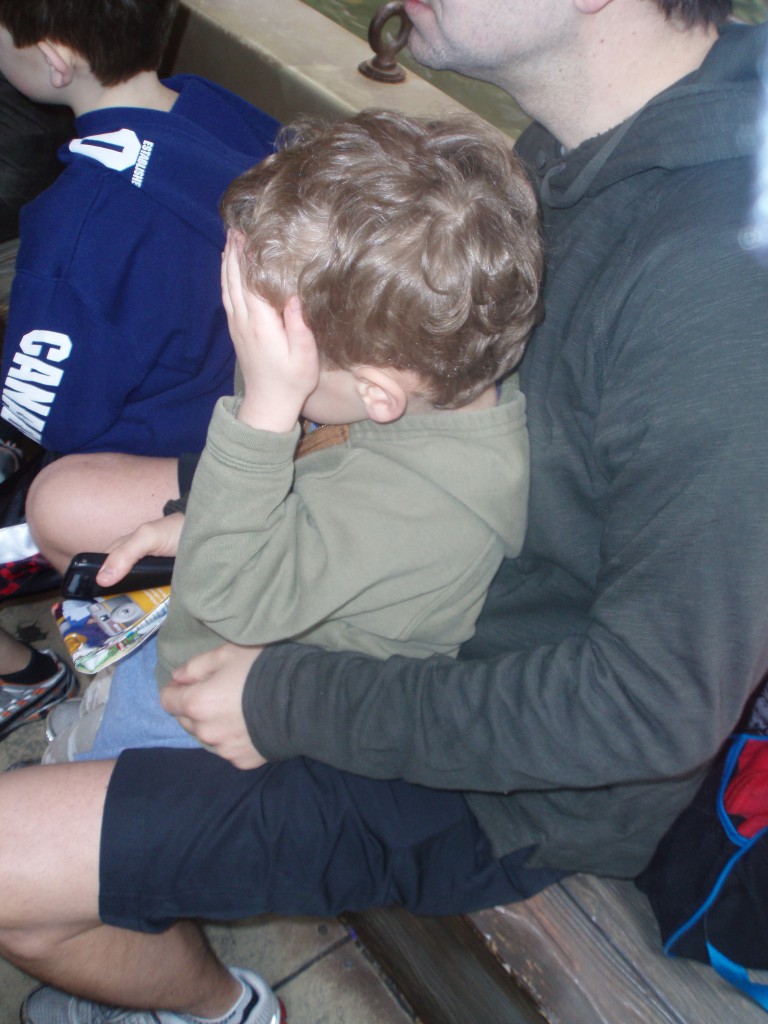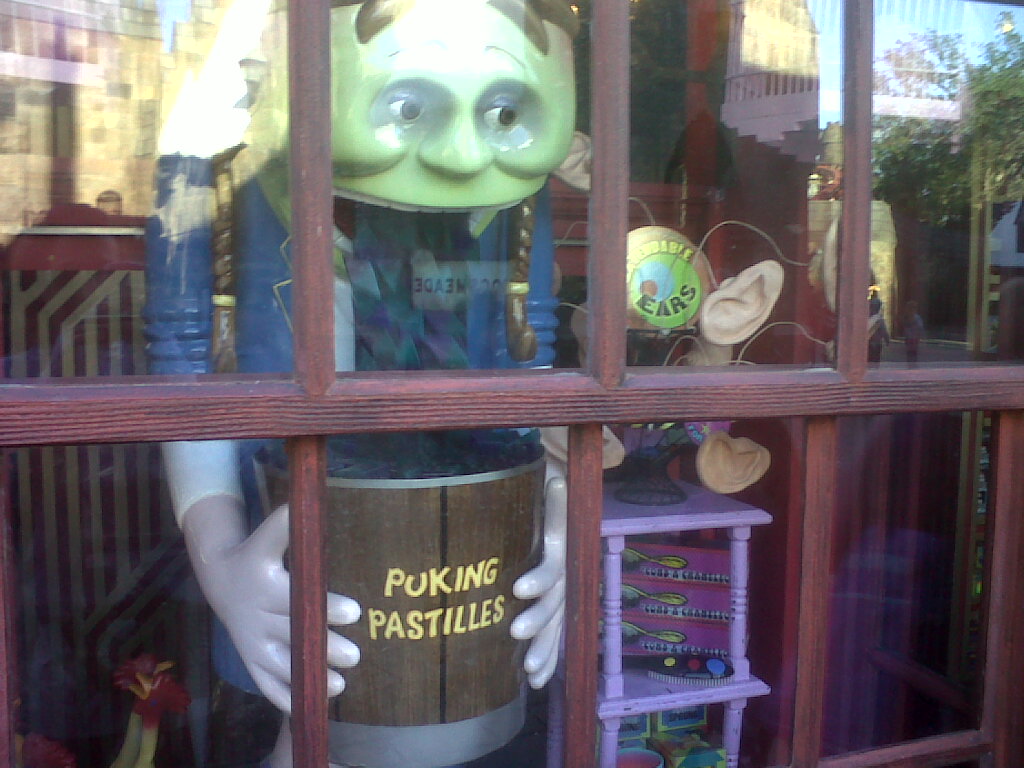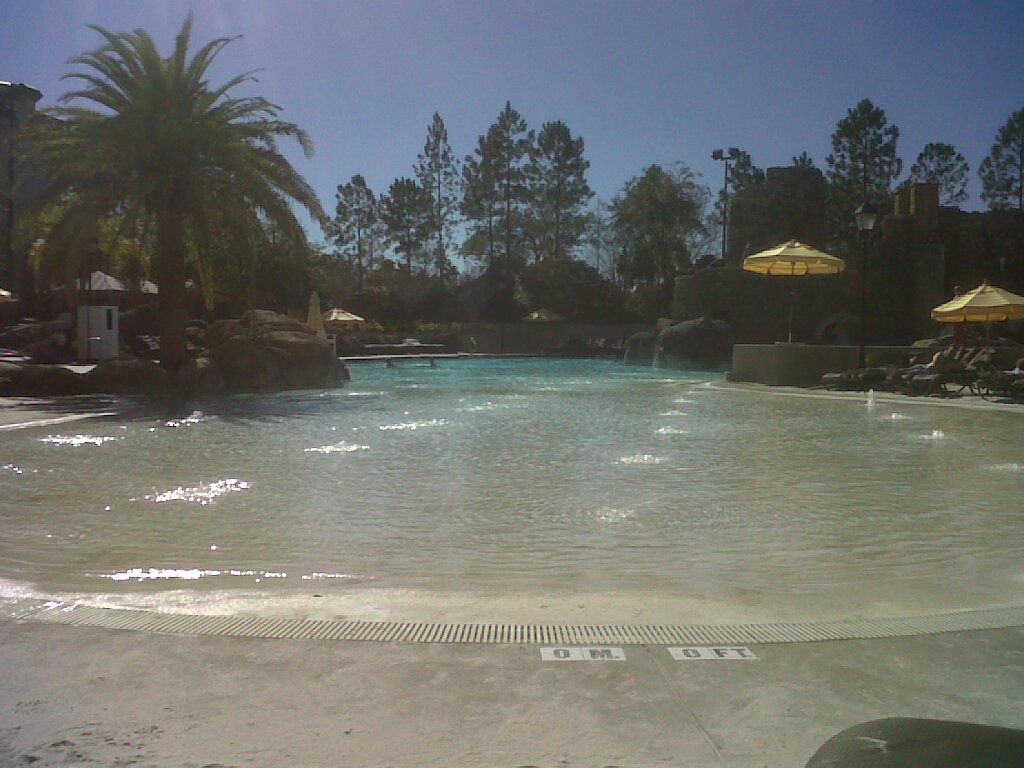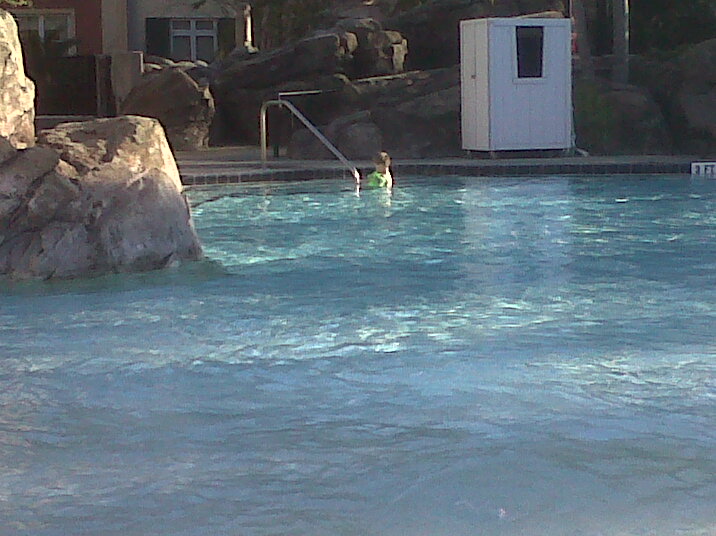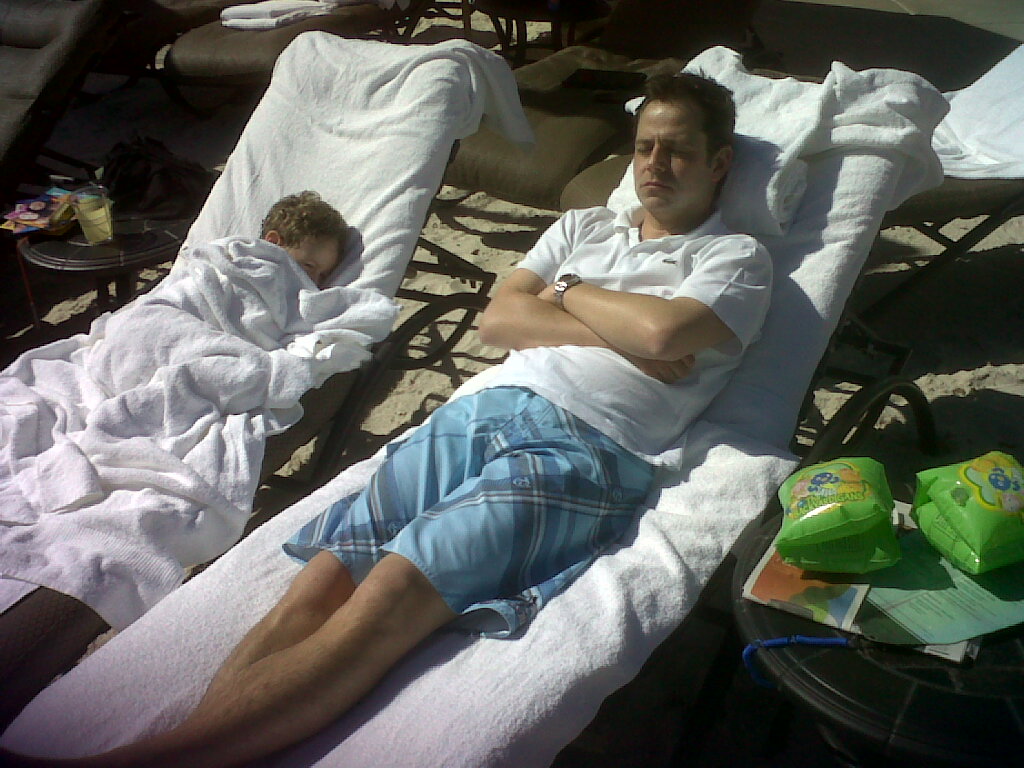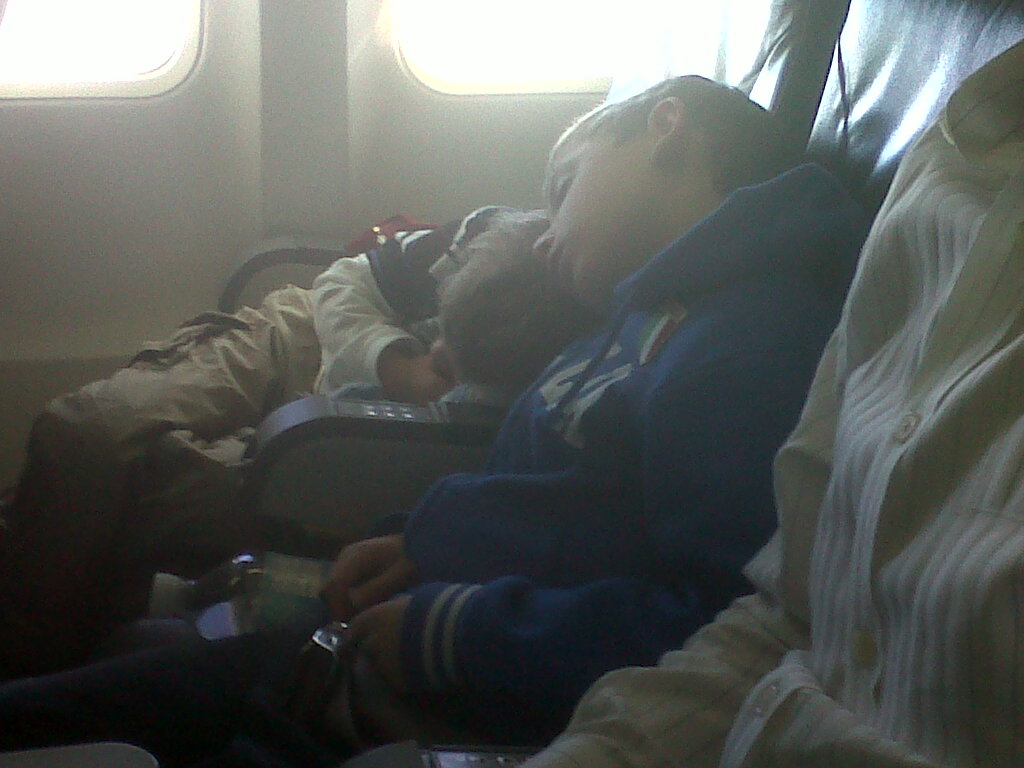 I am grateful that I was able to go on this memorable little getaway with my family. Two weeks ago, everything came into question. A quick reminder– move slowly, seize the moments, because LIFE IS PRECIOUS. I now know this.
That's it my friends. We'll be back next week with all new "On The Fence" topics, great guest bloggers, and an exclusive interview you won't want to miss.
Until then,
xoxEDxox
PS – Disney pros: Did I miss anything?