By Guest Blogger Kiri Blakely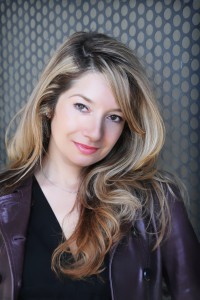 One night five years ago, I was getting ready for bed. It was about 11 p.m. My fiance, Aaron, whom I'd lived with for ten years, was in the living room. I could hear Sex and the City droning on the television.
"Kiri, come here," he said, softly. "We need to talk."
I padded into the living and plopped into a chair across from him. For an instant, it occurred to me that he might be about to tell me something horrible, but I just as instantly dismissed the thought. When you've lived with a man for a decade, you reside in a peaceful place of complete confidence that you know him thoroughly.
I was about to have that confidence forever stripped from me.
"I think I'm confused about my sexuality," Aaron said. Then he burst into wracking sobs.
Aaron went on to tell me that he'd been "fantasizing" about men. Soon, it became apparent that he wanted to explore these fantasies, and that our relationship would have to end. After talking (and crying and screaming and cracking jokes at his expense) all night, I finally curled up into a fetal position on my bed and prayed for this surreal night to end.
Life as I'd known it was suddenly and without warning done.
The next morning, I would discover that my fiance wasn't just "confused" and wasn't just "fantasizing." A little digging around in his computer revealed that he had long been cheating on me with strange men he found on Craigslist.
Here are a few tips for women who might be vaguely wondering if their man is secretly gay .
Tip #1 Get into his computer.
Tip # 2 Get into his computer.
Tip #3 Get into his computer.
If you do this, have an EKG first to make certain you don't have a weak heart. Because when my fiance's monitor filled with gay porn videos, pictures of muscular policemen in leather, and close-ups of his private parts, as well as listing after listing of men looking for sex, it's sort of a medical miracle that I didn't drop dead of shock.
It's also good for him that he'd gone into work when I made my discovery. If he'd been home, he likely would have dropped dead of a lamp on his head.
My fiance had been cheating on me with men the entire time he'd simultaneously been encouraging me to marry him. We'd been engaged for about nine years. I had come from a long line of divorce and was wary that marriage might ruin our relationship. But I finally agreed that we should have a wedding. Aaron was so happy, he'd run into our local bar and whooped the news to all of his friends. Perhaps I should have known a man that excited to get married couldn't be straight. 😉
So how did I deal with all of this?
Well I can't say I dealt with this sudden turn of events in a way that talk-show gurus would describe as "healthy." I didn't sign up for yoga classes and check out every self-help book in the library. Instead, I numbed myself with alcohol and casual relationships. I recently read that this is a typical way of dealing with a traumatic break-up. Sociologists even have a name for it: anomie. It means embracing the breakdown of social norms and values.
Let's get it straight though (so to speak): I didn't fall apart as much as I could have. I didn't turn to hard drugs or rob a bank. Nor did I prowl the streets at night looking for strange men to sleep with. I found them in respectable places—like bars.
But seriously, Aaron's betrayal knocked me into another dimension. He and I had always had a close relationship. We had all of those things that successful couples are supposed to have. We "communicated." We talked through our disagreements in a "healthy" fashion. Through every little trial and tribulation, as well as the big ones, Aaron had never let me down.
Beside the sweet little things, like never forgetting to acknowledge Valentine's Day, he also was there for the big things. A year before he came out, I had two heart-breaking deaths in the family: my grandmother, whom I was extremely close to, and my young niece, who tragically died of a cancerous brain tumor at seven years old. Aaron couldn't have been more instrumental to my hanging on to my sanity.
To realize this same loving man had for years been hooking up with men for random sexual encounters—putting my health, his health, and his safety at risk—was devastating. Not only to my sense of who he was, but to my sense of who I was.
Thrumming wildly around in my brain was the realization that if I didn't know Aaron, I wouldn't ever know anyone. How was I ever supposed to trust another man and commit to him?
I wouldn't. This is what I told myself. Of course, I was a human being and had needs like everyone else, but I could satisfy those without the confines of another relationship. Men were too much of a high-risk proposition.
I now not only had a distrust of men—but especially men who reminded me of Aaron. That is to say of nice relationship-oriented men. For the first time in my life, I was attracted to the bad boys, the players. In my warped way of thinking, I reasoned that if I could see that these men were bad news, at least I wouldn't be surprised when they screwed me over! Hey, I said I wasn't thinking clearly.
I was basically suffering post-traumatic stress disorder. You know how a soldier comes back from war and can't walk down his hometown street without fearing that a terrorist is going to blast him to smithereens? It's because his brain chemistry and neural pathways have been altered. He now feels danger everywhere, even in his backyard. That's how I felt.
The year I spent after Aaron's revelation is the subject of my book, Can't Think Straight: A Memoir of Mixed-Up Love. Mixed up it was. Although my fiance had betrayed me in the worst way possible, that didn't mean I stopped loving him, nor him me. After his announcement, we still spent a lot of time together, which was very confusing and, as the title says, mixed-up!
I began seeing two men in particular. There was Rahil, a hot-blooded Indian playboy who made it clear from the get-go that he didn't believe in monogamy (and who was also still hung-up on his ex-girlfriend). And there was James, a handsome and dryly witty man who, despite being rather anti-social, was catnip to ladies. Both of these men, despite their emotional unavailability, helped distract me from my emotional turmoil and made me feel sexy again. If it all sounds like a pulpy romance paperback, and I guess in some ways, it was.
Then the worst thing happened. I fell in love with James. It was involuntary on my part—I wanted nothing more than a bed warmer. But his wit and animal magnetism became irresistible to me. Unfortunately, he was a confirmed man-whore who slept with every young woman within ten zip codes. But James, who was as determined to avoid a relationship as I was, couldn't seem to leave me alone. It became one of those protracted love-hate relationships that is sexually charged yet emotionally draining. Still, neither one of us could seem to let go.
I realized after some soul-searching and the healing powers of time, that the only person I needed was myself. That it is better to be alone than to live with dysfunction. Sure, it's great to be in a relationship—fundamental for most of us. But it does not define us. People are fallible and your belief in them always runs a risk of being shattered. Betrayal will change you forever. But, if you work very hard, it can change you for the better in some ways. For example, I'm no longer the smug, judgmental person I used to be. I realize now that bad things can happen to good, smart people. And this happens as a way to strengthen our character and teach us a lesson.
I look back at that time with some bemusement, some horror, and some affection. I'd suffered one of the worst things a relationship can throw at you, and somehow lived to tell the tale. In the process, I discovered how strong I was, how complex people can be, and, yes, how we can endlessly renew our love in other people—and in ourselves.
What do you think?
~Kiri
BIO:
Kiri Blakeley is the author of Can't Think Straight: A Memoir of Mixed-Up Love. She also writes about women and pop culture for Forbes. Visit her at kiriblakeley.com or at her blog at Forbes The Bold Type.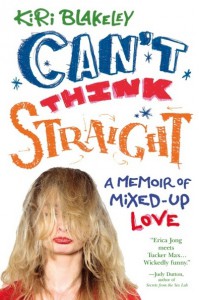 xoxEDxox