In case you missed it, here was the cover of the Montreal Gazette Business Section on Monday:
Writer Erica Diamond is on a mission to inspire her readers 'to wake up and have a purpose'
By PAUL DELEAN, The Gazette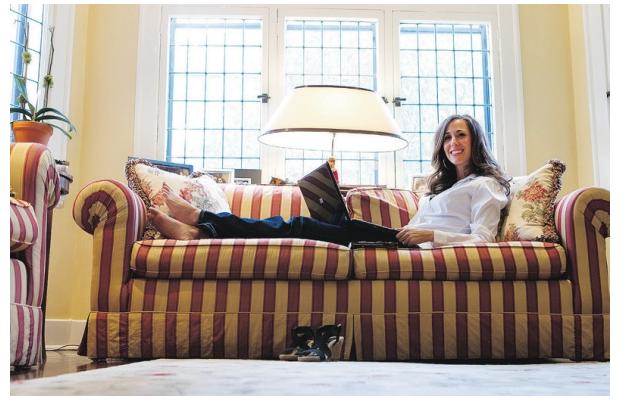 Erica Diamond used to sell gifts emblazoned with corporate logos. Now, she's her own brand.
The 35-year-old mother of two has found a new niche as a writer, with a personal blog (www.WomenOnTheFence.com) that gets 100,000 page views a month and a book, The 99 Things Women Wish They Knew Before … Starting Their Own Business, to be released in a paperback edition after its digital launch on Labour Day weekend on the Home Shopping Network.
"Every woman should wake up and have a purpose, something to call her own, separate from her husband, boyfriend and children. This is mine. I'm on a mission to inspire women to stop just existing and start living," she said in an interview at the Montreal home she shares with husband, Hilly, and sons Andrew, 7, and Sean, 3.
Diamond started her blog a year ago on a free platform after meeting a woman at lunch who kept an online journal.
"It's not that I thought my life was that interesting," she said, "but I liked the concept of connecting women in the same situation, on the fence in their marriages, or their jobs, or with their children."
The blog also was an outlet for the ideas and energy coursing through her after a four-year absence from the workforce to take care of her kids.
"The entrepreneurship urges were calling again," said Diamond, a McGill psychology graduate who started her first business, Unique Corporate Gifts, when she was 24 and sold it seven years later to Bentley, the national bag and luggage chain.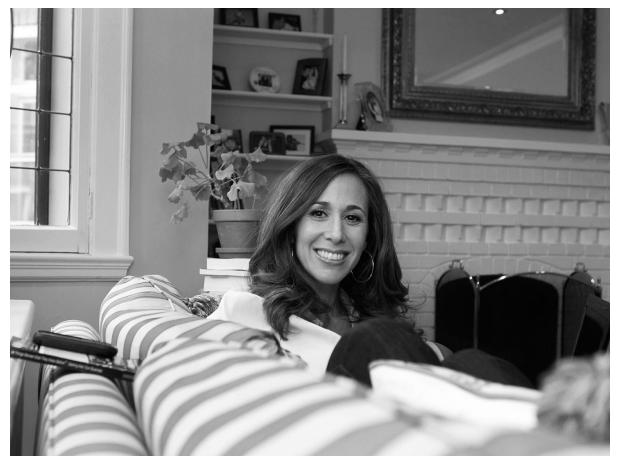 "I was burned out, totally at a crossroads," she said. "All I wanted to do was get up and wear my pyjamas all day."
With time to reflect, she turned to writing. She authored three children's books for her kids alone, then began sharing her thoughts on the complexities of women's lives.
Her blog came to the attention of Glam Media, which approached her about syndicating it. It's now a link on seven major sites geared to women. She's paid by Glam Media, which sells the advertising.
It's not a huge money-maker, but has helped generate spinoff income such as speaking engagements and the book deal, Diamond said.
The book is the product of a chance encounter in the emergency room at the Jewish General Hospital last fall.
Diamond was there with her husband, who she thought might have the H1N1 virus. Also there was Helen Georgaklis, who'd brought her daughter with similar symptoms. (Neither, it turns out, actually had the flu.)
The two women got to talking and sharing information. Georgaklis, founder of the 99 Series of self-help books, checked out Diamond's blog and got back to her quickly with an offer.
"She said they were looking for someone to write a book about women in business for their 99 Things series, and asked if I'd be interested."
Diamond started Unique Corporate Gifts in 1999 with $5,000, a website and a plan. She had strong opinions on what helped and hindered her.
"I wrote it the way I write the blog -no mumbo-jumbo, nothing over the heads of readers. It gets right to the nitty-gritty, stuff that worked for me."
For starters, making the extra effort for customers. That always pays off, she said.
"One time, I went to the airport and practically begged customs to release a package of custom-made cardholders. They'd flagged it as suspicious and said on the phone it couldn't be accessed for at least 24 hours. It was for an event that night. I said 'it's for my biggest client, I'll lose them if I don't get this.' I wouldn't take no for an answer and they finally opened it, checked that it was okay and gave it to me."
One of the common failings in small business is proper pricing, she said.
"People shortchange themselves. They underestimate the real cost of providing a service or product. They get to the end of the year, look at the numbers and wonder where the profits are."
Small or difficult accounts usually aren't worth the bother and better abandoned, she said. "You can't simply take every single order."
Corporate culture, on the other hand, always is worth the investment.
"I took my employees bowling, for drinks. One lunch hour, I brought in a masseur. I did everything I could to make them feel appreciated. They'll be more productive than someone disgruntled."
Diamond says she doesn't believe women can have it all. Something will always be amiss.
"You can't give 80 hours a week at work and 100 per cent to your kids. You may be happy at work but struggling financially. You may have money but a dysfunctional marriage or an ailing parent. No perfect thing exists in this world."
The achievable target, she said, is balance and a sense of fulfilment.
"We all have ups and downs. We're all a work in progress. Being content from within, that's having it all."
Paul Delean
————————————–
P.S. – Just in today! WomenOnTheFence.com was just named One of the 50 Best Blogs by Women!