As you all know, back in 2013 I became a Brand Ambassador for Aeroplan, a program that I'm a big fan of!  I have been a LOYAL member of the program for almost 20 YEARS.  I know this program well; I accumulate miles with my Aeroplan credit card as well as booking airfare travel, and have used my miles for travel to New York, Florida, Nassau and New Orleans.  I've rented cars, stayed in partner hotels and even bought merchandise on www.aeroplan.com.  But even I sometimes have questions about how the program works.

This post is for all the readers who also have questions about the program. I sat down with Aeroplan to help clear up misconceptions and give you the goods when it comes to earning and redeeming Aeroplan Miles.
Here goes:
Can you use miles to upgrade your flight?
Yes, you can! You can redeem your miles to upgrade one segment, one cabin of service on your purchased ticket when traveling on flights of participating Star alliance carriers.  For more information, please visit: http://www3.aeroplan.com/saua/Guidelines.do.
Why are there fuel surcharges and how come they're different than if you pay for an Air Canada flight?
Fuel surcharges help airlines cover the costs of fuel.  Aeroplan does not determine the fuel surcharge; the amount is determined by each airline carrier.  Air Canada applies fuel surcharge on select Aeroplan flight rewards.  Fuel surcharge amounts may vary and are based on factors such as airline, cabin class and route travelled.  Similar to all other loyalty programs in Canada, fuel surcharges for all categories of Aeroplan Flight Rewards (ClassicFlight and Market Fare Flight Rewards) on International itineraries are the same as the fuel surcharge Air Canada collects on all of their tickets purchased by customers.
For travel within North America, Air Canada has rolled the fuel surcharge amount into its advertised regular ticket price and therefore the competitive programs will not have fuel surcharge applied as a separate amount.  (Air Canada applies fuel surcharge as a separate amount for ClassicFlight Rewards on North American itineraries and has done so since 2004).
How come when I check for specific flights, often times, there is no availability? 
We suggest members should book their flights early.  Often times, if you're flexible with the day you can depart, it can get you a better flight. When members need options beyond our ClassicFlight Rewards, they have alternatives. On January 1, 2014, Aeroplan ClassicPlus Flight Rewards were replaced by Market Fare Flight Rewards. Market Fare Flight Rewards offer members greater availability on flights operated by Air Canada, Air Canada Express, and Air Canada rouge at variable mileage levels, which are derived from market fares at the time of booking and the conversion of these fares into mileage levels. Mileage levels are influenced by factors that fluctuate including destination, time of booking, time of travel, demand, and the conversion of fares into miles.
Another great thing about Market Fare Flight Rewards is that they offer significantly improved value, with all members having access to mileage levels reduced by up to 20%, and Distinction members enjoying reductions of up to 50%. 
What's the difference between Air Canada's Altitude program and Aeroplan's Distinction program?

Distinction is Aeroplan's recognition program and Distinction members qualify for status by accumulating eligible miles with all Aeroplan Partners such as American Express, CIBC, TD, Home Hardware, Esso, and Air Canada.  Air Canada Altitude is designed to recognize and reward Air Canada's most frequent flyers and Altitude members reach status by accumulating Altitude Qualifying Miles (AQM) or Altitude Qualifying Segments (AQS) on eligible flights operated by Air Canada and the Star Alliance member airlines.  The great thing is that both programs are very complimentary to each other. 
There's been a lot of news in the last year about Aeroplan and its credit card partnerships. TD took over the partnership from CIBC. Does this mean you no longer have CIBC as a partner?
As of January 1st, 2014, TD became Aeroplan's new primary credit card issuer.  Aeroplan is  pleased to now have both CIBC and TD as partners. The agreements reached with two of Canada's leading banks have allowed Aeroplan to reinvest back into the program and create an even better program for our members. As a result, Aeroplan Members have a lot to look forward to. Both TD and CIBC offer a suite of Aeroplan co-branded credit cards, providing members with great earning opportunities through the Aeroplan program, plus the same Air Canada benefits on select card products. In addition, members can also earn Aeroplan Miles through our partnership with American Express.  Click here for more information: https://www3.aeroplan.com/earn_miles/our_partners.do and click on 'banking and financial services.'
I'm saving up for a special flight…how can I earn miles really quickly?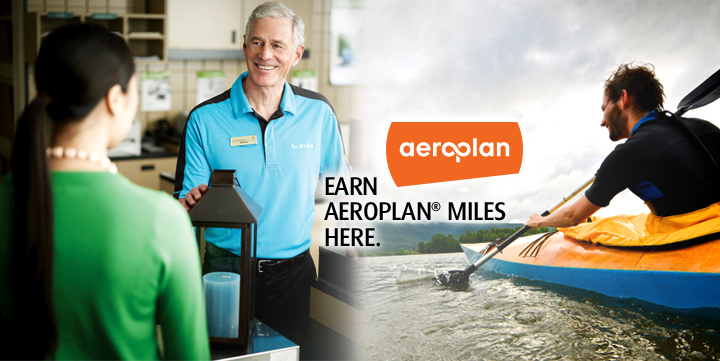 Here are a few quick tips so that you maximize your Aeroplan Miles earn:
Consolidate your spending on one credit card to maximize your earning power.  And when you're carrying an Aeroplan co-branded card, always make sure you swipe your Aeroplan membership card to earn miles twice on the same purchase.
Carry your loyalty card.  Make sure to give your Aeroplan number or swipe your card when you rent a car or book your stay with participating hotel partners or shop at a retail outlet.
A great way to earn miles faster is to keep your eyes open for special partner promotions to earn thousands of extra bonus miles. Register for bonus offers on

Aeroplan.com

.  Check the promotions page at

aeroplan.com/promotions

.
Shop online!  Many loyalty programs have online stores including The Aeroplan eStore which features over 100 retailers such as Apple Store Canada, Indigo.ca, Dell.ca, and Sears.ca.  .  Members can shop online and earn at least 1 Aeroplan Mile for every $1 that they spend and double that if they pay with one of the Aeroplan affiliated financial cards.  Visit:

www.aeroplan.com/eStore

  for more details.  Aeroplan also has a new partnership with

SHOP.CA

in which members can earn 1 Aeroplan Mile for every $1 spent and Distinction members will earn 2 Aeroplan Miles for every $1 spent on all purchases made at SHOP.CA.
How can I make changes to a flight reward ticket?
You can cancel or refund most bookings by calling the Aeroplan Contact Centre at 1-800-361-5373 or by signing into aeroplan.com and accessing the "Manage Your Rewards" page. This will make it easier for you to manage your flight rewards online, including the option of cancelling your booking, travelling at a later date, or getting your miles refunded.  You can also make changes to your flight time, dates, origin, destination or routing up to two hours before departure via Aeroplan Contact Centre – there is a $90 change fee applied per ticket.
Who are Aeroplan's partner airlines? Is it only Air Canada?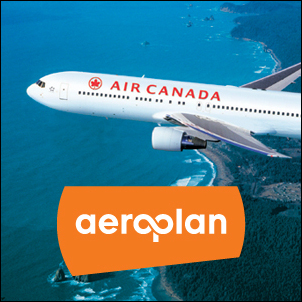 One of the great benefits of being an Aeroplan Member is access to Air Canada's participation in the Star Alliance.  Founded in 1997, the Star Alliance is a network of 26 member airlines with more than 18,000 daily flights to more than 1,200 destinations in 193 countries – more than any other airline alliance. Aeroplan also has regional partnerships with Canadian North, Bearskin Airlines and Calm Air giving us a broad range of airlines that members can earn miles on and redeem for flights. 
Why does Aeroplan have an expiry policy?
Expiry policies are very common in the loyalty and frequent flyer industries as they play a big role in reminding members to stay active. Engaged members bring value to a program; their level of engagement drives the business, which in turn, helps the program attract partners that provide high value accumulation and redemption opportunities.
The great news is that Aeroplan used to have two mileage expiry policies but has now cancelled its Seven-year mileage redemption policy, effective June 27, 2013.
As per the 12-month mileage expiry policy, mileage will expire in accounts that have had no accumulation or redemption activity in the previous 12 months; in other words, members must have one qualifying activity by either earning or using their miles (redemption, donation, sharing, or transferring) within a 12-month period to ensure their account stays active. It's as simple as gassing up your car at Esso, staying at one of our partner hotels, or even using miles for a flight reward.
—
Remember, you need to fill up with gas, buy food, and spend on other daily household expenses, why not earn Aeroplan miles as you do?
A reminder to:
And Join 
Aeroplan
 today, start accumulating, start redeeming, and enjoy all the benefits this incredible program has to offer!