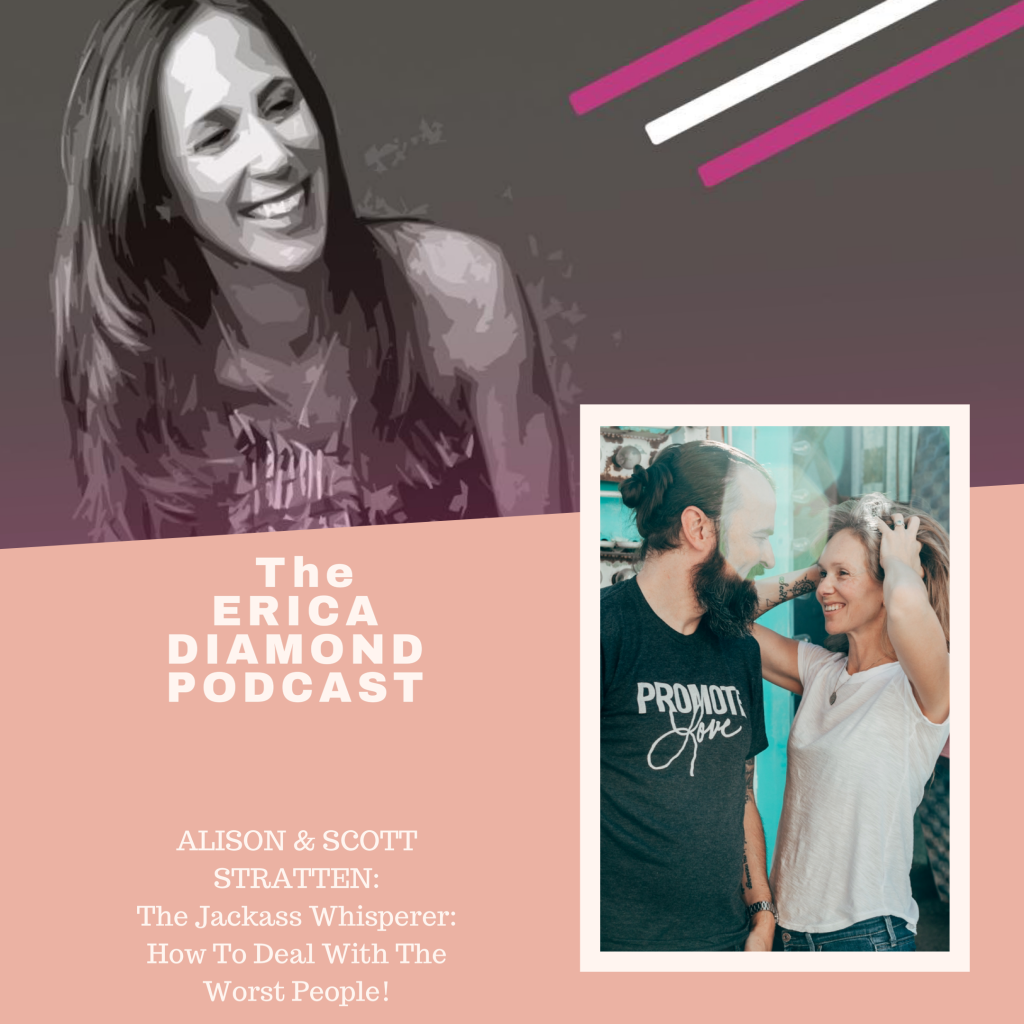 Season 1, Episode 9 is now live!
In this episode, I chat with Alison and Scott Stratten, co-owners of UnMarketing, The UnPodcast and now their newly realeased book, The Jackass Whisperer, How to Deal with the Worst People on Earth – At Work, at Home, and Online, Even When The Jackass is You!
Mic drop, right?
We are all the OG's of blogging and Twitter, only I sometimes feel like my G stands for GRANDMOTHER! We chat about how they met online, how social media has evolved, where it's going, and my favorite topic: how to deal with jackasses in your life.
You don't want to miss this podcast episode!
How you can listen to this episode:





In This Episode
How UnMarketing came to be and the great stories on Twitter!
How The Jackass Whisperer the book was born, and how to deal with jackasses in our lives.
What do you do when jackasses are your family members: parent, sibling, spouse?
How social media has evolved over the last decade and where it's heading.
How to share a message in public in any situation.
What they're both currently reading.

 

And lots more!
Learn More About Your Host
Inspiring OFF THE FENCE Living, Erica Diamond is a leading Women's Expert in Lifestyle, Wellness and Empowerment. A Certified Life Coach and Certified Yoga Instructor, Erica is the Founder and Editor-In-Chief of the Award-Winning Women's Lifestyle Brand Women On The Fence®, Weekly Lifestyle and Parenting Correspondent on Global TV, Award-Winning Entrepreneur, Speaker, Spokesperson, and Author of the women's entrepreneurial book, 99 Things Women Wish They Knew Before Starting Their Own Business. Erica founded the Global Get Off The Fence Movement inspiring people worldwide to get off the fence, get unstuck and thrive. In November 2015, Erica founded her fourth venture, HADRY, a patent-pending fashion invention for women. Erica recently launched The Erica Diamond Podcast in summer 2019.
Erica Diamond has been named to the coveted list of The Top 20 Women in Canada as well as FORBES Magazine's Top 100 Sites for Women and FORBES 25 Most Influential Women In Entrepreneurship on Twitter. Erica Diamond was the Spokesperson for National Entrepreneurship Day and is a Huffington Post contributor.
To learn more about Erica Diamond, visit her blog WomenOnTheFence.com or her website Erica-Diamond.com
Don't forget to SIGN UP for Erica's newsletter and tips:
~
If you liked this, then listen to the podcast episode for even more. And don't forget to subscribe to the show!