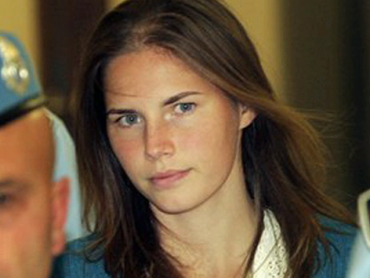 Along with the rest of the world, I have been fascinated with the Amanda Knox case since day one. It had all the makings of a sensationalized media story– the beautiful American "girl next door," goes to study in Perugia, Italy and then finds herself accused of brutally murdering her roommate in an alleged "sex-game" gone wrong involving a boyfriend.
And because of a guilty verdict four years ago, Amanda Knox and her then Italian boyfriend Raffaele Sollecito, have sat in prison since. But due to shotty police work and a real lack of DNA evidence at the crime scene, the case was appealed.
Yesterday, the verdict on that appeal was read: Amanda Knox murder conviction overturned! Her boyfriend, Raffaele Sollecito: Murder conviction overturned! They were both free to go home. The family of 21-year-old murder victim, Meredith Kercher, left in a daze, said to be still trying to figure out what happened to their daughter four years ago.
The purpose of today's vlog is not to rehash the case. You can familiarize yourself with the entire case here. The purpose is to ask your opinion.
Here is my take on The Amanda Knox verdict. When I say "they," in the video, I am referring to Amanda Knox and her boyfriend Raffaele Sollecito.
I'd love to hear your thoughts on this case. What do you think about the verdict? Did the Italian Justice System get it right or did they set a cold-blooded murderer free?
xoxEDxox