Hi!
Happy almost New Year!
Truth? I'm sitting right now with one of my besties and just said to her, "How should I close the year? What should I write about today?"
And she proceeded to tell me about an article she was reading recently on the "unpleasable generation." The article discussed how over-parenting is making our kids unpleasable. Restless. Even depressed and anxious. With technology at our fingertips to give us quick answers, with parents giving in to their kids' every whim trying to please them, combined with mom hovering to make sure Johnny handed in that assignment, or worse, call the teacher to see what can be done with that poor grade, our children aren't building their resilience muscle. They are actually becoming anxious and depressed in the process. When they aren't given the chance to fail or try new things, they become lazy, unpleasable.
So, my bestie and I decided, instead of sitting here today and contemplating our New Years resolutions and how we make next year better, why don't we take time to focus on what we DO have, and how we can build on that. Can we focus on being PLEASABLE? And not just our kids, but us too.
Can we not embark upon 2018 by pausing, and taking stock. What HAVE we done right? What is already positive in our lives? What is working? Can we take advantage of the opportunities we have in front of us today? Can we stop waiting for the stars to be perfectly aligned before we experience happiness and gratitude? Can we bloom where we are planted?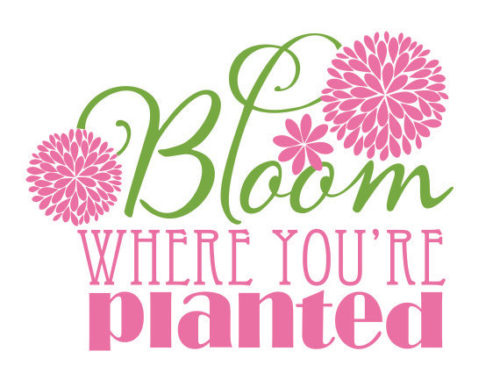 I truly believe, wherever you are on your path right now, you don't have to be THERE yet to still bloom NOW.
My friend and I decided to focus not on what we can have more of, but make better what we already have.
And while everyone it seems today is writing about what changes you're going to make in the new year, what if it's all about not changing? Not replacing, but fixing, enhancing and appreciating? Want to find a better job, bigger house, better relationship? Renovate what you have to make it suit your needs.
What do you think? Is this passive? Is it a defeatist attitude, or just being smart?
Something to think about, friends.
OR GO FOR IT
And, if that attitude doesn't suit you, there's always this, which I shared yesterday on Instagram.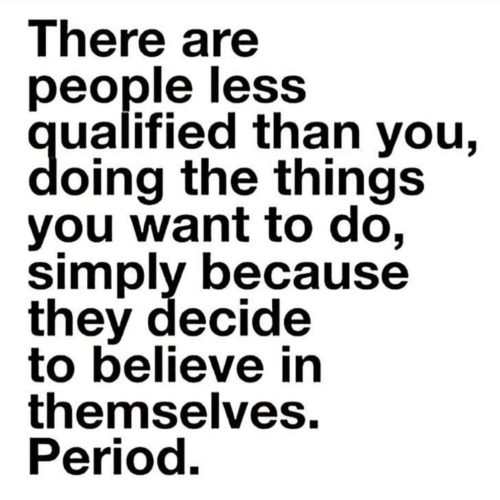 It's actually one of the most powerful things I've seen lately.
Confidence, self-belief and not being afraid to really go after what you want (even if you're faking it a little as you learn) is hard stuff. I tell my kids a lot (and myself) – what is the worst thing that's going to happen? You're going to get rejected, or you're going to fail. That's really it! That's the elephant in the room. You aren't going to die- and you can come back from anything.
So why not be an active participant in your life instead of a bystander? It sounds like a no-brainer, but it really isn't. You have to make the active choice to leave your ego at the door, and to leave your comfort zone.
Make 2018 the year that you take small risks and chances, even if you don't think you're there yet. As the quote says, there are people less qualified than you doing the things you want to do, simple because they decide to believe in themselves.
Period.
So, whether you're starting 2018 more accepting with gratitude and less seeking (as in my first case above), or the more active approach (my second point), I hope you start 2018 with LOVE.
Thank you for another incredible year. I'm looking forward to both accepting and appreciating where I am at today, and hustling too. So I guess, I'm somewhere in the middle of the spectrum above.
Happy New Year! I'm sending you all huge virtual hugs. See you in 2018.
Namaste,