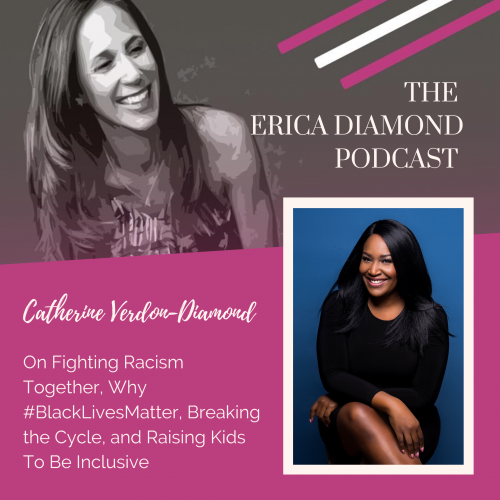 How you can listen to this episode:




Episode Summary
Welcome back to the second season of the Erica Diamond Podcast!
Last week, I had a 45-minute conversation with my friend Catherine-Verdon Diamond whom I asked to teach me. Educate me. I hope you will listen and let her teach you too. We have to be deliberate here.
In case you've noticed, I took a little hiatus from recording new episodes of our show. Truth is, COVID-19 put me into such an introspective mode. I have been digging deep for my family AND for myself. COVID also sprung me into my life's work as a wellness advocate as a life coach and yoga teacher, and I have been busy with that.
But after the killing of unarmed George Floyd, I felt totally outraged, completely horrified. I realized I have a platform, and a voice to hopefully make a difference. What is happening in our country and in my neighbors to the south, takes my breath away.
Today is about having an honest and candid conversation between two women, a black woman and a white woman, two friends, two moms with two boys, two women in the Quebec public eye, two women who long for an inclusive society where we are all treated equally regardless of our race, or religion, or ethnicity, or sexual orientation, or gender.
The conversation starts with you, and it starts with me.
So, let's start it… 
In This Episode
Catherine talks about life growing up as an adopted girl.
If she ever experienced racism growing up.
How Catherine has been doing this week. As a white ally, Erica's heart has been both hurting, and at the same time, feeling so much love directed towards the black community. Erica asks Catherine if she feels the love?
What can we as a white community do to support our black community friends — it's more than going black on a Tuesday, we know that.
Catherine talks about racism in Canada vs. the US, and if she feels that racism differs here? Is it more subtle? Canadians don't have the same narrative as Americans.
Catherine has two wonderful boys. Do she worry about them as young black men? And how does she arm them for life – for example, what to do if they're wrongfully stopped by a police officer. How do you protect them?
What has it been like to be a black bilingual woman in media in Quebec.
Catherine explains peaceful protesting to Erica vs. riots and vs. looters.
What in Catherine's opinion it's gong to take to make real lasting change, and what that looks like.
Catherine's required / recommended reading for kids
Catherine answers these questions:
What makes me sad right now
What makes me hopeful right now
What's one thing someone listening can do now to make a difference
And more
About Catherine Verdon-Diamond
Catherine Verdon-Diamond is a Television Personality, MC, Public Speaker, and current weather reporter for CBC Montreal News. She is the 2018 Gala Dynastie winner of: Anglophone TV personality of the year, An award show that celebrates Black Excellence.  Just last year, Catherine started her own production company – CVD Productions Inc., and has just launched her new webseries: Right Now with CVD.
Links
Learn More about Your Host
Teaching Empowered Living, Erica Diamond is a leading Women's Expert in Lifestyle, Wellness and Empowerment. A Certified Life Coach and Certified Yoga Instructor, Erica is the Founder and Editor-In-Chief of the Award-Winning Women's Lifestyle Platform EricaDiamond.com® (previously WomenOnTheFence.com®), Weekly Lifestyle and Parenting Correspondent on Global TV, Award-Winning Entrepreneur, Keynote Speaker, Spokesperson, and Author of the women's entrepreneurial book, 99 Things Women Wish They Knew Before Starting Their Own Business. Erica founded the Global Get Off The Fence Movement inspiring people worldwide to get off the fence, get unstuck and thrive, and launched The Erica Diamond Podcast in summer 2019 to spotlight trailblazers and change makers around the world.
Erica Diamond has been named to the coveted list of The Top 20 Women in Canada as well as FORBES Magazine's Top 100 Sites for Women and FORBES 25 Most Influential Women In Entrepreneurship on Twitter. Erica Diamond was the Spokesperson for National Entrepreneurship Day and is a Huffington Post contributor.
To learn more about Erica Diamond, visit her website EricaDiamond.com
Don't forget to SIGN UP for Erica's newsletter and tips:
https://feedburner.google.com/fb/a/mailverify?uri=ericadiamondcom&loc=en_US
If you liked this, then listen to the podcast episode for even more. And don't forget to subscribe to the show!