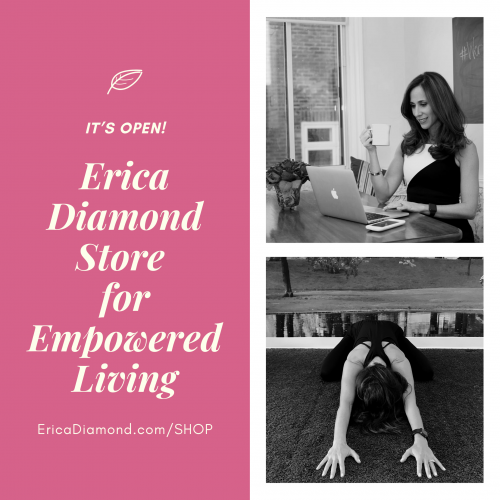 Friends, for the first time in what feels like weeks, I am *really* excited to share some business news with you.
Like many of you, I have been struggling with finding my footing in this time of COVID-19. On the one hand, I want nothing more as a certified coach, yoga instructor, speaker, and wellness advocate to be there for my community by providing services that I know can make a significant difference in your life. On the other hand, I want to respect that this is a deeply challenging time for many, and "selling" didn't quite feel right either.
So I took a few weeks to step back, reflect and get clear on my intentions — all while continuing to show up in the most organic and authentic way I know how, which has been truly nourishing.
The quieter moments have allowed me to bring something to life that has lived on the back burner for so long– the silver-linings of COVID-19. It hit me: now is the perfect time to build the Erica Diamond online store. It is the perfect way for individual members of this community to pick out a product or service that is just right for them. Thanks to my web team who was able to quickly bring my vision to life, I am over-the-moon excited to be launching it for you today! Until further notice, I am offering a deeply-discounted, but highly-personalized holistic Virtual Wellness Experience.
The Erica Diamond Store is your destination to find:
The products that I use each day in my own home to support my wellness and that of my family through my Amazon storefront!
My coaching and private (virtual) yoga instruction services
My virtual corporate wellness experience offerings
My book, 99 Things Women Wish They Knew Before Starting Their Own Business! (A perfect read for those using this isolation time to cultivate their business idea!)
It is the perfect place to pick out a special treat for yourself during this difficult time from beauty and skincare, to inspirational reading, all the way up to a private coaching session!
What makes me happiest to announce is, if you are a frontline worker, I will be offering you FREE PRIVATE WEEKLY GROUP YOGA SESSIONS via Zoom. You can access that link in the e-store. Thank you for all you are doing to keep us safe.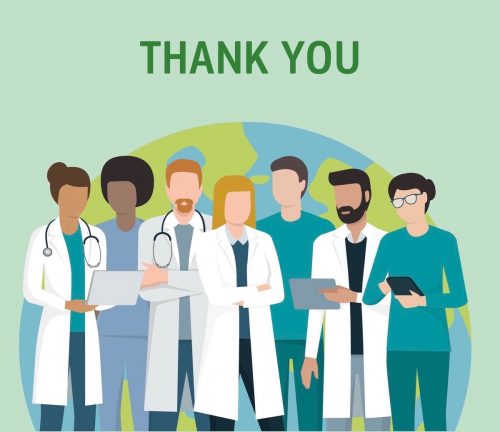 To celebrate the launch of the store, I have also created TWO BRAND NEW OFFERINGS that you can book today.
1. Virtual Wellness Experience with Erica Diamond (Individual):
You and I will meet virtually via Zoom for a 45-minute life coaching session, followed by a 30-minute zen yoga flow (customized to your level, including total beginner!) — all in the comfort and safety of your home.
Whether you are working through brand-new challenges in life or career, looking to market your business during these uncertain times, or are finding yourself with the mental space and time during this slow-down to get started on making your dreams a reality, this is the perfect way to strategize and create an action plan (and some hand holding) in 2020. This is also the perfect way to show your mind and your body some love during this challenging time.
Just a few topics that we can explore include:
Navigating change as an entrepreneur
Building a realistic self-care routine in a busy household
Creating an action plan to get moving on your dreams
Marketing your existing small business
Getting unstuck in your career
Building a more nourishing life
For those who want a deeper-dive on life coaching, I am also offering a discounted 60-minute Zoom session, and a special session for moms!
This is 75 minutes all for you. 75 minutes to get energized, creative and strategic, and also calm the body at the same time. 75 minutes of peace in the storm. 75 minutes of real, practical self-care. Click here to learn more.
2. 60-Minute 'Mastering Wellness Though Self-Care' Corporate Home Experience with Erica Diamond (For Groups):
Give your team the gift of a virtual corporate wellness experience that will improve the quality of their daily lives and their productivity while working from home. Sixty minutes to boost wellness and creativity, and learn practical self-care tips and strategies to enhance performance.
Your team will learn how to integrate mindfulness, yoga, and tangible self-care strategies into their daily lives that will take them forward to increase corporate productivity, creativity, morale, and an open-mindedness to pivot and welcome change.
Many employees are feeling stuck in 'survival mode.' Trying to stay healthy, care for their families, keep up with work, and somehow still find time for themselves. I truly believe this moment is calling us all forward to be the best versions of ourselves.
It is one of my life's missions to help as many people as I can unlock the true power of self-care and success… the kind that comes from creating routines, tools, and habits that allow you to access wellbeing and stability in any moment.
In this corporate team-building experience, your team members will learn to:
Unlock their full potential
Learn the latest cutting edge research on wellness and happiness. Hint: happiness really IS in our control
Learn how to design a life that they and then access the resources to build it for themselves
Learn how to maximize efficiencies while working from home
Connect mind-body wellness tips and techniques to de-stress, feel calmer and happier in their everyday life (mindfulness, meditation, stress hacks, etc..)
Transform mindset from fixed to growth
Learn how to incorporate a daily self-care regime that they'll stick to
Balance career and personal life with greater ease and less resistance
Feel more creative, empowered and inspired
Feel more confident and motivated to sell
Apply tools and strategies from The Diamond Edge to your everyday life
This 60-minute corporate virtual wellness experience will leave your team feeling empowered, recharged, connected and motivated. Click here to learn more.
These past few weeks have been confusing, overwhelming and even chaotic. So much has changed so quickly. It feels like we entered a new reality overnight. I see you out there taking on more than you perhaps have ever taken on before — holding up your household, your family, your community, and your workplace… all while trying to stay healthy yourself.
I believe this moment is calling us all forward to be the best versions of ourselves, and I want to humbly bring forward my gifts as a certified life coach, yoga teacher, speaker and entrepreneur, for the benefit of the greatest number of people possible during this time.
If you feel that this would be supportive for you, please visit the store to claim your Virtual Wellness session today.
With love,
Erica