Welcome back to a brand new year. '2011'… it's a bit odd-sounding, not quite as smooth as '2010' rolls off the tongue. But I got a good feeling about this one.
I'm going to cut right to the chase and kick off 2011 with our first-ever "Off the Fence" interview. I had the immense pleasure and privilege of interviewing someone we all know– the beautiful (inside and and out) Christy Turlington Burns. Christy is making a difference for mothers everywhere today. Here is her journey. Here is her story. I hope it will enlighten, inspire, and as always, encourage you to get off the fence in your own life.
Without further ado, Christy Turlington Burns…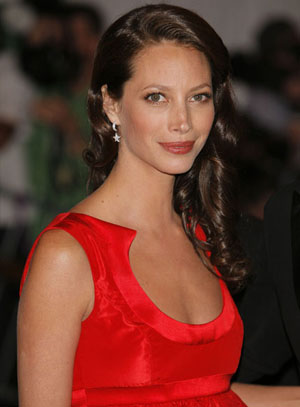 What was your childhood like, being the middle of three daughters? I can't help but feel bad for the other two!!

I feel so blessed to have two sisters and I love my middle perspective, especially now that we are all mothers and great friends. I'm a little sad for my daughter that she won't have this experience, but she does have lots of girl cousins on my side of the family. My sisters became mothers well before I did and both have toddlers again now. We spend a lot of time together, especially in the summer when they come to New York. I just came back from spending two weeks with them in the Bay Area over the holidays. They are truly two of my favorite people.
How did you get into modeling?
My older sister Kelly and I rode horses competitively as kids and one day after school when we were taking a lesson at the stables (where we kept our horses) a photographer approached our mother about letting him take our photos. We were living in South Florida at the time and my first jobs were for local department stores and catalogues. I was fourteen with braces and in a real awkward stage, so I was a little surprised at the interest in me but I was tall… I quickly learned that it would be a good opportunity for me to gain some financial independence from my parents, contribute a little and see the world.
What was it like to have some of the most exclusive contracts for some of the biggest companies? What is it like to be a true fashion icon that will always be remembered and respected as one of the best. I know the video Freedom to this today, with your face, remains one of my favorite songs and music videos.
The first contract I was offered was with Calvin Klein. I was nineteen. It was an honor to have been chosen for this coveted spot but turned out to not be so much fun. It was an exclusive contract and I didn't have to work much but was on call for whatever they needed me to do. I wasn't ready for so much freedom and was eager to get back on the road after a year or so with them. I got my second contract with Maybelline at 22. I started my own skincare line when I was 30 and after a few years, my Maybelline contract ran out but they came back to me five years later when I was pregnant with my second child and I have been under contract with them (again) ever since.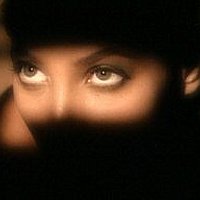 The George Michael video, "Freedom" is a good story and a great memento of that time. The group of us had just been on the cover of British Vogue (Linda, Tatiana, Cindy, Naomi and I) and George wanted us to be in this new video which was the single off his new record. We were all living in different parts of the world and it wasn't easy to coordinate our schedules at the time so the photographer, Herb Ritts (who was a friend of the director David Fincher and George Michael) got each of us on the phone and helped us individually commit. The video was shot in London because David was making a film there and we each filmed on separate days except Linda and I, who overlapped for a day. It is a great song and totally holds up after twenty years.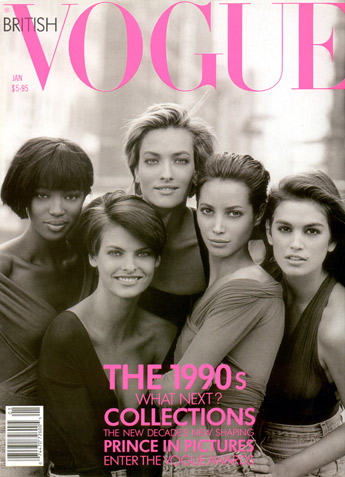 What do you/ did you love about modeling, and what did you hate? What have been your struggles along the way, amidst your great success?

When I was a teenager and modeling full time I really started to not enjoy the job. The pace was great at first but also took a real toll at times. Once modeling was my "job" and I was no longer a student, it started to feel like it was my whole identity, I began to resent it and all the obvious cliche trappings of the profession.
I am fortunate to have the security that comes along with long term contracts that has allowed me to step away and return to school twice. I first went back to NYU at 26 and graduated at 30. Now that I am a mother, a student again and a 42 year old woman, I enjoy the days I spend modeling. The act of modeling is kind of silly and not fun or interesting in and of itself, but I still love to travel and when I work, I spend time with friends and am treated like a queen, which I fully appreciate now in a way that could not when I was younger.
I am grateful for the life that I have today, much of which I owe to a long and very fruitful career. Most women are under paid, even in societies where we claim to have equality, but I was over compensated for a job I fell into. I feel that I am bringing some balance back to an often senseless world with the service I am offering as an advocate now. I pretty much work to give and I have learned that it isn't what you do in life but how you do it.
How did you find yoga, and what has it done for your spirit and body?
I found yoga early in life, which was a real blessing. I started practicing yoga and meditation when I was 19. It truly is a life practice and something that has become a part of me. My practice really developed when I was going to NYU because I was studying comparative religion and had recently quit smoking cigarettes and then my dad became ill – from smoking for his entire life – and died fairly quickly.
Yoga really helped me cope with all of this and then it guided me to pursue other business interests (once I graduated) that incorporated yoga with wellness and in service, as in my current advocacy work. Yoga also better prepared me to climb a mountain and endure two un-medicated natural deliveries. I would credit yoga for all of the positives in my life over the past fifteen years or so. It has brought me closer to the person that I want to be and will be some day.
I know that you went back to school last year. I think that's remarkable. What are you studying, and what do you hope to achieve with your degree?

I am currently back in school working toward a Masters in Public Health at Columbia University's Mailman School. I started a couple of years ago but am going part time so it will take me a bit longer to finish the program. I was inspired to go back to school by so many incredible people I have met in the development circles where I often spend my time.
I have been working with the international humanitarian organization CARE since 2005 and have supported advocacy organizations like ONE and its (RED) affiliate (the largest private sector donor to the Global Fund to fight Malaria, TB and HIV) since they were founded. Since I lost my dad to lung cancer in 1997, I have been really interested in public health because it focuses on prevention. I am a committed advocate and believe that having an MPH will help me to be a better advocate for girls and women as it will further ground my knowledge in science.
How did everymothercounts.org (http://everymothercounts.org) and the documentary film No Woman, No Cry come to fruition? I signed up after I visited the website. Your work is tremendous in helping mothers and women in this arena. A very inspirational story. Tell us about your journey from supermodel to superhelper.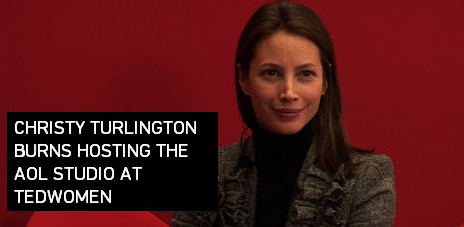 I experienced a complication after I delivered my daughter seven years ago that I would later learn was the leading killer of pregnant women around the world. I learned this through my work with CARE and that hundreds of thousands of women die each year while almost all of these deaths are preventable.
I was pregnant for the second time when I started working with CARE. We traveled to El Salvador, where my mother was born, when I was almost seven months pregnant and I spent some time with other pregnant women who lived miles from a hospital, let alone a paved road or electricity. I imagined giving birth in these conditions and of course thought of my previous complication. It prompted me to want to do something about it.
No Woman, No Cry is the result of a journey to better understand the barriers to accessing health care at a critical point in most women's lives and Every Mother Counts is the campaign that I launched once the filming was complete to engage other moms and families to support the girls and women who are most vulnerable. No Woman, No Cry premiered last spring at the Tribeca Film Festival and will be broadcast on Television in the US this coming Mother's Day.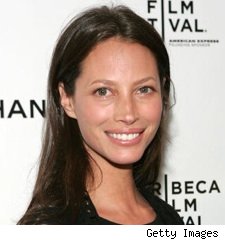 What do you see for Christy Turlington when you look to the future? What's the vision, the goal, the dream?

The commitment I have made to this issue is a long term goal. I hope to contribute significantly to a global movement to make a lasting impact. If the film that I have made gets more people to talk about maternal death, really mainstream the issue, inspire others to take action and make their voices heard to prevent girls and women from dying from pregnancy related causes, then I would be satisfied. I hope to help connect the dots for people who may want to contribute in their own way but need some guidance to do so in a way that feels meaningful.
What are the top 5 things on your Bucket List, since I like to inspire my readers to dream, write it down, and then move to action.

I generally try to live in the moment, and not dwell too much in the past or future. I am eager to share more of the world with my kids, however, and can see that in the not too distant future. It would be amazing to do the work that I am doing now side by side with my daughter some day. I want the world she inherits to be safer for girls and women. Seeing the world and being with people from different cultures is incredibly comforting to me and feeds my soul more than just about anything.
——————
CHRISTY TURLINGTON BURNS BIO: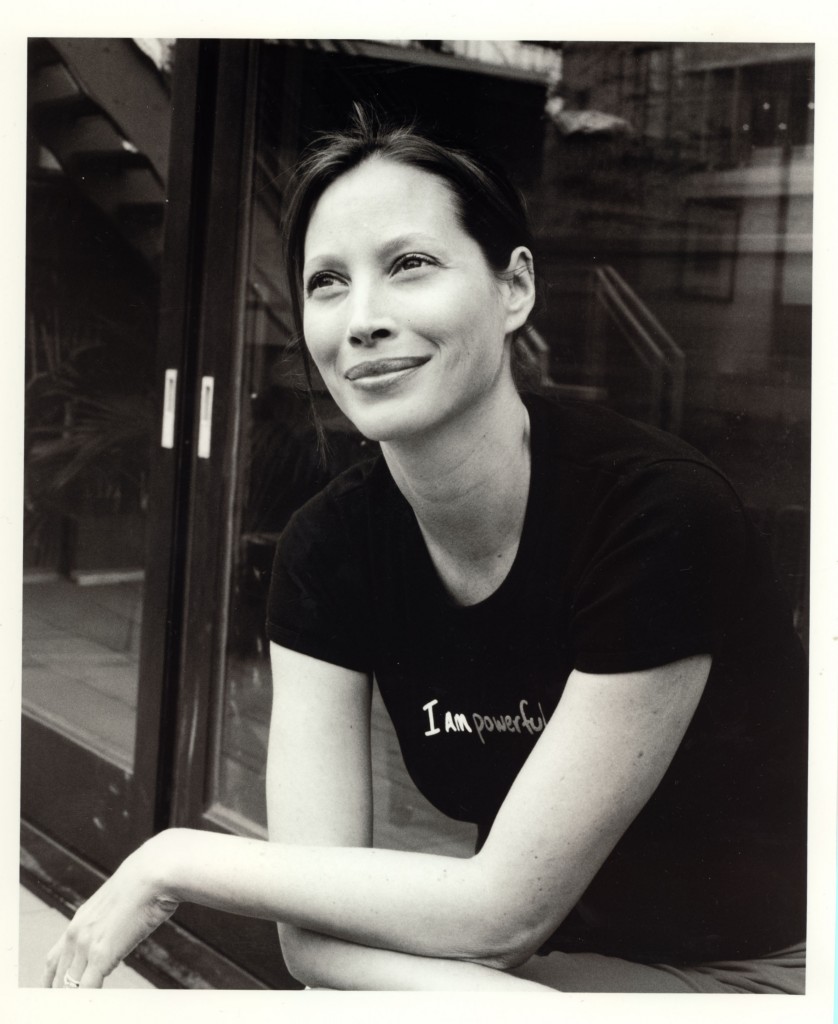 Founder of Every Mother Counts, CARE Advocate for Maternal Health, Filmmaker, and Author of Living Yoga: Creating a Life Practice (Hyperion, 2002)
With more than twenty-five years at the forefront of the fashion industry, having graced every magazine cover from Vogue to Time, Christy Turlington Burns has established a diverse career as a model, writer, entrepreneur, spokesperson, advocate and now filmmaker. Philanthropy and service have long been a part of Christy's personal and professional mission to make a lasting impact on the world. As the daughter of a Central American mother, she felt compelled to support efforts to rebuild post-war El Salvador in the early 1990's. After losing her father to lung cancer in 1997, Christy's activism shifted to preventative healthcare, more specifically smoking prevention and cessation. Christy collaborated on several public health service campaigns and in 2002 launched an award-winning website, smokingisugly.com.
Christy founded two successful lifestyle brands; sundãri, an Ayurvedic skincare line and nuala, a yoga inspired apparel and accessories line. During that time, Christy also merged her love of yoga and writing to author her first book, Living Yoga: Creating A Life Practice (Hyperion 2002). Christy has contributed writings to Marie Claire Magazine, Yoga Journal and Teen Vogue along with contributions to the Huffington Post and Canada's Globe and Mail. She has also contributed to NBC's Today Show as a guest correspondent, which included reporting on the status of girl's education in Afghanistan in early 2002 and an interview with H.H. The Dalai Lama at his home in Dharamsala, India.
In 2005, she began working with the international humanitarian organization CARE and has since become their Advocate for Maternal Health. She has also been an Ambassador for (RED) since their launch in 2006. Her work on behalf of CARE and (RED) inspired her to pursue a Masters in Public Health at Columbia University's Mailman School where she is currently in her second year.
In 2008, Christy began working on a documentary film profiling the status of maternal health worldwide. In her gripping directorial debut, Christy shares the powerful stories of at-risk pregnant women in four parts of the world, including a remote Maasai tribe in Tanzania, a slum of Bangladesh, a post-abortion care ward in Guatemala, and a prenatal clinic in the United States. NO WOMAN, NO CRY made its world premiere at the 2010 Tribeca Film Festival in New York City with the broadcast premiere forthcoming in spring 2011. Concurrent with the debut of her documentary, Christy launched Every Mother Counts, an advocacy and mobilization campaign to increase education and support for maternal and child health. Every Mother Counts seeks to engage policymakers and thought leaders, develop new partnerships and encourage people to take action to improve the lives of women worldwide. The keystone of the campaign is www.everymothercounts.org, an interactive platform providing the tools to raise awareness, education and action.
Christy lives in New York City with her husband – filmmaker Edward Burns – and their two children.
~~~
Please feel free to leave Christy a note below…
xoxEDxox