Hello all! Checking in from vacation.
Week 1 was spectacular, because, admission: I took all of last week for MYSELF. The kids were in camp, hubby was at work, and then there was me– goin' nowhere fast. It was quite blissful. I did things like walk around aimlessly with a coffee, spend the morning at the spa, and talk on the phone with my girlfriends for hours. Things I hadn't done in a long while.
I guess that's what regrouping is for.
But here's what's remarkable: what I witnessed last night. I experienced something truly incredible.
We were taking the kids to dinner in Mont Tremblant- a lovely area in the Laurentian Mountains. All was good- until my 5 year old literally turned FIFTY SHADES OF GREY in the car and said he was going to throw up. We swerved the car to the side of the road, and I jumped out with my baby. Let's just say that was the first of MANY pukes to come. I brushed it off as sun stroke, as he really hadn't drank much water yesterday, and had been out and about in the sun all day. I figured the vomit was a one-timer. We were 40 minutes from our lakehouse, and I had an 8 year old who was famished. We bought some Advil to help his headache, and continued driving the remaining 10 minutes to the restaurant. One more pitstop to puke, and we were finally at the restaurant.
I was happy to finally get out of the car. As a mother, you'd think I should be immune to kids barfing. Well guess what? I AIN'T. I am PETRIFIED of kids throwing up- mine or other. I can handle blood, diarrhea, high fever, you name it. But as soon as one of my kids drops the "T" word, I shake.
Anyhow, back to the restaurant. We had my dad with us, and of course he was hungry, and my son was hungry, but my baby was in no shape to come into the restaurant. He needed air. So I sent everyone inside to eat, and my son and I found a picnic area across the street under a hut. My husband so nicely ran out my salad, followed by my linguine vongole. I managed to somehow eat it all and not lose my appetite (in between visits to the grass). I'm funny like that… nothing EVER ruins my appetite. But, I stroked my sweet boy's head on my lap as he turned paler and paler. He finally fell asleep for a little on the bench.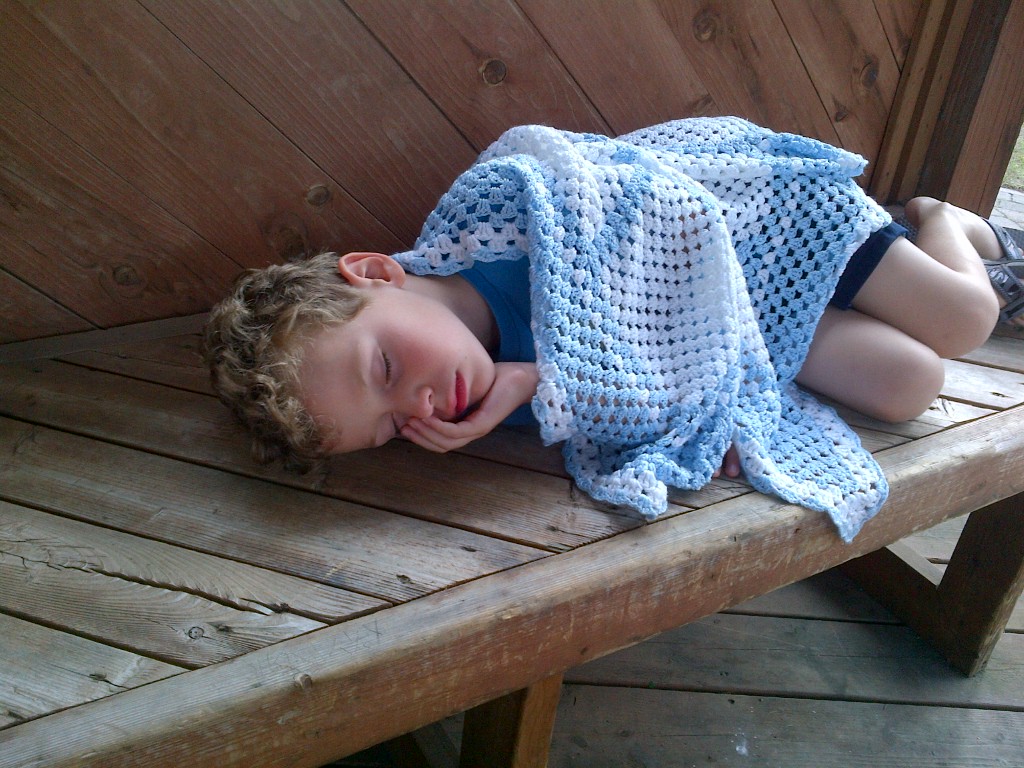 We managed to make it home, puke-free, only for it to continue again.
But here's what I witnessed: As I took to Twitter to describe my night, other moms starting chiming in. I posted a tweet:
"In bed w/ my 5yo son. He has thrown up 7x's. He throws up all the electrolytes. Moms, do I still give it 2 him, or skip it till he stops?"
Immediately, things like, "My mom is an RN. Hang tight and I will ask her." Or, "I give one teaspoon, I wait 20 minutes, and if she keeps it down I give her more."  A community of moms, all helping.
About 45 minutes later, I started to get a little nervous. He just wouldn't stop throwing up. My tweet:
"He threw up again & now is sleeping. I'm getting quite worried. At what point do I go to the hospital? I imagine if he's sleeping, I leave him."
Again, support, more tweets from moms who had been there, done that. And I was listening to these moms' advice, possibly over a doctor. Strange, right? I know this may sound weird to you if you are not on Twitter. But Twitter has really changed the way moms get information.
We moms are taking to Twitter to get advice and help on just about ANYTHING.  Twitter is changing motherhood in a very real and profound way. Business tips, career tips, advice on where to buy a great sweater, advice on what to do if your child is homesick at camp, advice on how to keep the passion alive in your marriage, advice on what to do if your child is being bullied. It has become my go-to zone for all things mommyhood. And I am not alone.
While parenting books and even chat rooms have been helping mothers for years, Twitter is an entirely different beast. It keeps chats and conversations brief… like 140 characters brief! So you can throw a question out there, and receive a whole bunch of great TIDBITS of info. Short, fast, effective answers. And IN REAL TIME. That is the beauty. That is the benefit. It is conversation and sharing at its best.
So, to spare you a super long post, and because I promised myself I'd rest my blogging brain, if you are a mom, I encourage you to hop onto Twitter. There is something comforting, informative and REAL about connecting and sharing wisdom and advice cyberly with other mothers. There is also something very special about the conversations happening on Twitter. Social connection and a sense of community are scientifically proven to aid in the fight against depression and increase happiness and joy.
There are real benefits to Twitter. If you aren't afraid to try something new, it just might change your life. It has mine…
xoxEDxox
Tell us, are you a mom on Twitter? How has Twitter enhanced your life? Do you go to your "Tweeps" if you have questions or concerns and need advice? We'd love to hear how Twitter has helped you in any way.