I just wanted to take a moment to make sure that you get Real Inspiration for the Modern Woman directly to your inbox.
If you care about being inspired, empowered, successful, and a thriving woman and mother, sign up for our blog posts and tips! It's easy and FREE (make sure you ACTIVATE THE LINK in your inbox when you subscribe).

This way, as a member of our community, beside getting great articles, expert advice, tips, inspirational posts, celebrity interviews, videos and more, you will also be up to date on new and exciting products, programs and launches from WomenOnTheFence.com and Erica Diamond. For example, we are currently working on a FREE Women On The Fence® APP where you will finally be able to track your goals, enter where you're on the fence, as well as your game-plan to get off the fence and unstuck. Daily tips, inspiration, motivation, videos, posts, coaching and more. So if you have any suggestions for the new app, a feature you'd like to see in the app, please feel free to leave that below.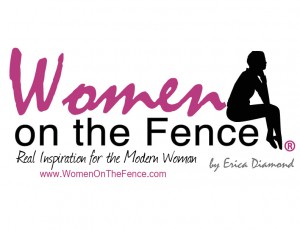 So thank you for taking a moment to join our thriving community of women, and learn the secrets to success in life and business.