I attended a charity benefit with my hubby last night, which kicked off the annual capital campaign for CJA (Combined Jewish Appeal), an organization I have supported since my early twenties. Our guests for the evening were Academy Award® Winner Marlee Matlin, and super cool dude, Henry Winkler, AKA The Fonz from Happy Days.
Here's Marlee and I backstage. I've already had the honor of hearing her speak in Montreal a couple of years ago, but I had never met her. Meeting her was magical. Her energy and strength is palpable. If you haven't read why this woman rocks, please do so here. She closed the evening last night by saying, "People feel bad for me because I live in a silent word. Well, I am not going to BE silent. I am going to make the MOST noise, and so should you in your life." Such important advice: Leave your footprint in this world. Ruffle feathers. Fight for what you believe in. Take a chance. Make a difference.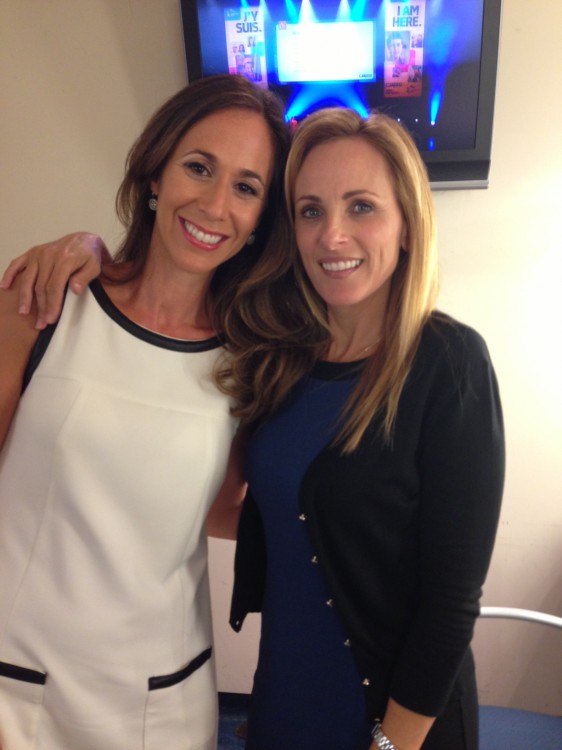 And here is The Fonz and I backstage as well. During his talk, he spoke of his great desire to be an actor ever since he was a child. He spoke about how hard he worked to make it to the top (getting 50,000 fan letters a WEEK), and how he never let anything get in the way of his dreams, including his dyslexia. In fact, he gave Marlee Matlin the exact same message when he met her for the first time as an unknown 12-year-old girl. Henry had been invited to speak at Marlee's theater group in Chicago, and when he saw this beautiful, confident, deaf, 12-year-old girl dancing on the stage, he was in awe. Marlee's mother went up to Henry after the performance and said, "Marlee wants to be an actress when she grows up. Can you please remind her that she is deaf, and will never be able to become an actress." Henry's answer? "I am sorry. I cannot tell her that. Because I think she SHOULD pursue acting. She's got IT. Nothing should stop her from pursuing her dreams."
And the quote he kept repeating last night, "If you will it, it is not a dream." How powerful. I get it.
And if you don't believe me on the above, just watch this interview.
And finally, it is a Thankful Thursday, because today we started 1st and 5th grade. Two happy boys, and mom is THANKFUL they are back! 😉
Have a fabulous day,