So, as you know, last week I announced I was writing a book. What could she possibly be writing about, you may have thought?
Well it turns out this opportunity presented itself and I just couldn't pass it up. It was everything I absolutely know and love, and have 15 years experience in. WOMEN, ENTREPRENEURSHIP, BUSINESS AND BALANCE.
Let me explain. There is a book series that will be coming out this year, the first ever 10+ Book Women's Series ever to be launched, and I was asked to be one of the authors  in the series. The brand is:
The 99 Things I Wish I Knew Before…
Dontcha love it? As in, the 99 things people wished they knew before– planning their wedding, retiring, having "the talk" with your kids, getting fit after 40, taking up golf, etc… It's a self-help series, and will be available at bookstores, online at Barnes & Noble and Amazon.com, on The Kindle, IPhone, etc… The concept behind it is, life is hectic, and sometimes we need great quick tips and techniques without reading a 300 page book. So, it's 99 points, one point per page of lessons and tricks. Sort of like your own personal "coach in a pocket." You may know one of the authors, Indy 500 race car driver champion, Sarah Fisher. She will be writing, 99 Things Women Wish They Knew Before… Getting Behind the Wheel of Their Dream Job.
My book is, <<drumroll please>> 99 Things Women Wish They Knew Before… Starting Their Own Business.
Do you like it? I love it… It's women, business, entrepreneurship and balance all wrapped up in one. I will be sharing my tips for women on how to start their own business and make it as successful as they dreamed. Anything women and business related is my first love and passion, it's what I know. If you don't know my business background, please see About Erica.
So, I am in the process of writing these 99 Things I learned throughout my own business and life experience, which all women must know before starting their own business ( be it a home-based business or something larger). I will keep you posted along the way and let you know when it launches.
I'm super psyched and very overwhelmed all at the same time,  to be honest. But as I said, I just couldn't pass up the opportunity to share what I know and love, in this awesome type of format. And the timing was now.
I would love to know what you think of the concept. Feedback readers, please!
This may not be the final cover. Thoughts??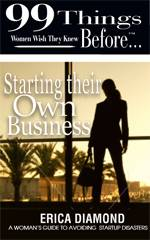 In fact, Harpo has the book series in their hands as we speak. VOTE HERE to tell Oprah to add it to her book club!
You can also take a look at the series website, www.99-series.com
Until next time,
xoxEDxox