By Guest Blogger Lori Anders
It's finally April this week! That means spring is here! After a long and freezing winter, still in a global pandemic, I think we're all ready for a little sunshine.
I love spring. Don't you just love putting on your brighter colored clothing and wearing heels instead of winter boots? I know I'm ready.
I feel the exact same way about home décor! We spend the winter months sitting on the couch and always seem to have cozy blankets close by. These blankets, as well as other home accessories tend be darker colored and more subdued in their feel. Spring is the time to freshen your home and add some color! It is the ultimate act of self-love and self-care when you can create a home that sparks joy. These changes don't have to cost you an arm and a leg. There are many things you can do to refresh your space on a budget.
Change the throw pillows on your couch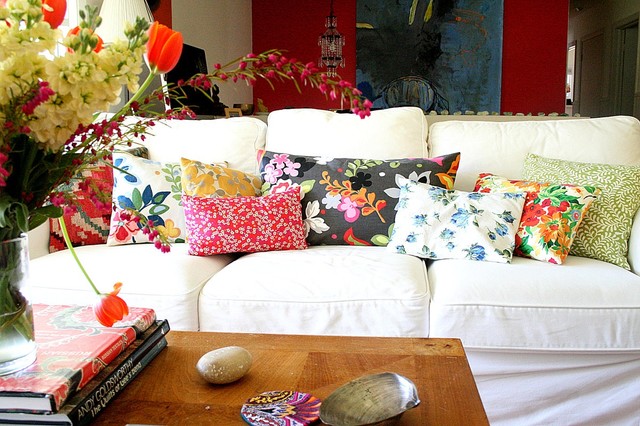 This is one of the easiest things that you can do and you're not limited to just twice a year. I change my pillows depending on the season, holiday time or even just my mood. Look for bright oranges or pinks and pair them with textured whites or creams. Paisleys and florals are always fresh for spring and easily pair up with any neutral palette. If storage is an issue for you, use the same pillow inserts and change the decorative covers instead. These fold up really small and are very easy to store.
Paint
Painting gives you the most bang for your buck! It's easy to do by yourself, it won't cost you very much and the impact is huge. Get some friends together, put on some great music and watch your room instantly refresh! You don't have to paint the whole room either. You can choose one accent wall, a piece of furniture or even a large white canvas as DIY art.
If paint isn't your thing, try pre-pasted wallpaper

It is easy to use and you can buy it at any big box hardware store. Line the back of your bookshelves, or even the interior of your closets for a décor pop without the commitment of a whole room.
Change the carpet at the front door
This may seem like an obvious one, but it isn't! In the winter, we tend to choose large, dark, industrial looking carpets that can sustain the abuse of snow and salt. Come springtime, its nice to take out your smaller more decorative rug. This is the first thing that you will see each time you walk into the house. It sets the tone for the rest of your home, so make sure that it's a nice one! Don't be afraid of color and pattern here. Vestibules are the best place to go bold.
Change your bedding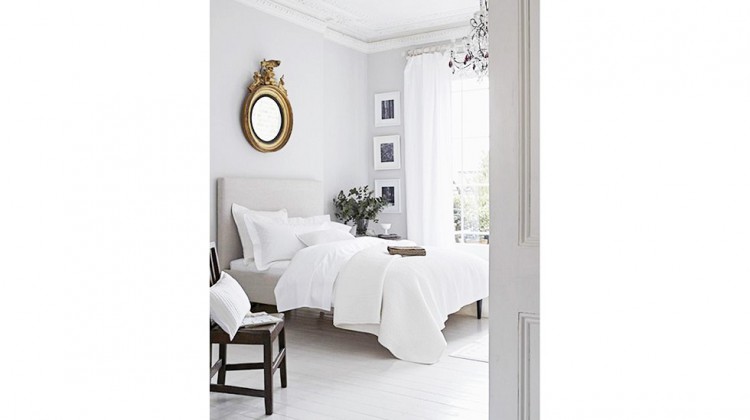 There's nothing that I like more than crisp white bedding! Its clean, its fresh and it never goes out of style. Layer different textures so that it won't look boring and always finish it with decorative pillows. When it comes to bedroom throw pillows, more is definitely more! Mix sizes, textures and patterns to keep it interesting. Soft pastels are always nice for the warmer months but aren't too bold that they feel casual. A pale pastel purple silk is absolutely gorgeous! Mix it with pale yellow and some crisp white, and you have a beautiful spring bed.
Have fresh flowers in the house
Can you think of anything that screams 'Spring' more than a bouquet of fresh flowers?! Flowers add color and texture to any room and they don't have to be a formal bouquet. Go to your garden, cut your favourite bunch and put them in a casual mason jar. It's an easy and super cute way to display them.
If you don't have a green thumb, fill a glass bowl or vase with bright yellow lemons or green limes
These are easy to pick up while doing your groceries and they look so fresh and happy!
The key to spring décor is keeping it fresh, bright and crisp. And above all else, make sure you love it! Never bring anything into your home that you don't look at and feel happy to see!
—
About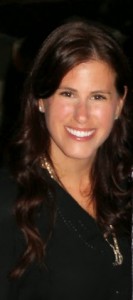 Lori Anders is the owner and principal designer of the Montreal based design firm Lori Anders Interior Design. After completing university and working in the non-profit sector for 6 years, Lori decided to follow her passion and went back to school to study interior design. 17 years later, she is happily successful doing what she loves!
Follow Lori on Instagram @loriandersdesign
—
I'd love to know – did this inspire you to brighten and freshen up your space? It inspired me!