Happy Monday, Chiquitas! Hoping everyone had a relaxing and enjoyable Father's Day yesterday.
I have a cute (maybe not so cute) story to share. Our wonderful Bubby Sarah turns 95 next week and the whole family came in from Toronto to share in the festivities. You should know, Bubby is in better shape than me, and as sharp as a razor blade. The 95th birthday luncheon was all planned. The only issue? Bubby was a no-show. When we called her in the morning to confirm pickup time, she uttered, "I'm an old lady, and I just don't feel like going today…"
So guess what? We figured, at 95, you definitely earn the right to skip your own party! So, we partied without her.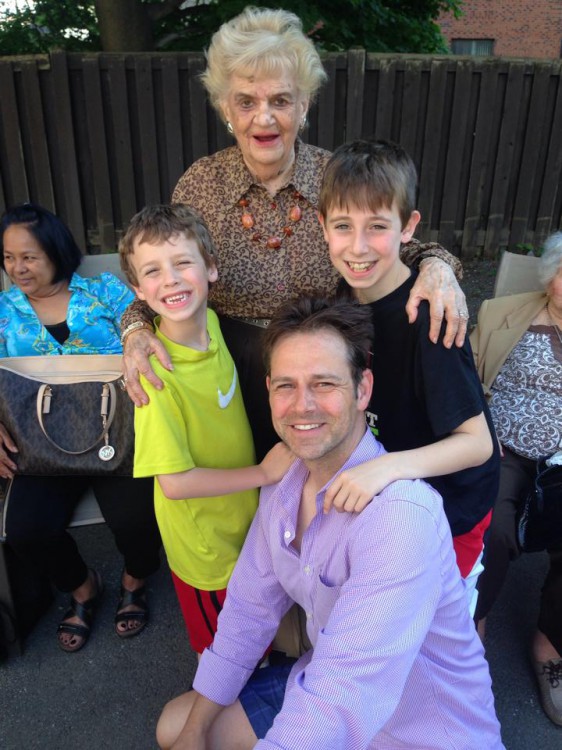 The camps bags also left yesterday morning (yay for mom– huge weight lifted, not so yay for boy). It's my son's second year at sleepaway, but what can I say? I was homesick as a child, my husband was homesick, and apples don't always fall far from their trees. He is a camper through and through and loved sleepaway camp (and we feel grateful to be able to send him), it's just that the beginning was kinda rough. Like ROUGH. And that's totally normal. We're hopeful for this year…
While some of you may be in the juice getting your kids ready for camp too, I came across some FANTASTIC letters of my own that my mother kept of my first summer at sleepaway camp. I was 8 years old. I had BEGGED my parents to send me to sleepaway camp with my friends, and after much persuasion, they sent me.
As a parent, how would you feel if you got these?
Letter #1 – Lovely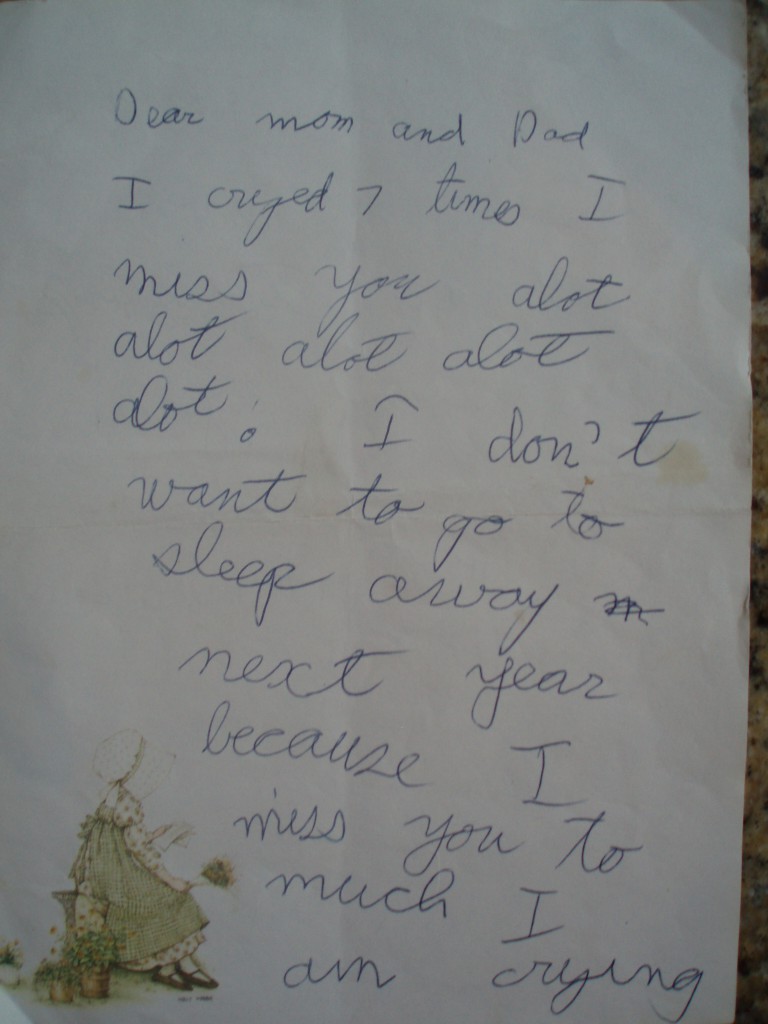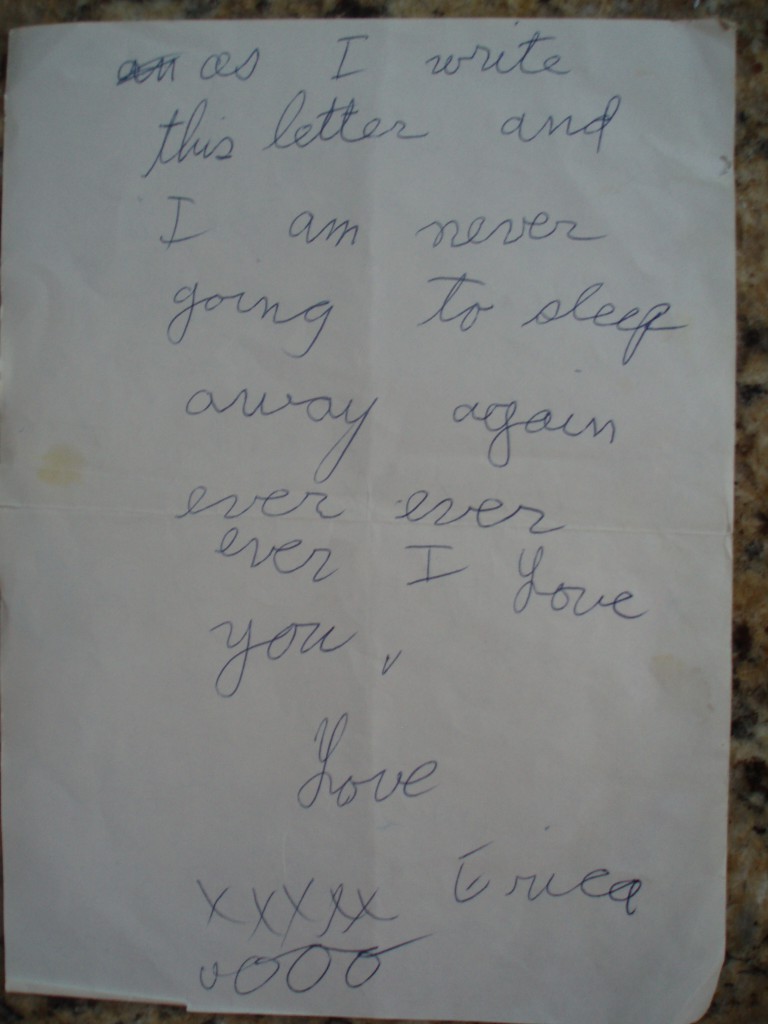 ——————————————————————————————————————–
Letter #2 – I SCREEM.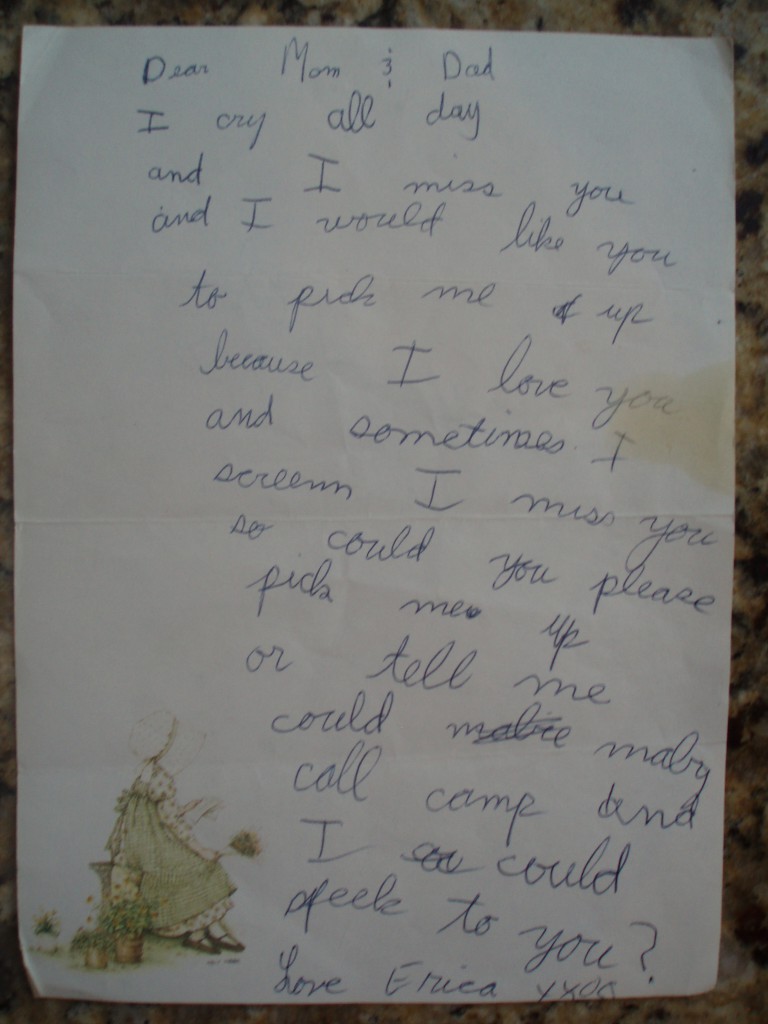 ——————————————————————————————————————–
Letter #3 – If I send MANY WISHES, maybe THAT will work! Maybe they'll come pick me up.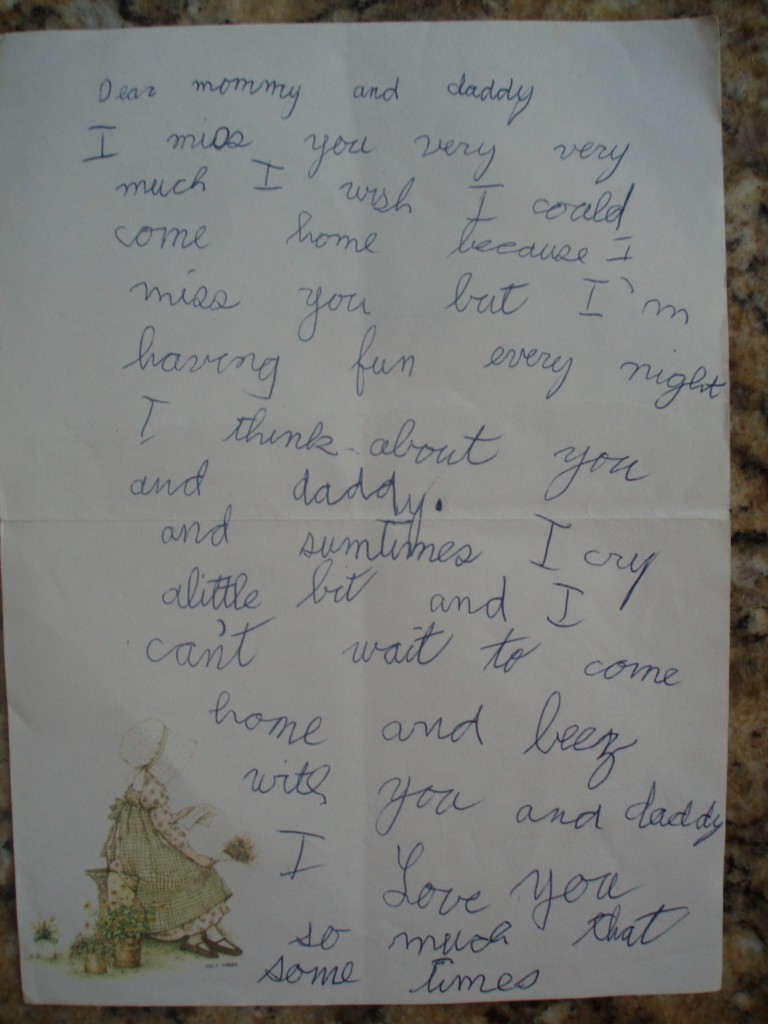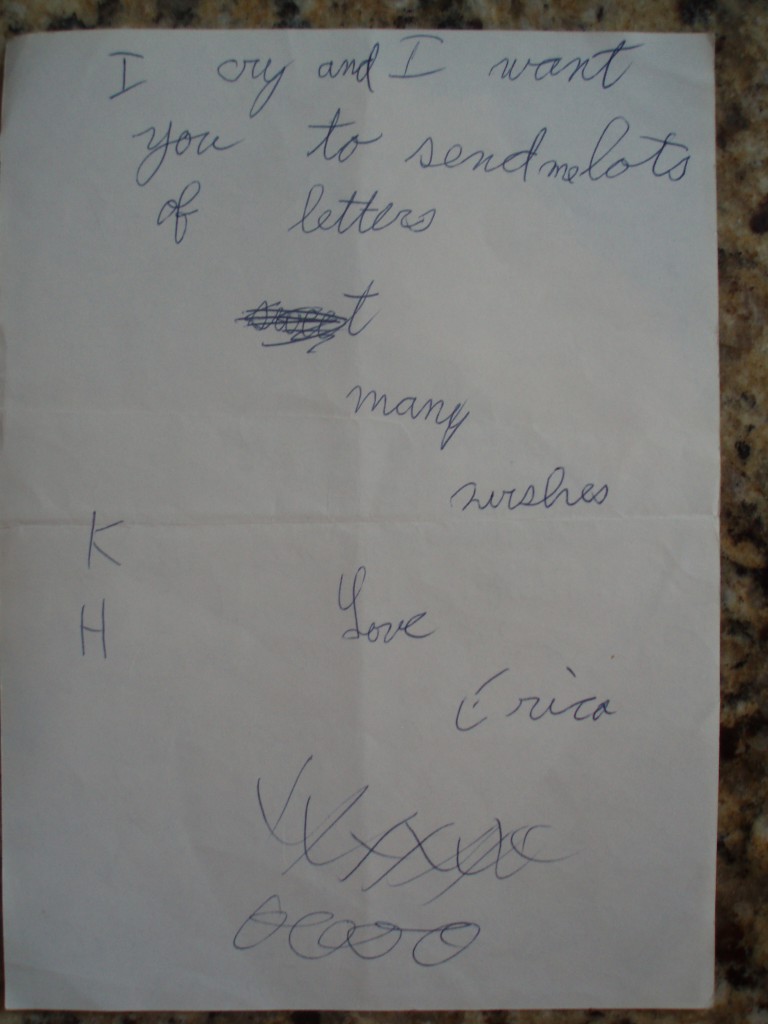 ——————————————————————————————————————–
Letter #4 – I cried 29 times, but PLEASE DON'T FORGET TO SEND GIFTS!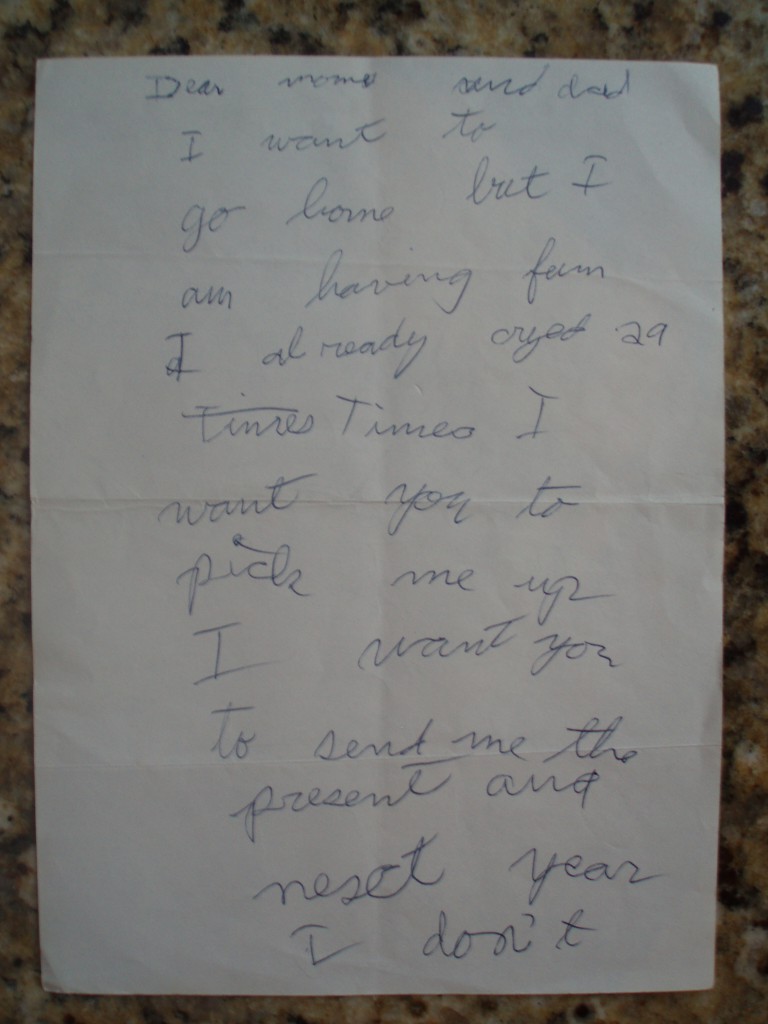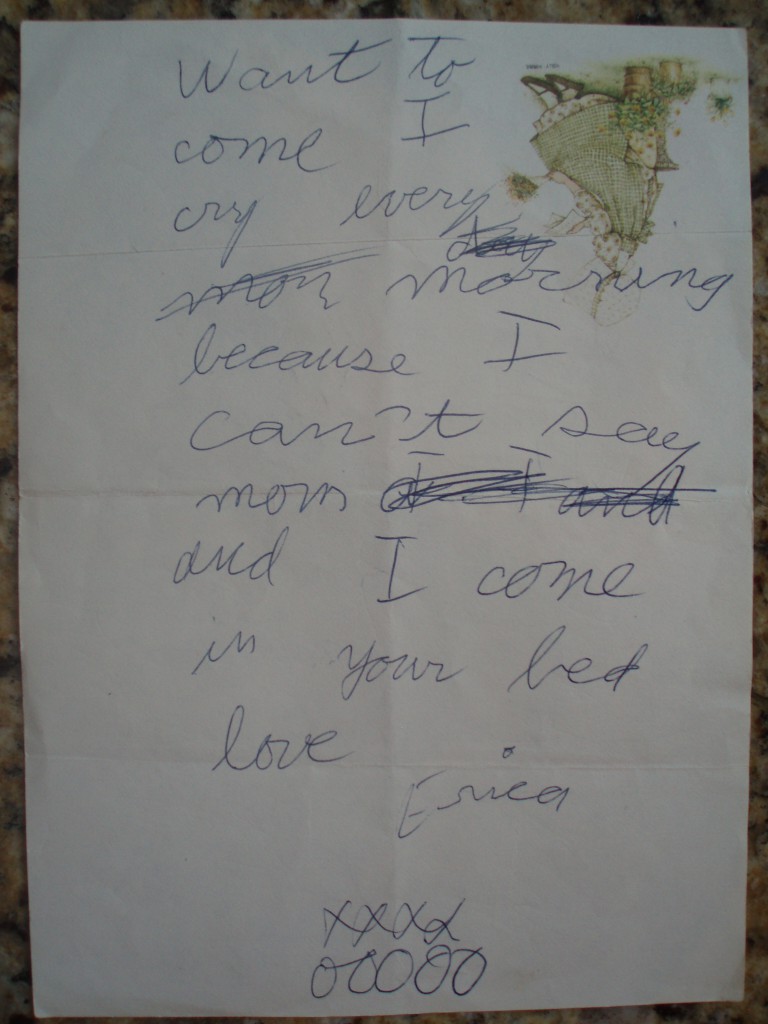 ——————————————————————————————————————–
Letter #5 – Thank goodness, they sent the present! Zaddy means 'Zaidy' which means 'grandfather.' If in case you didn't know, GOBIES means bowel movement. Hey I've always had the gift of the gab, no?! Also, you can see my psychology background kicked in… some self-talk to sooth myself. And again, with MANY WISHES, maybe they'll come pick me up.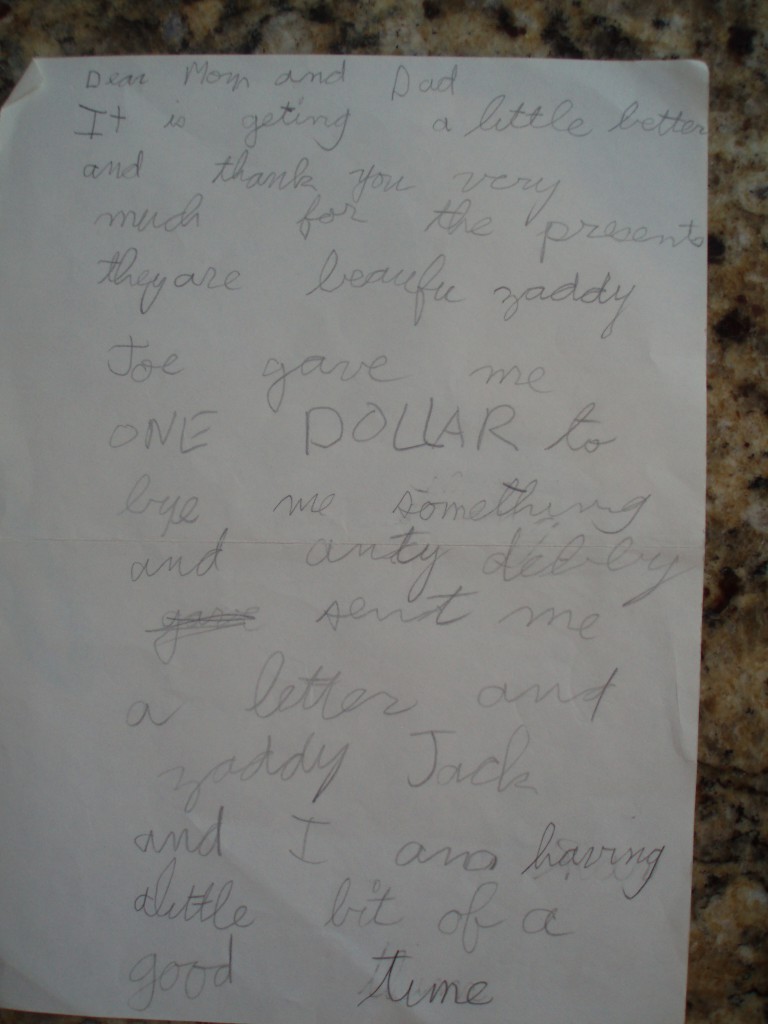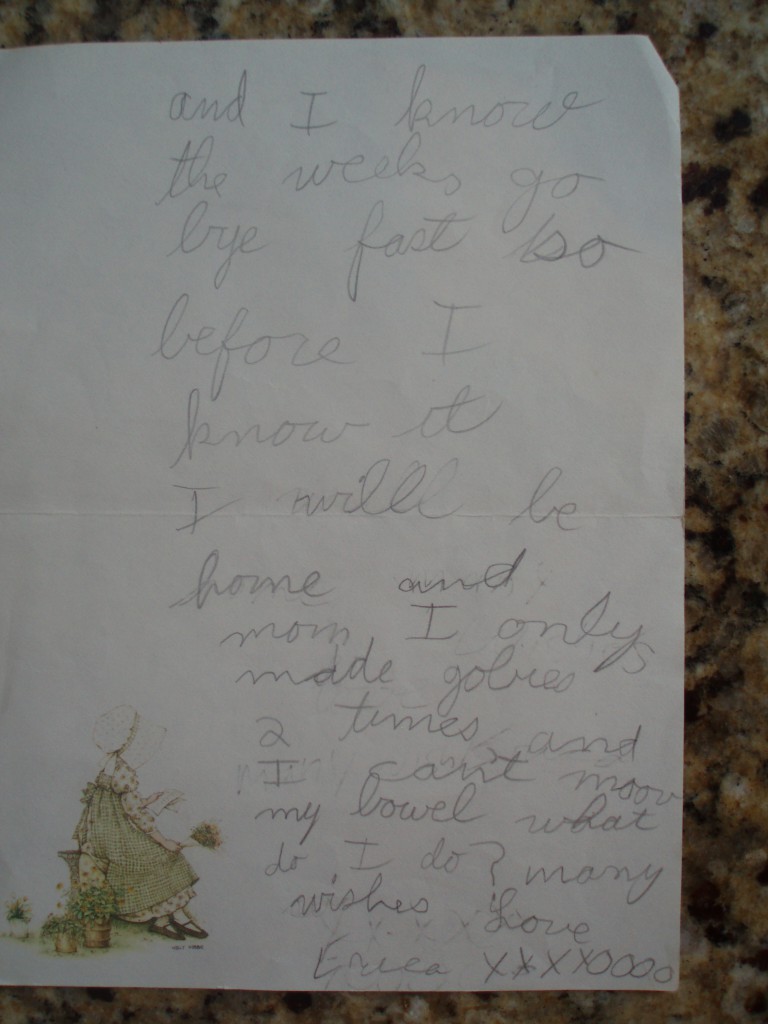 ——————————————————————————————————————–
Letter #6 – THEY AREN'T BRINGING ME HOME. I CAN SEE IT NOW. SO, LET'S SEND THE THREAT MAIL. NO "LOVE, ERICA" ANYMORE.
Then I ran away. No joke.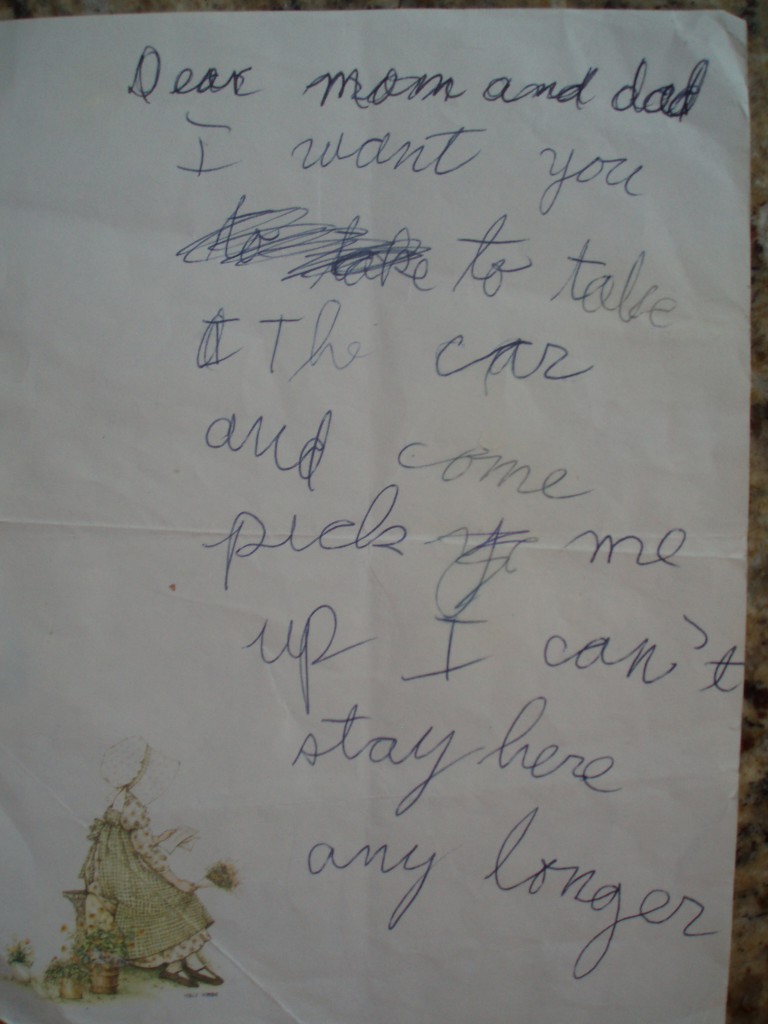 ——————————————————————————————————————–
Well, GUESS WHAT? My father, who has taught me everything I know about integrity, never quitting, and sticking to a commitment, let me come home ONLY on visiting day and not before.
Then, the good salesperson I was, begged them to let me go back again at 9 years old.
Here's another nice memory of one year later. A little bit like Groundhog Day, no?
Letter #7 – I had "SOSHELS," and apparently I thought that my wonderful parents SLAPPED ME! Also, as you can see, to be "rested" for my call, the camp owner kicked me out of the bunk to sleep in the kitchen… check it out. I hope I was never raped.
I also had "FEAVER," another attempt to go home.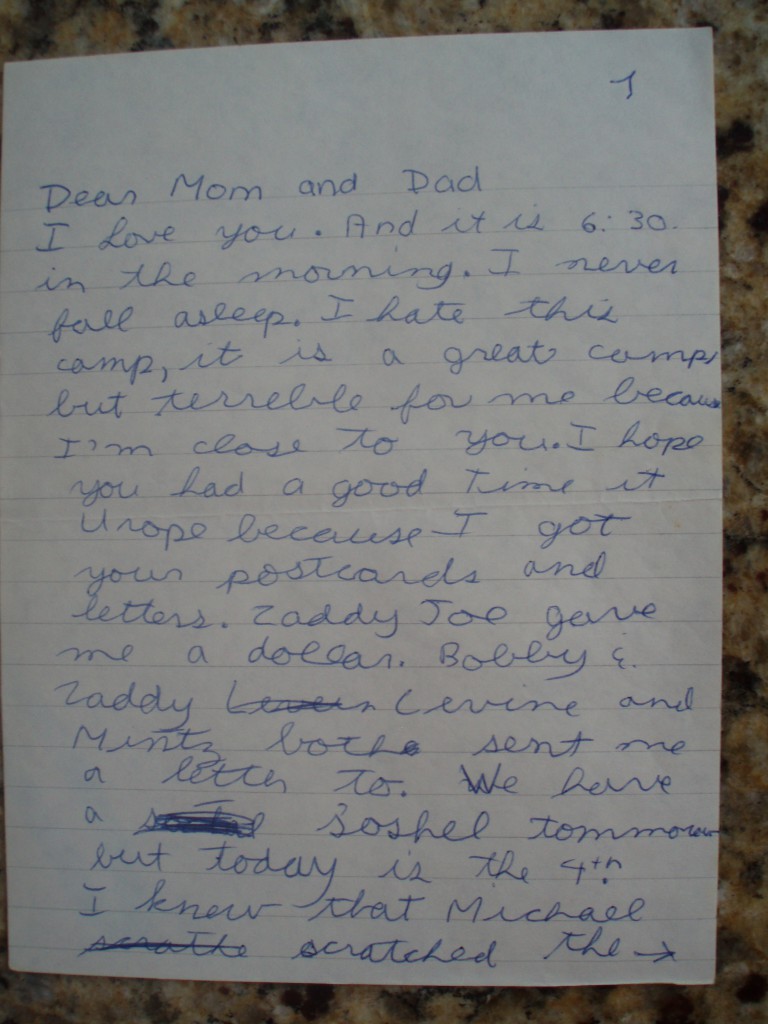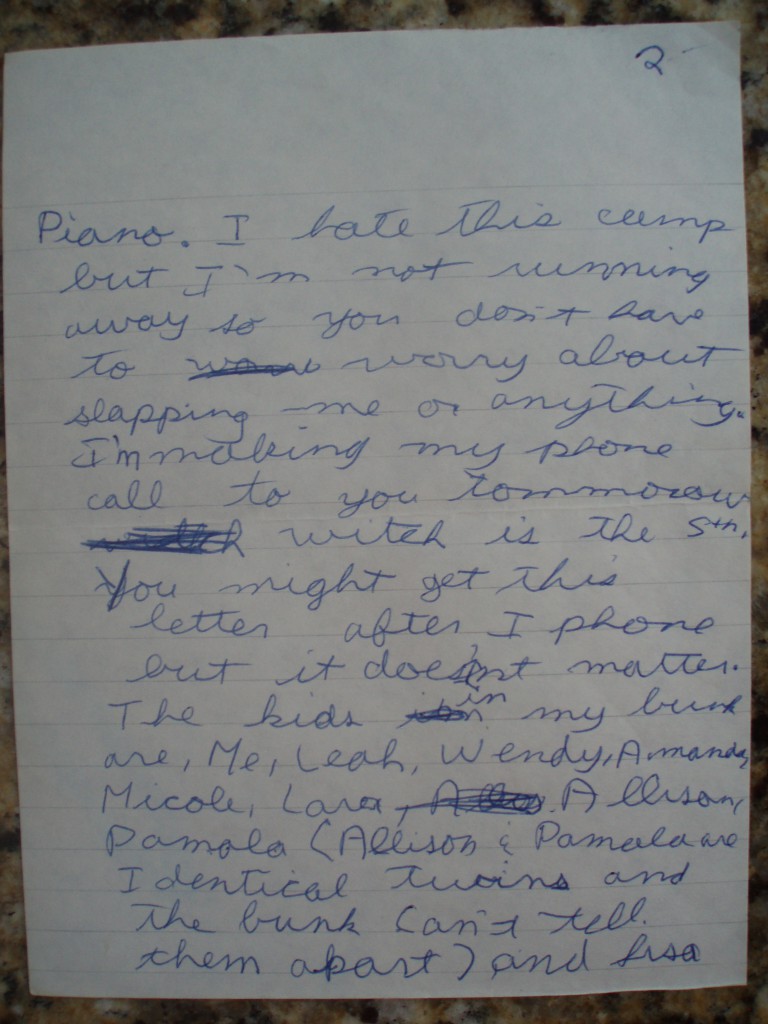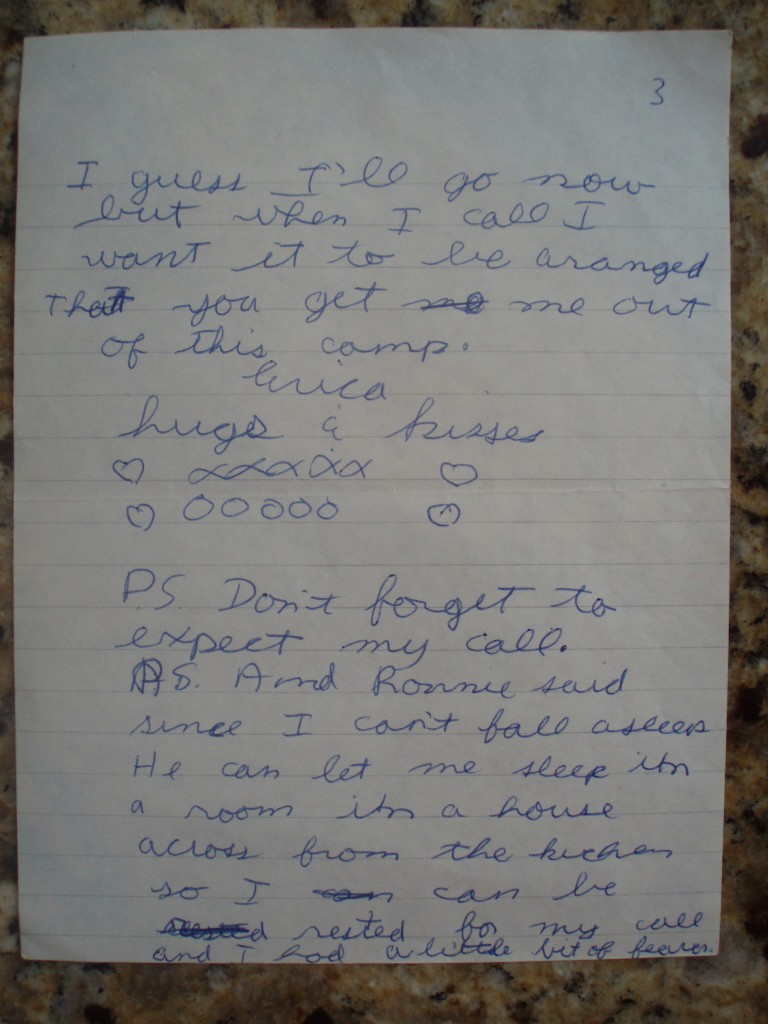 Wow. I was somethin' else.
And still, there are lessons to be learned. My parents made me stick it out and see my commitment through, and I credit these letters for my endurance, my resilience, my toughness and my NEVER GIVE UP ATTITUDE.
So really, nothing has changed much since I'm 8 years old.
Happy Monday, and Happy National Fudge Day!