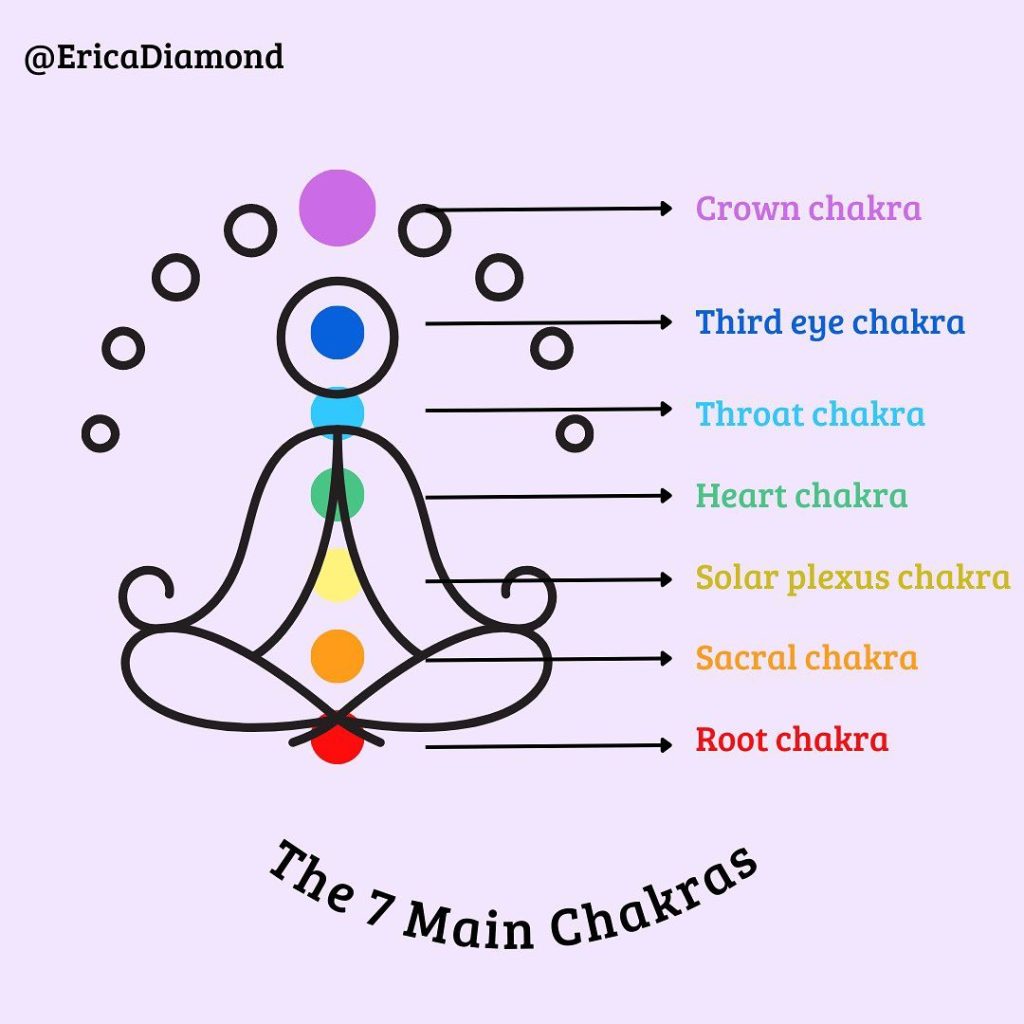 I made a drawing for you. This one is a saver so you can continually come back to it to understand what's happening in your mind and body.
I am certified in Chakra meditation (perhaps you didn't know). I wanted to share today what applies to your everyday life, that you might find interesting:
About chakras:
To get energy flowing in your body, you need to stimulate seven key sites – called nerve bundles, or chakras.
There are seven basic chakras/energy centers along your spinal column. Each chakra stimulates different organs and systems in the body. The first 6 chakras begin at the coccyx and continue up to the cervical vertebrae. The 7th chakra is associated with the brain.
When one chakra gets blocked, it affects a corresponding part of the body, causing a drop in energy and, worst-case scenario, leads to disease.
We want to keep our chakras balanced, and open.
Meditation helps to keep the entire chakra system in parasympathetic balance.
Here are the 7 chakras in your body and what they correspond to:
1st Chakra (Root) 
Location: base of the spine
Matters relating to the material world, success, security
2nd Chakra (Sacral)
Location – lower abdominal to naval
Emotions, desire, pleasure, sexual/passionate love
3rd Chakra – (Solar Plexus Center)
Will, personal power, authority, energy, self-control
4th Chakra (Heart)
Location: Center of the chest
Unconditional love. Forgiveness, compassion, understanding
5th Chakra (Throat)
Communication. Creative expression.
6th Chakra (3rd Eye)
Location: Center of the forehead in between the eyebrows
Intuition and insight
7th Chakra (Crown)
Location: Top of the head
Spiritual will, inspiration, meditation.
I'll give you an example of how this all relates to everyday living: if you're feeling financial insecurity, your back might go out. Your first chakra is in imbalance. Get it??
Once we are aware, we can begin to heal through self-care.
Today is the day after #BlueMonday, and whether you believe in this day or not, I thought this graph would provide value.
If you have more questions about meditation, calm, stress reduction, drop me a line below in the comments.