Happy #MotivationMonday, ladies!
My fifth episode of the #OWNSHOW on OWN TV aired live at 7am this morning. The topic was on some less well-known happiness boosters.
Here is this week's episode on Oprah Winfrey Network.
It goes to show you how early I clearly go to bed – I thought Letterman had retired!! My bad!
For other happiness boosters to incorporate into your life immediately, visit this article.
Once we're on the topic on happiness, I also wanted to share an info-graphic on success. I thought this was quite interesting, and I would love to hear your thoughts. I think if we look closely here, we can all own traits of both success and unsuccess.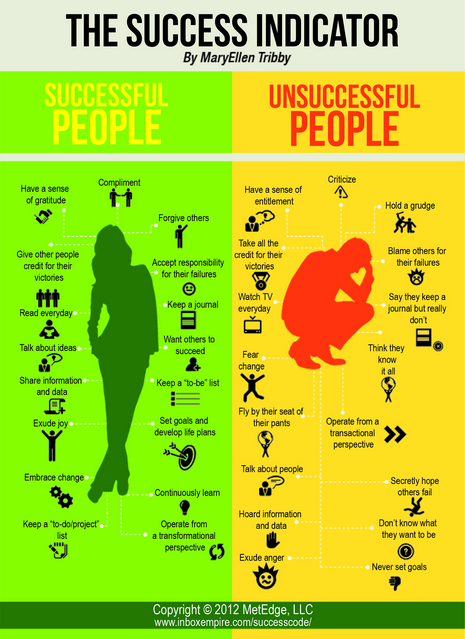 Along the lines of success and Oprah (hey, we're talking Oprah TV today), I recently watched an old rerun of Oprah's Lifeclass with Brene Brown. If you don't know about Brene Brown and her book Daring Greatly, I suggest you get cracking. She said one of the greatest things I've heard in a long time.
"If you're not in the arena getting your ass kicked on occasion, then I'm not interested in your feedback. You don't get to sit in the cheat seat and criticize my appearance or my work with mean-spiritedness if you're also not in the arena. Now, if you're also in the arena, and you're putting your ideas out there and you're owning them, and you're saying "I disagree with you about this and that, I think you've got this wrong"—then not only do I invite that, I freaking love that. I love that." – Brene Brown
I love this idea of putting yourself out there to achieve success, being "in the arena," in the game, being vulnerable, and then practicing SELECTIVE HEARING from the critics. I think it's quite excellent advice.
This is page ONE Of Brene's book. Goosebumps, people.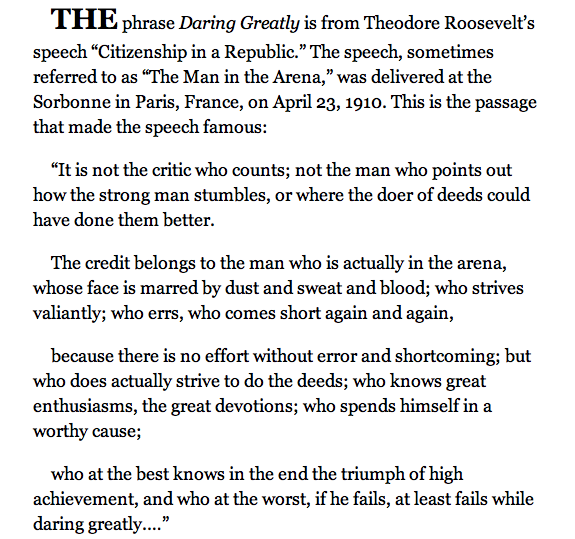 But I digress….
Back to happiness and OWN TV.
Thank you for watching! Today's episode concludes my 5 episodes on the OWN Show. What an experience!
A reminder:
1. The link to today's episode 5 on Oprah.com: The Secrets to Happiness: http://www.oprah.com/own-show/The-Secrets-To-Happiness
2. Direct link to the episode 5 on YouTube: http://youtu.be/EXcK1-0j5gQ
3. If you missed the first four episodes, here are the links:
Episode 1: http://www.oprah.com/own-show/The-1-Strategy-to-Get-and-Stay-Motivated
Episode 2: http://www.oprah.com/own-show/Unexpectedly-Crucial-Decisions-We-All-Have-To-Make
Episode 3: http://www.oprah.com/own-show/Tiny-Invisible-Signs-You-are-on-the-Wrong-Path
Episode 4: http://www.oprah.com/own-show/Why-You-Need-To-Find-Your-Sisterhood
And Id' love to know: What are YOUR secrets to success?