The plane has landed. I guess I deserve it. I did, after all, write a blog post called 'Born Skinny.' My metabolism, the metabolism that has been overly kind to me for 37 years, has officially retired. I think due to overwork. I have joined the rest of humanity- ass fallen, boobs headed south, beautiful cellulite, and finally the inability to eat whatever I want (that's the worst part of all). Ahh, the wonderful world of aging. It was great while it lasted. Now I actually have to do something called, **gasp** …WORK.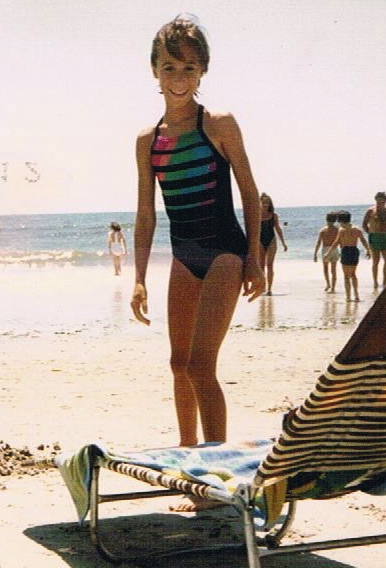 So, seeing that summer is almost upon us, and you know my goal is always to get you as close to your personal best as possible, today I wanted to give you the Top 12 Superfoods you should be incorporating into your diet. Many of these superfoods have helped keep me in good health. Today, we're getting off the fence, off the junk, and caring for ourselves. Consider this your whack over the head with the frying pan (pardon the irony). It's May. May is about rebirth, rejuvenation, and regrowth. So, if you've been a bad girl, give yourself permission to own that… and then let it go. I'm doing that too.
Let's cut right to the chase. The Top 12 Superfoods you should be incorporating into your 2012 diet:
1. Berries. Who doesn't like berries? I recently started making the Jessica Seinfeld Frozen Yogurt Pops for my kids. I buy organic plain yogurt, and put it in the blender with some strawberries or raspberries, add a tad bit of sugar, and we make our own fro yo pops with these delicious berries. Ripe blueberries are high in vitamin C, and have tons of anti-oxidants, which benefit your circulatory system. Strawberries are full of potassium and are also great for your heart. Get some berries, and keep them handy for snacks!
2. Salmon. Instead of meat or chicken, try Salmon as a lunch or dinner option.  Salmon is high in protein, omega 3 fatty acids, and very high in vitamin D. Just so you know HOW important these Omega 3's are– they help prevent strokes, blood clots and recent studies also show that Omega 3's have the potential to slow down Alzheimer's, as well as fight depression and suicide. And one final note– when in doubt, or if you get a fight from your family, ADD KETCHUP! (It's how I get my kids to eat it.) 😉
3. Walnuts. Walnuts have more antioxidants than almonds, cashews, hazelnuts, and many other members of the nut family. Walnuts are the new "supernuts." Walnuts do everything from promote cardiovascular health to prevent weight gain. Studies have even concluded that if eaten before bedtime, walnuts can help you get a better night's sleep, thanks to the hormone melatonin.
4. Extra Virgin Coconut Oil. Studies are coming out of the wazoo that Extra Virgin Coconut Oil is the best oil you could use for health benefits, and to keep you fit. Coconut oil is also ideal for skin care and has anti aging benefits. Another great health benefit to coconut oil is that it's been known to stimulate your metabolism. It's also been known to increase immunity, and help decrease heart disease and high blood pressure. I'm considering making the switch.
5. Greek yogurt.  Because Greek yogurt is strained, it becomes much richer in texture than unstrained yogurt. The straining also removes the whey, which makes Greek yogurt higher in protein and lower in sugar and carbohydrates than regular yogurt. Greek yogurt is also known for its positive effects on your immune system.
6. Pomegranites. Pomegranites are high in Vitamin C and K, and are naturally low in calories. Pomegranates are also packed with antioxidants linked to a healthy heart and decreased inflammation. Unfortunately I am the only one in my family who will eat pomegranite seeds, but I buy them and put them in my yogurt, my cereal or I eat them plain. They're an acquired taste, but oh so good for you. I do buy pomegranate juice, and my kids seem to enjoy that.
7. Quinoa. Quinoa has been called, the "Everyday Superfood." What makes it a great superfood, is it contains a perfect balance of all eight essential amino acids. Also known as "brain food," and a "dieter's dream," it makes for a delicious, protein filled side-dish to salmon, chicken, or just about anything.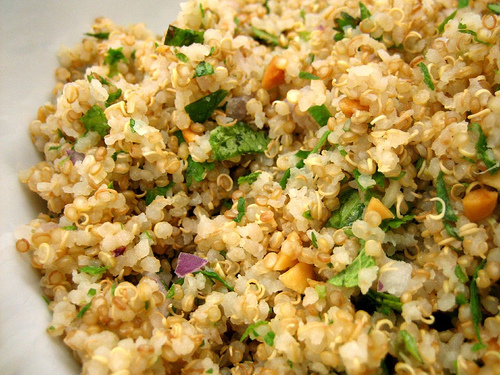 8. Black Garlic.  Black garlic is a type of fermented garlic that originated in Asian cultures. To make black garlic, whole bulbs of garlic are fermented at high temperatures, resulting in black cloves that taste both sweet and savoury. The pungent smell is subdued in the fermenting process, so while the taste is still there, the bad breath that typically accompanies garlic is not. Black garlic has double the number of disease-fighting antioxidants as raw garlic. This one is on my agenda for 2012.
9. Green Tea.  Green tea is full of anti-oxidants. I can always count on my mom to drop off a baggie of what looks like a stash of marijuana every few months. I think she goes to China to hand pick the leaves herself! Just kidding. She goes to this remote area in China town and claims that this particular strain of green tea has been tested to help fight cancer. In fact, in a recent Japanese study which looked at women with stage I and II breast cancer, research showed that the women who drank more green tea before and after their surgery, had a lower chance of the cancer recurring. It has also been proven to keep people lean. Here's the catch… one cup doesn't really cut it. Have a few more cups m'ladies to get the full effect!
10. Chia seeds. Chia seeds are actually part of the mint family. Rich in omega-3 fatty acids, protein and fibre, they're often used in nutritious drinks. You can ground the seeds and use them for baking, cook them whole, or have some as a snack. They are exceptionally high in minerals and nutrients.
11. Kale.  Kale is a green leafy vegetable high in vitamins A,C, K, and fiber. I love Kale chips, so easily made by baking the kale in the oven. You can also add kale to smoothies or serve it as a side dish with your favorite proteins. Check out this chicken and kale recipe. I'm salivating.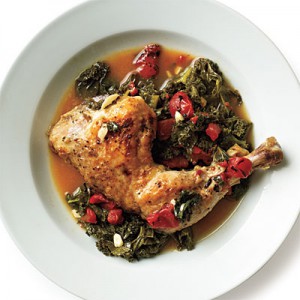 12. Adzuki Beans. Adzuki beans are small red beans, often called the "weight loss bean"  because they are very low in fat, and exceptionally high in protein. They are packed with tons of vitamins and minerals. They have also been known as a good food to fight breast cancer. Adzuki beans are great to add to your rice, salads, and more!
So, if you've been eating all the wrong things lately, or insist that 
you don't have the time to eat healthy
, there are no more excuses. Your health should one of your top priorities. Be good to your body, and it will be good to you. We're all in this together. Let's do this.
I'd love to know if you have tried, or eat any of these superfoods regularly. Are off the fence and ready to get healthy for summer, or are you feeling in a slump? Please feel free to add your tips and tricks on foods that are currently keeping YOU healthy.
xoxEDxox
(Resources: Ivillage, JanaeWilliams, About.com, Womens Health Mag, Healthiertalk.com, Health diaries.com, CNN, CorePerformance.com, The Nutrition Post, OffTheGridNews.com, Sweetspot.ca, 3FatChicks.com)