99 Things Women Wish They Knew Before… Starting Their Own Business
by Erica Diamond

AVAILABLE
NOW

in SOFT COVER!

Plus, buy any of our 99 Series Books, and get 50 FREE BONUS GIFTS!

See below for more info…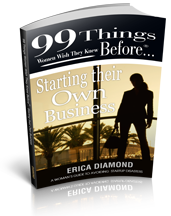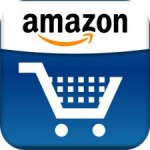 99 Things Women Wish They Knew Before… Starting Their Own Business
Do you wake you Monday morning and wish it were Friday already? Are you burning out in your current job and wish you had more flexibility? Are you tired of getting a paycheck for doing something you hate? Are you a stay-at-home mom who is antsy to finally do something for herself? Have you ever thought of turning your hobby into a career? If you answered YES to any of these questions, you may just be ready to start your own business!
99 Things Women Wish They Knew Before… Starting Their Own Business is THE must-have guide for any woman starting her own business, be it a home-based business or something larger. This book is designed as your very own "coach in a pocket," full of unique tips, tricks and techniques on how to create a hugely successful business, and then how to incorporate it into your life. This book has EVERYTHING for any woman starting her own business, from tips on how to unlock your passion, to tricks on writing a stellar business plan that will be sure to get approved, to techniques on developing a killer marketing and sales plan, to proven methods on how to motivate employees, to keeping your clients loyal, to managing the emotional side of business, and then how to balance it all!
While its author Erica Diamond has achieved great success over the past 12 years as an award-winning entrepreneur, she has also made mistakes along the way. In this book, she shares her incredible secrets with her readers on how to create the business of their dreams, and avoid the start-up pitfalls she incurred. This is Erica, as your very own business mentor and coach guiding you through the start-up phase of your business! 99 Things Women Wish They Knew Before… Starting Their Own Business is THE book to navigate you through your incredible journey into entrepreneurship. And what an incredible journey it will be…
*****************************
Read what people are saying about 99 Things Women Wish They Knew Before Starting their Own Business.
"There's a saying that Ginger Rogers did everything Fred Astaire did, but backwards and in high heels….we women are multi-taskers. Whether you're one of the many Women on the Fence that Erica Diamond has captivated with her blog, or you're simply a woman with an entrepreneurial spirit who wants someone to guide you through the pitfalls and triumphs of starting your own business, you will love this book. Erica is passionate, and her passion will rub off on you. Every woman needs a plan to realize her potential, and this book will motivate you to start moving in the right direction ."
Brooke Burke, Co-CEO – ModernMom.com
Co-Host, Dancing With The Stars
—————————————————————————————
"Erica embodies one of the greatest things about women: multi-tasking. She has accomplished so much, conquering the fields of business, parenting , blogging, and also contributing to charity work. Women should draw inspiration from her and especially from this book: be bold! There is nothing you cannot do if you put your mind and heart into it."
Sarah Ferguson, Duchess of York
—————————————————————————————-
"Erica Diamond is a breathe of fresh air for the female. She embodies a spirit that is inspirational to all women who hold the desire to accomplish more in their lives. In 99 Things Women Wish They Knew Before ….Starting Their Own Business, she gives you the tools and tips to turn your dreams into reality. Whether it is learning about how to market your business, sell yourself or how to have it all and still maintain a personal life, you will learn and easily adopt her secrets to proven success. This book is much more than your average "Start your own Business" book, it is simply 99 things that WILL make a difference in your life. So….what are you waiting for? Start reading and get your business started!"
Heidi Androl, Former NBC TV Show "The Apprentice" Candidate and Producer/ Reporter for The Los Angeles Kings, Fox Sports West and the National Hockey League.
—————————————————————————————-
"If you're looking for a savvy entrepreneur to coach you through starting your own business, you need to read this book! Erica offers you the best advice that most people just don't! Erica's 99 tips are not only easy to follow…..they actually work! You'll benefit from Erica's own experiences to see how to build the business you've always dreamed of and write your own success story."
Howard Starr, CEO – Tommy Hilfiger Canada (1994-2009)
—————————————————————————————-
"For women to be successful in business, we have to juggle it all. If you're a woman with a passion to start a business, or even if you already have a business and are simply looking for great sales and marketing strategies, Erica can tell you how to start that business (and be a booming success) without leaving the rest of your life behind. You don't have to stifle your entrepreneurial spirit…with Erica cheering you on, you can achieve limitless success in business and life"
Susan Mulder, Partner McKinsey & Company
—————————————————————————————-
The 99 Things You Wish You Knew Before®… series
Do you want answers to the subjects that matter most to you right at your fingertips?
Do you want to change your life for the better, but don't know where to start?
Do you want a "Simple Simon" approach to a wide array of subjects?
We've got your answer!
The 99 Things You Wish You Knew Before®… series
—the first ever series launching with 13 books for you to choose from! Nicknamed your 'Coach in a Pocket'—
The 99 Series answers your questions by getting right to the core of each topic.
Each book contains:
99 Tips
One lesson per page
It's that simple!
99 Things You Wish You Knew Before®… has a topic for everyone, including:
Starting Your Own Business, Hitting Retirement, Losing Fat 4 Life, Facing Life's Challenges, Getting Fit Without Hitting The Gym, Falling in Love, Dating After 40, 50 and yes 60!, Landing Your Dream Job, Going Into Sales and Making It Big in Media!
You are one click away from Making the Best You… Even Better
When you purchase a book or a bundle of books you will receive amazing 50 FREE bonus gifts!
Step 1– Buy one of our books in Soft Cover on Amazon.
Step 2
– Send an email to
[email protected]
with your confirmation # from your Amazon purchase
Step 3– Autoresponder email will send you back an email with the link to 50+ free BONUS gifts you are entitled to after purchase and VOILA!
CLICK ON THE LOGO TO BUY ANY OF OUR 99 SERIES BOOKS AND FOLLOW THE INSTRUCTIONS TO REDEEM YOUR 50 FREE BONUS GIFTS!