Hello Ladies! It's good to be back!
It all started Monday morning. I kissed my three men goodbye at 6am and headed to the airport. I was going to Seattle Grey Mercy West.
No, I wasn't. I've just always wanted to say that (I'm a big Grey's Anatomy fan) 😉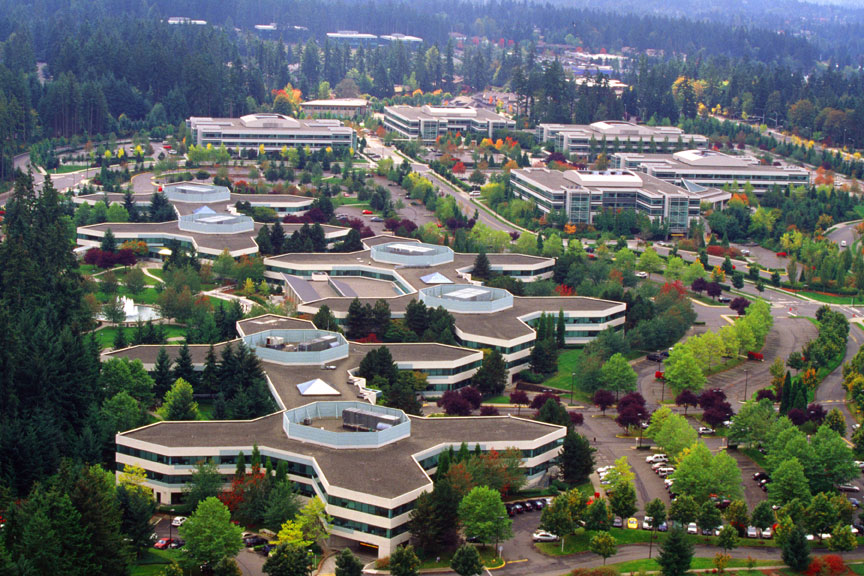 But for real, I WAS flying to Seattle. Where the first-ever Starbucks resides (which is so quaint and unassuming, by the way, pictured here). Where seafood is in the plenty. And where the mother ship that is Microsoft lives.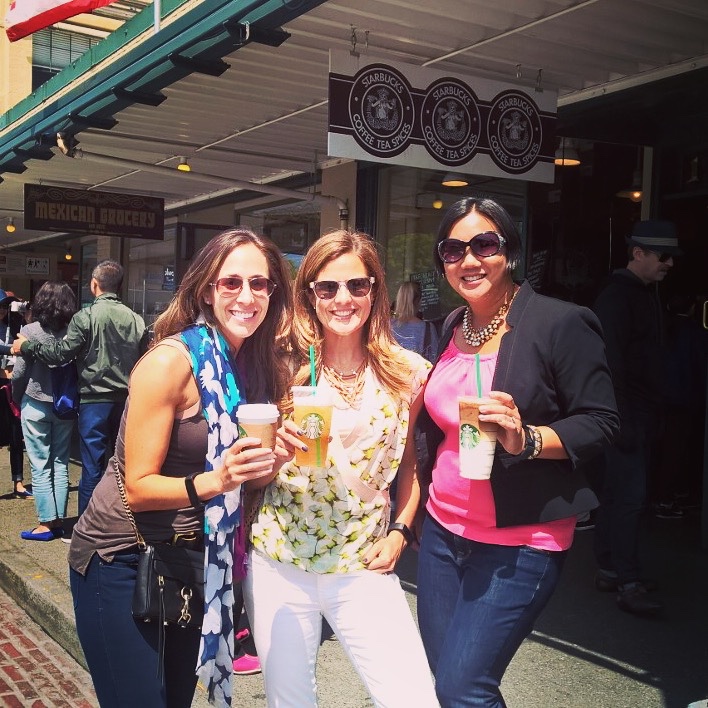 I went to spend a few days at the Microsoft campus, where Bill Gates and other uber-brilliant techies are changing the world we live in for the better. After being a Brand Ambassador for Microsoft Office for over three years, I went for my yearly trip to Seattle to see where the magic happens.
And magical it is.
This has become a yearly highlight for me – my annual trip to the headquarters to see how Microsoft is changing the world in technology and innovation. On the trip were also other bloggers. Some bloggers I already knew (and loved) and others I met for the first time (and also loved). But as usual, when a group of bloggers get together, sparks fly. This is my tribe, my people. May I also say, that when bloggers get together, it is the only time in the world when you can have dinner with another person and not insult them by tweeting or texting while they speak. It's a mass orgy of texting, tweeting, Facebooking, pinning, Instagramming, sharing, you name it, it happens. These women are pros.
When I walk into the Microsoft campus, I get the goosebumps… every time. The technology coming out of this company is unfathomable. We spent quite a bit of time this trip on learning more about the software that is simplifying our lives as women, moms, and businesswomen. I wanna quickly show you all the new tips I learned to maximize efficiency, and I also want to show you how Microsoft IS changing the world.
OneNote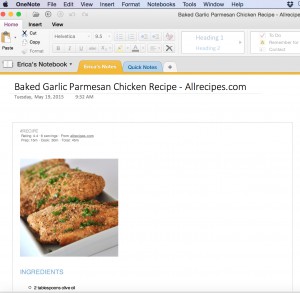 Using the new CLIPPER tool, I grabbed this great recipe from Allrecipes.com (Hello chicken parm!) and imported it right into OneNote in under 3 seconds flat. OneNote's Clipper is also a great tool when you are flying for example, and won't have wifi access. You can clip web articles you want to read right it to OneNote to read later.
You can drop Excel and Word Files right into OneNote pages too – keep your schedules and files easily accessible.
Office Lens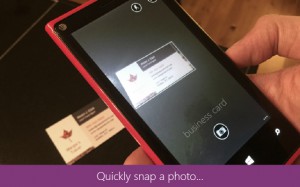 I got some new business cards, and with Office Lens, you simply snap a shot of the business card, and it will convert it into a contact right on your phone! You can also use Lens to takes pictures of receipts, menus at restaurants, and more.
Office Lens is also my new SCANNER ON THE GO. Grab a picture of any document, it recognizes the corners, scans it, crops it and sends it off in an email in 3 seconds! That is cool. I actually sent off all my kids' extra curricular spring activity forms with Office Lens!
Surface 3 
Surface 3 lets you record video, so for example your kids can now shoot their teacher's lecture in the classroom and review again at home!!
Surface 3 also converts handwriting into text! BOOM! Read more: http://blogs.office.com/2014/06/05/onenote-on-surface-pro-3-in-education-writing-annotating-sketching-highlighting-and-drawing/
And finally, I was spoiled with my own Surface 3 Pro this trip! This machine is scary smart!

Microsoft Foldable Bluetooth Keyboard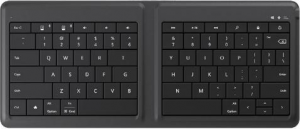 This had to be my favorite piece of Microsoft hardware I saw this whole trip. For $99.00 you can do REAL work right from your iPhone or iPad, Windows phones or tablet, and Android phone. And it's all wireless – it simply connects through bluetooth. Fold it in half, throw it in your purse and you've got a keyboard on the go to answer emails at carpool! And get this… IT'S WATERPROOF! Spill coffee on your keyboard and it ain't gonna break!
YouthSpark
YouthSpark blew me away the most.  YouthSpark is a company-wide, global initiative with a goal to create opportunities for 300 million youth by 2015. Through 30+ programs and partnerships with more than 350 youth-serving nonprofits, by the end of 2014, Microsoft YouthSpark had already created new opportunities for more than 227 million young people in over 100 countries around the world.
In a nutshell, Microsoft YouthSpark connects our youth with opportunities for education, employment and entrepreneurship.
Break Into Code Competition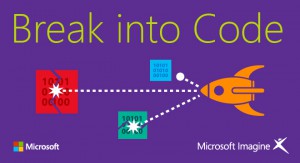 Oh how I loved this one too. Microsoft Imagine introduced the Break Into Code Challenge to get our kids excited about coding even if they don't have any previous experience! They're getting students of all ages started with a simple, easy to follow tutorial on coding a brick breaker game. The tutorial will get you started from a blank slate to a working game which you can then personalize and reinvent to make it your own. You can use any device with a browser and internet connection to participate.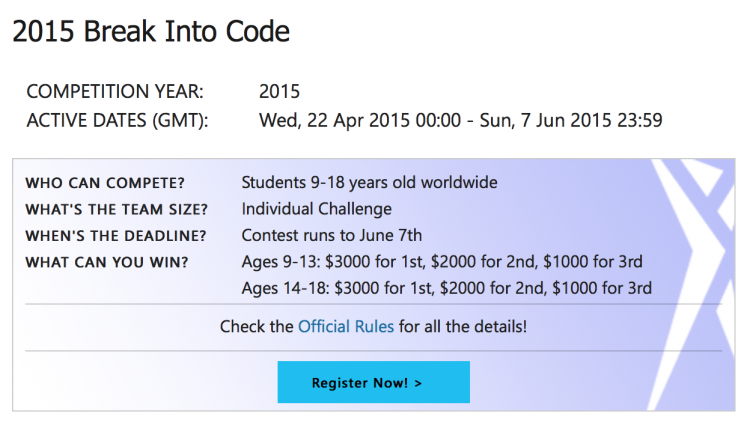 To register your child to compete with peers around the world, visit: https://www.imaginecup.com
Microsoft Health Band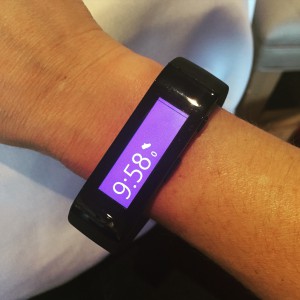 Here I am sporting my new Microsoft Band! My new Microsoft Health Band maximizes my workouts by tracking my heart rate, steps, calorie burn and SLEEP QUALITY. It even tells you how long it took you to fall asleep (for me, it was 9 minutes to be precise, as per my Band)! C'mon awesome! I can get calendar alerts on the go. I can see incoming calls, texts, social updates, weather and more right on my wrist through bluetooth. It even has guided workouts. And get this – I can even pay for my Starbucks coffee with my Band! It works with Windows Phone, Android and iPhone. It has a UV sensor and even has a built in GPS for running! I just left spin class, and burned a few hundred calories as per my Band. Really loving my new health gadget.
Pretty cool stuff, no?
So without further ado, I'd love to share my wonderful trip with you in picture in honor of the Wordless Wednesday I missed. Here goes. Click on any image to enlarge it.
It was a magnificent three days in Seattle. Thank you Microsoft team for an educational, inspiring and fantastic visit.
Now, my readers know, whenever I venture out, I always bring home lessons learned.
Here are 3 random lessons learned:
I learned that success comes from following your dreams. I read once on Twitter, "If you don't follow your dreams, you'll work for someone who did. Find time to make your passion a reality." Amen to that. All the people I was surrounded with this week are chasing their dreams. It's inspiring.
I learned that the best way to travel out of your time zone is to STAY ON YOUR HOME TIME ZONE! Don't laugh! I awoke at 4:30am every morning when my body woke me up (because it was 7:30am Montreal time) and went to bed early too. It has made the transition back home today seamless.
Which leads me to FOMO. When I stayed on my time zone (see #2), it meant that I was not staying up late with the bloggers, and therefore missing out. Most people suffer from FOMO – and geez, you should try and cut that crap out ASAP. What's FOMO you might ask? Yah… it's the Fear Of Missing Out. And you know what? It's harder to go to bed early, nurture yourself, rest your body, and NOT go to the party, than it is to follow others because you're afraid you might miss something. We all wanna be where the party is, but more often than not, the best party is with those we love (good friends and family), and not with complete strangers we're trying to impress. I'm not saying you shouldn't go out and have a good time, but many people look outside of themselves for gratification, instead of within. Be content with what you've got. You're enough. You're not missing anything. And you're not missing out.
Alrighty, I'll stop there.
And a final reminder for those who want to install Microsoft Office 365 Home, you get full Office applications on 5 Macs and PCs, 5 tablets and 5 iPhones with your subscription! Check it out here.
Ladies, I wish you a bright spring weekend ahead and Happy Memorial Day Weekend to my friends south of the border. I hope you'll rest up this weekend and take care of you. You matter.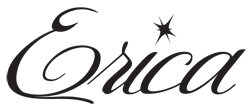 Disclosure: I am a proud paid Microsoft Office Brand Ambassador. All thoughts and opinions are my own.