I have been waiting to make this fun announcement. If you know me well enough, you know I love great quality things, but only at the right price. When RetailMeNot.com reached out to me to partner up, I was thrilled! Who doesn't love a great discount? As THE largest coupon site in the U.S., RetailMeNot.com has exclusive discounts for many of my favorite brands such as Target, Victoria's Secret, Land's End, Old Navy, Dominos Pizza, Macy's, Forever 21, Home Depot, Bed Bath & Beyond, Nordstrom, Best Buy and MANY MORE.
So it gives me the greatest pleasure to announce that I am now the Brand Ambassador for RetailMeNot. Yay!
If you are new to RetailMeNot.com, here is some info on this AMAZING site where you can visit, and cut out new coupons DAILY for your favorite brands. Plus, they are in the US and Canada!
"RetailMeNot.com (www.retailmenot.com) is the leading consumer destination for collaborative online coupon, deal and promotional code hunting and sharing. Our mission is to help consumers save money and enjoy a hassle-free discount shopping experience. Since November 2006, our users have shared hundreds of thousands of deals and offers from retailers from across the globe. Online coupons are rated and ranked by users, ensuring that quality deals rise to the top and expired coupons drop down the list. RetailMeNot.com is the world's leading marketplace for online coupons and deals."

The most online coupons and deals to the stores you love. Our goal is to be your go-to source for savings while you shop online. Save an average of $20 every time you shop!"
Awesome, right?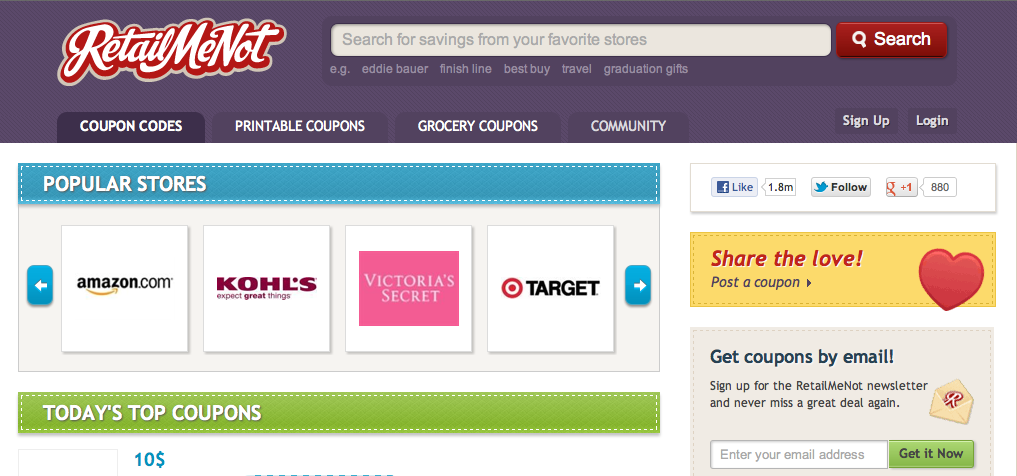 Online shopping has never been more fun, or more affordable at RetailMeNot.com. I encourage you to go daily, and check out their deals and discounts. Need something at Home Depot? There are coupons for that. Wanna buy something on Amazon.com? There's a deal for that too! There are even coupons to Cirque De Soleil shows in Canada. And the grocery coupons are incredible. It's truly an unbelievable resource for everyone, and therefore a perfect fit for Women On The Fence readers.
So, be sure to "like" RetailMeNot.com on Facebook, follow them on Twitter @retailmenot for all the daily deals. You can also sign up for the RetailMeNot newsletter and the best online coupons and deals will be sent right to your inbox.
I'd love to know your thoughts, and if you are already using RetailMeNot.com. Please forward this post to anyone who loves shopping and saving money!
And to my Canadian readers, wishing you all a very happy long Victoria Day weekend.
xoxEDxox
Disclosure: I'm proud to be a paid RetailMeNot.com Brand Ambassador.