By Guest Blogger Dr. Matthew Edlund

I bet you never thought of resting up on the job! I bet some of you think you require little rest to function. Or even still, some of you acknowledge the importance of rest, but can't seem the find the time to do so. I'm here to tell you…NONSENSE!  Rest is the original transformative technology.  Rest is like food; without it you can't rebuild and renew your body, absolutely required for your energy, health, and productivity.  And like food, you want to dine, not feed!
Which is what you do when you actively rest.  Unlike the passive rest of vegging out or sleeping, active rest is conscious, directed, and entirely under your control.  Active rest allows you, in as little as 30-60 seconds, to revive yourself when exhausted or relax when you're under stress.  In fact, I've even written a book on the The Power of Rest, and it has dozens of active rest techniques you can use to enjoy and prosper throughout the days (and nights – oh yes, sex too is a form of social rest).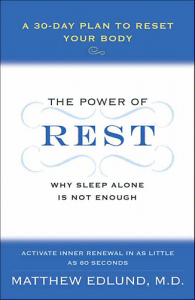 But first, here's a couple of tips before you start your work day – First, pace your life, don't race.  Biological clocks not only decree when you get up and when you sleep, they also control overall alertness and mood. People often ask me why we love music so much – it's because music is in our genes.  Rhythm is a large part of how our nervous system works.  So you want to set a rhythm to the day that feels like music.
Second, take breaks or you'll make mistakes.  Doing the same thing too long leads to errors. Don't forget that multitasking is an oxymoron – the human brain does only one thing at a time.  We sequentially task, we don't multi-task. Studies done by Clifford Nass at Stanford showed that prime multitaskers were actually worse at multitasking than people who prefer doing one thing at a time. Now there's something to ponder and let soak into your brain, multitasking women!
So for those of you who are feeling fatigued or burned out at work, or simply in your every day life, I've given you a typical day to try to follow, filled with tips and tricks to bring calm and rest to your body and mind.
So let's get off the fence… the past is the past. Let's set a renewing rhythm to your day:
8:45 AM Right before you arrive at work,  hear your favorite, fast paced song in your head or on headphones. Now walk to it, feel it all through your body  – a great way to boost energy as you start the day is to listen to music.
9:00 AM As you sit down at your desk, take thirty seconds to breathe consciously.  Breathe in to the count of four, out to the count of eight – really open up those lungs.  Now think of your first priority of the day – the task you really need to get done.  Figure out a time and place to get that one thing accomplished.
10:30 AM Take your first break.  Get up and move around.  If possible, visit a coworker for a brief chat—short social connections help us switch gears and improve attention, like many active rest techniques.
12:00 PM Walk with a co-worker to lunch. Walking in sunlight for 20-30 minutes can 1. Improve mood – especially if walking in nature 2. Reset immunity 3. Increase alertness for the early to mid afternoon – and work productivity for the rest of the day 4. Increase social rest and support 5. Cause new brain cell growth night during sleep – in memory areas.  All from a simple walk!
1:00 PM The beginning of the biological clock slow zone, which can last until  about 4PM.  So stand up and practice mountain pose: Align your ankle, knee, hip and shoulders along the same imaginary line, breathing in deeply and slowly for five long breaths. Your office or cubicle may seem like an odd place to do this if you're not working from home, so go to the bathroom if you wish to have the privacy. This will refocus you… promise!
2:00 PM Obviously, in a perfect world, studies show that taking a short nap of 15 minutes or less improves your work performance – often dramatically. But if your employer doesn't approve, which in many cases they probably won't, you can try the "UnNap" nap technique (I discuss it in my book) or take a brisk walk to help revitalize attention.
3:15 PM Take a coffee or tea break (drink decaf if you have trouble sleeping at night).  Again, engage your coworkers.  Not only is the social rest important, it improves productivity and community if colleagues have a chance to casually check in with each other and discuss work issues.
5:00 PM Before  leaving work, do deep breathing for 30 seconds and take stock.  Did you accomplish your first work priority?  Think about what you've learned that day – and visualize what you want to accomplish that evening and night.
Rest renews and rewires brain and body, a process so fast you essentially get a new heart in three days.  You want to use your power of rest to revive body and mind – physically, mentally, socially, and spiritually.  We can use that power to revive body and mind  – to control weight, decrease the risk of serious illness, and increase productivity, passion  and pleasure.   That's the real power of rest.
Wishing you all, a restful day.
🙂
————————————————–
Dr. Matthew Edlund is the author THE POWER OF REST: WHY SLEEP ALONE IS NOT ENOUGH
Ladies tell us what you think! Do you nap? Is it realistic? Will you now tackle your day with an effort to be less frenetic? For me, this was a wonderful reminder to SLOW THE PACE DOWN. Share your own tips and suggestions on how to beat the afternoon exhaustion.
xoxEDxox