If you recall, last month I announced that I was a Brand Ambassador for RetailMeNot.com – the largest coupon site in the U.S.  If you know me well, you know that I love great quality things, but only at the right price. Who doesn't love a great discount? So when I had the opportunity to partner up with RetailMeNot.com, I was thrilled. If you are new to RetailMeNot.com, it is an AMAZING site that has exclusive discounts and cut-out coupons DAILY for your favorite brands in the US and Canada- brands such as Target, Victoria's Secret, Land's End, Old Navy, Dominos Pizza, Macy's, Forever 21, Home Depot, Bed Bath & Beyond, Nordstrom, Best Buy and MANY MORE.
So it gives me great pleasure to announce that TODAY, RetailMeNot.com has launched their NEW and FREE app! Watch this now!
So cool right???
Here are all the details you need to know to honor this launch:
Download the new RetailMeNot mobile app here 

http://bit.ly/N02Wljb

 and help us spread the news!
Twitter:
Facebook:
RetailMeNot Daily "Appy" Hours at 4pm CST every day!
Wed, 6/13 – Sun, 6/18
FB Event Invite – Check out their 

Facebook page

every day at 4 pm CST to win Appy Hour Prizes!
Don't forget – it's "Appy" Hour every day at 4pm CST so be sure to visit the RetailMeNot Facebook Event page through Sunday to win up to $1000 in prizes!!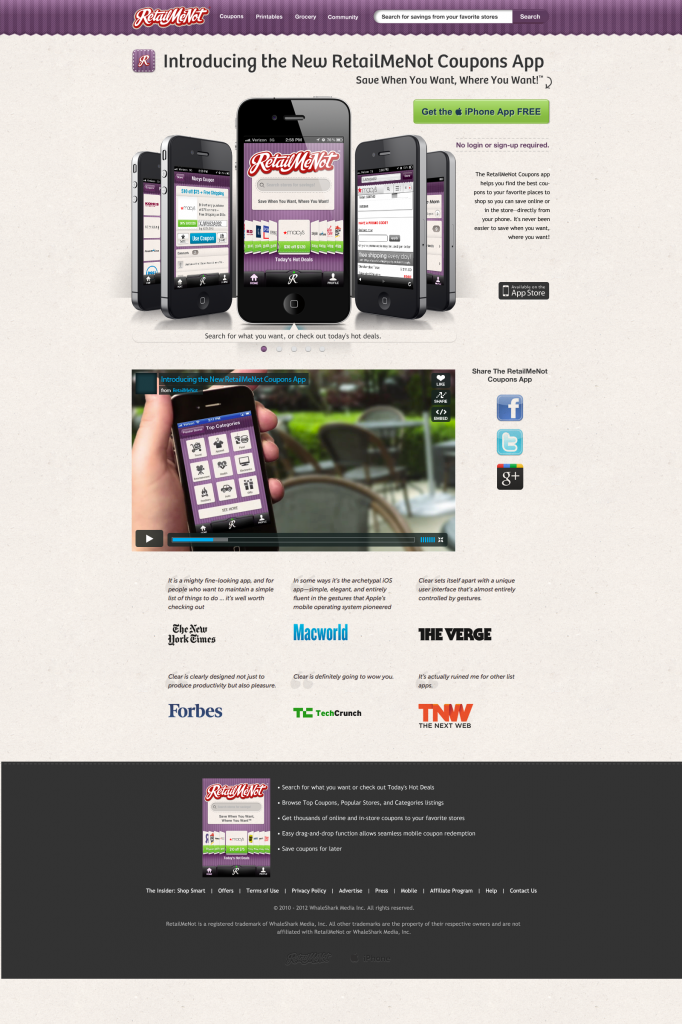 The motto is "Save when you want, where you want"  and here are the 4 main benefits of this awesome app:
1.       Get thousands of online and in-store coupons
2.       Simple drag and drop function allows easy online coupon redemption
3.       Save your favorite coupons for later
4.       Browse Top Coupons, Popular Stores and Category listings
I can't wait for you to download this app and let us know what you think!
Also, in honor of the launch and exclusively for WomenOnTheFence.com readers, share this post with one of the share buttons on the bottom, and tell us in a comment below, which of your favorite brands you would you like to see coupons for in the new RetailMeNot mobile app, and one lucky random winner will win a $25 iTunes gift card! Go ahead and tell us! 
xoxEDxox
* 1 Winner will be chosen at random.
* Draw will be Friday, June 22nd, 2012
* Disclosure: I'm proud to be a paid RetailMeNot.com Brand Ambassador.