It is with anticipation, overwhelm, excitement, a ton of nerves and great hope, that I announce the launch of something that has lived in my heart for a VERY long time.
I will be honest with you today. There is no fancy PR firm. No marketing pitch prepared. In fact, there's no big plan. None. Only a seed. Only a spark. This is an infant, coming into the world with very little experience. This baby is small, and my hope is that you will help me raise it. My greatest wish is that you will connect with this Movement, and be inspired to take action in your own life. To get off that fence. To get unstuck and take the leap to thrive.
I give you, the Get Off The Fence Movement. Please turn up your speakers, and make sure your settings are on HD.
Along with this video, please visit the new site GetOffTheFenceMovement.com and TAKE THE PLEDGE to Get Off The Fence, and commit to your goals. Commit to thriving in your life. If there is anything we've learned from witnessing the tragedy in Boston this week, it's that life is too short to be living an unfulfilled existence. The time is now.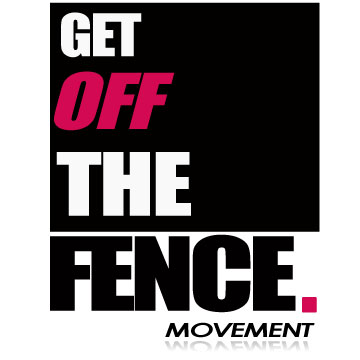 Next, just as these people above shared their story, I urge you to SHARE YOUR STORY with our Facebook community. Here you will connect with other fence jumpers, IN REAL TIME, all the time. Upload YOUR poster today: http://Facebook.com/GetOffTheFenceMovement. This Facebook community is where you will check in with others who are also working toward their goals, discuss challenges, triumphs and more. We are building a judgment-free zone to share your story, and motivate others. So don't forget to share your ON THE FENCE / OFF THE FENCE poster, video, inspirational quote or message, or anything that either holds you accountable to your goals, or helps someone else. Because sharing your story is the first step to taking the leap…

And finally, please download the Get Off The Fence / Women On The Fence FREE APP on iTunes, and start getting off the fence TODAY. Create your custom OFF THE FENCE plan to track and monitor your goals. I will be giving you all the ins and outs of this fun new app this Friday. Download the FREE APP right here:  https://itunes.apple.com/us/app/get-off-the-fence./id605612689?ls=1&mt=8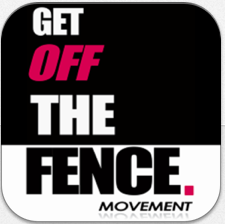 My goal is for this movement to spread like a virus – you get off the fence, and grab your sister, your mother, your husband, your friend, your child with you. It's like the CHEESE TOUCH in Diary of a Wimpy Kid– once you've been touched, you have the 'cheese touch,' and it passes to every person you touch. My goal is through YOUR STORIES, you will inspire someone else who is stuck in their life, to take the leap with you. Because once you know that someone else can do it, it makes it more real for yourself to get off the fence and just do it.
Some heartfelt THANK YOU's before I go:
A huge thank you to Bryan at

8th Avenue Studios

. I shared my vision with you, only my thoughts, and you took our stories, and made them real. You shared them in a caring and meaningful way. And I am forever grateful.
A gigantic thank you to Dana at

Amplify-Mobile.com

for creating an app that will inspire people around the world to create their goals, monitor their goals, and take the jump off the fence. With this app, fence jumpers everywhere can enter their big picture goals, create their their monthly action plans, get inspiration; messages, videos, upload their stories and more. How thrilling.
A massive thank you to Aren at

shooga.ca

for making such a powerful destination for this Movement at

GetOffTheFenceMovement.com

. Aren, you knew it was a no-frills site – the call to action was simple: Watch the video, take the pledge, download the free app, and share your story. You've been with me from day one –

WomenOnTheFence.com

,

Erica-Diamond.com

and now our third venture together. I'm sorry I drive you mad. I hope you can forgive me.
————
About…
The GET OFF THE FENCE Movement was created by Erica Diamond, Founder and Editor-in-Chief of the Award-Winning Lifestyle Brand Women On The Fence®. This movement is about taking the leap, and jumping OFF THE FENCE to a better you. To a thriving you.
This community is for everyone – young and old, man, woman and child. This movement is about holding yourself accountable to your goals, and motivating others to do the same. We're all on the fence or stuck about something in our life. It's time to GET OFF THE FENCE! It's time to make up or break up, quit your job, come out of the closet, stop procrastinating, start your own business, lose weight, get healthy, break up with that toxic friend, volunteer, stop bullying, go to bed early, stop obsessing over your smart phone. Whatever it is holding you back, you are taking the pledge to GET OFF THE FENCE.
Share your story on Facebook: http://Facebook.com/GetOffTheFenceMovement
Follow us on Twitter: http://Twitter.com/GOTFMovement. Please use hashtag #GetOffTheFence
Follow us on Instagram: http://Instagram.com/GetOffTheFence
Subscribe to our YouTube channel: http://www.youtube.com/GetOffTheFenceMVMT
————
I would also love your suggestions and feedback on how we can improve this Movement. This is day 1. My dream for this Movement is so big. I hope to interview and showcase stories of trailblazers and change makers who have gotten off the fence, and can teach others how to do the same. My ultimate dream is create a GET OFF THE FENCE  Speaker Series in major cities– free for the public to attend, whereby attendees leave with their own GET OFF THE FENCE action plans.
If you would be so kind as to SHARE THIS POST using all the share buttons below in social media and via email, I would be forever grateful. We're starting a GLOBAL REVOLUTION, and now YOU are a part of it. With your help, and your help alone, we will grow it organically. Together.
And one final reminder, the biggest push is to spread the YouTube Movement video. It all starts there. The link is here: http://youtu.be/jkA9UNfiqH0
With lots of love (and nerves),