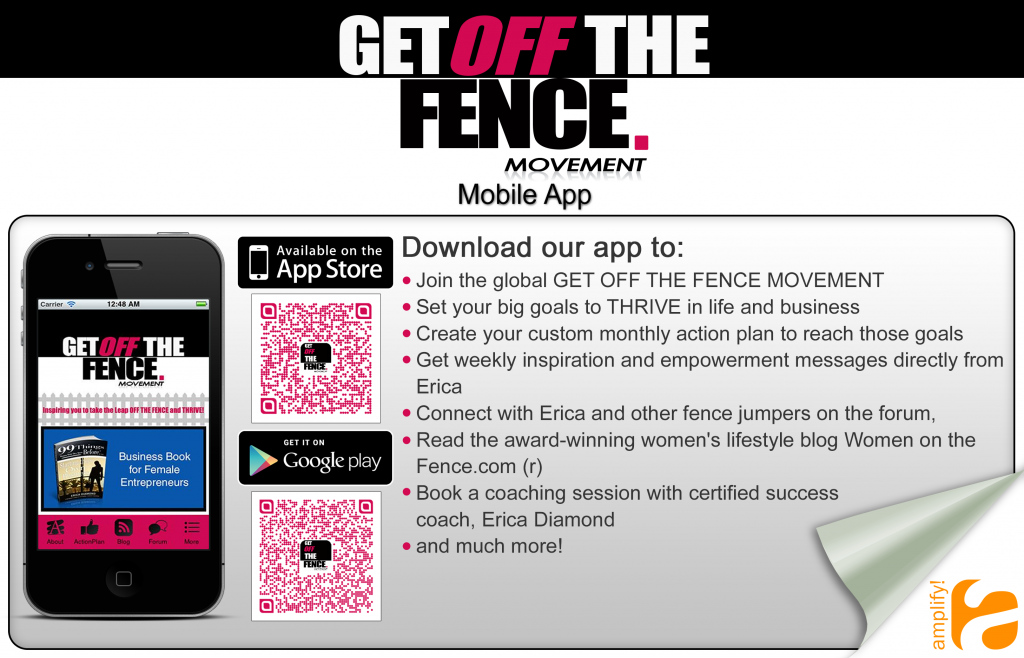 Since launching the Get Off The Fence Movement on Wednesday, we have received so many positive messages, calls, emails, tweets and more. I so greatly appreciate all of your support and feedback, and I am taking notes on all your suggestions. This is brand new to me, and really, what do I know about starting a movement?! I'm reminded of one of my favorite quotes…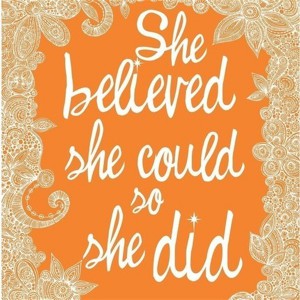 Because at the end of the day, I have no idea what I'm doing, nor how to start a movement. I only know how to act on what feels right in my heart. And this could not feel more right. Sometimes, we have to give birth to that idea that lives only in our heads, and not be afraid of criticism or failure. Well, okay, honestly I am afraid of both, but I have to try. At least try.
Since many of you have asked about the app that goes along with the Get Off The Fence Movement, I wanted to give you a quick recap of what it can do for you.
iPhone and Android users, please go to your APP STORE and enter: Get Off The Fence or Erica Diamond (for some reason, it isn't finding search term Women On The Fence yet. We are working on it). There was no question that I wanted to create a FREE APP so that everyone could download it, enjoy it, and start getting off the fence today.
Alright, after you've downloaded the app, your welcome screen looks like this.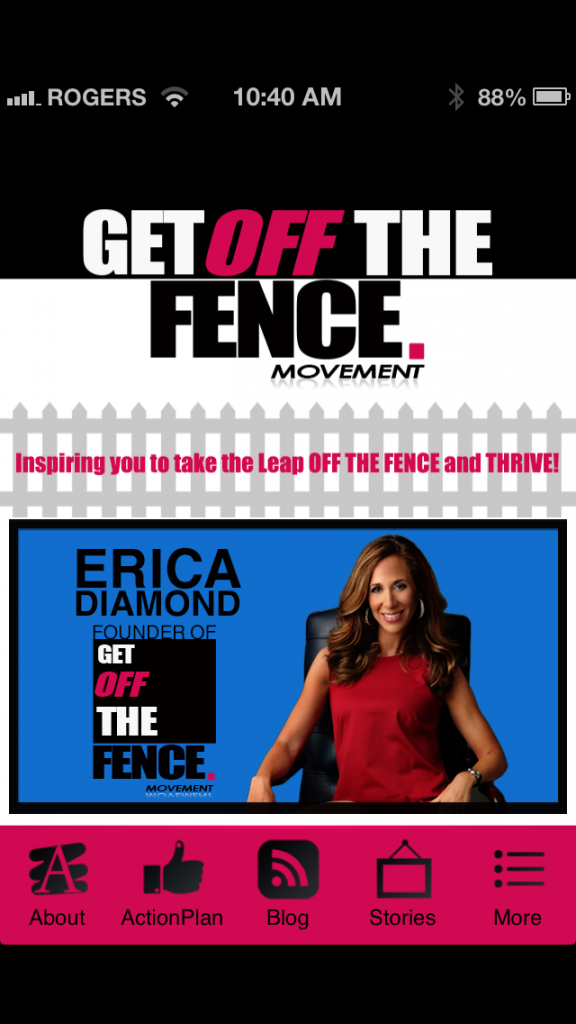 As you can see, there in an ABOUT tab on the left. The About page is where you can read more about the Movement, the blog, book a coaching session, buy my entrepreneurial book, etc…
Second from the left, you will see ActionPlan. This tab is why we created an app. This is where you start building your OFF THE FENCE PLAN IMMEDIATELY. When you click on the action plan, it looks like this: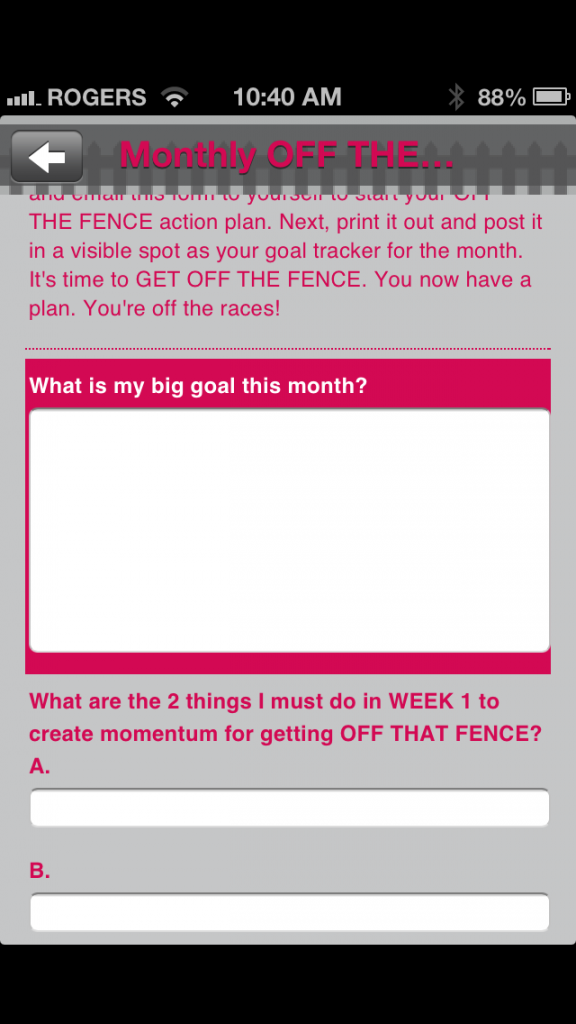 This allows you to create your monthly OFF THE FENCE PLAN, week by week. Once you've mapped out each week for the month, pat yourself on the back! You now have an action plan, baby! So whether your big picture goal is to read more, stop smoking, lose weight, eat healthy, stop rushing, start meditating, start a business, write a book, get better grades (yes the app for is for men and women of all ages), whatever, YOU HAVE A PLAN. The app will also send you a push once a month to remind you to create next month's OFF THE FENCE action plan. This is game changing.
Moving right along in the app, you will see the BLOG tab. You can now read the WomenOnTheFence.com blog directly in the app! I'm so happy about that.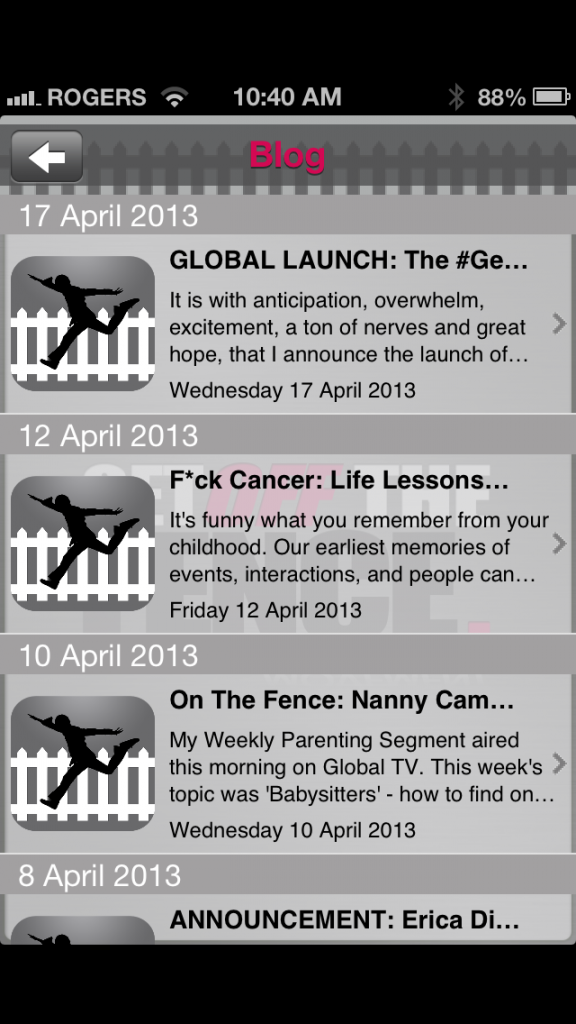 As you continue along the nav bar, you will see a tab called STORIES. These are all the ON THE FENCE / OFF THE FENCE stories. I encourage you to share your own story in the MORE TAB. You can easily upload your own ON THE FENCE / OFF THE FENCE picture to celebrate, motivate others, and inspire. I urge you to please do so.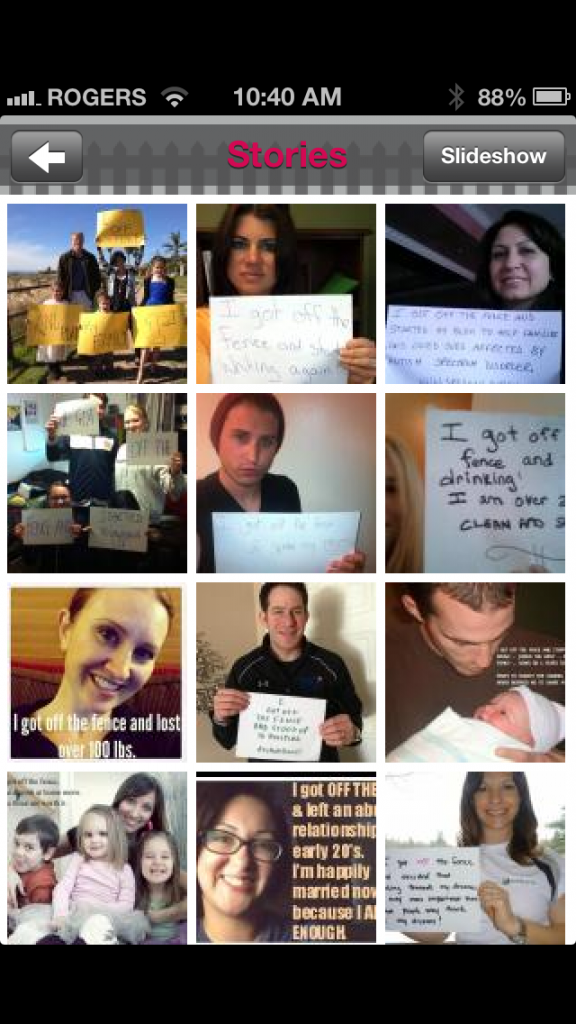 Finally, please explore the MORE tab. Here you can do things like watch the Movement video, take the pledge to get off the fence, get inspirational messages (which will also push to your phone), SHARE YOUR STORY IN A PICTURE, chat with other fence jumpers on the forum, view our YouTube Channel, my Huffington Post articles, and more. The MORE screen looks like this: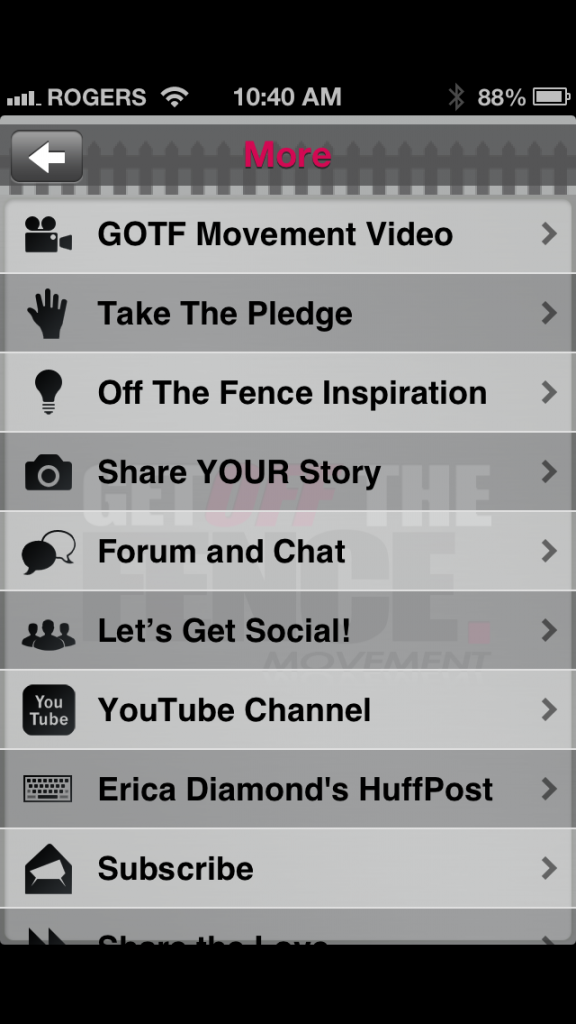 So there you have it! GET OFF THE FENCE people and download the app today! 😉
Download the app in iTunes by clicking this icon: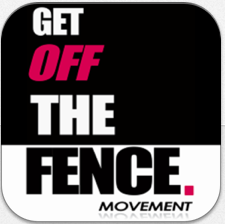 Download the app for Android by clicking on this icon:

I want to give a shout-out to Dana at Amplify Mobile. If you are dreaming of creating an app, look no further than Dana- she is your girl. I haven't worked with someone as professional, creative and fantastic as Dana in a long time.
And finally I would ask that if you enjoy the app, to please give it a fast review on iTunes.
Thank you dear friends for supporting this app launch. If this is the first time you are reading about the Get Off The Fence Movement, please watch our Movement video, and consider sharing it with your friends and family:
Happy Friday and have a great weekend beauties! I am off to Seattle on Sunday with Microsoft Office. I'm traveling to the head office, where the brainchild that is Microsoft lives. Oh how I dream of an interview with Bill Gates. 😉
If you have any questions, concerns or suggestions for the app, please go ahead and leave them below. We're listening.