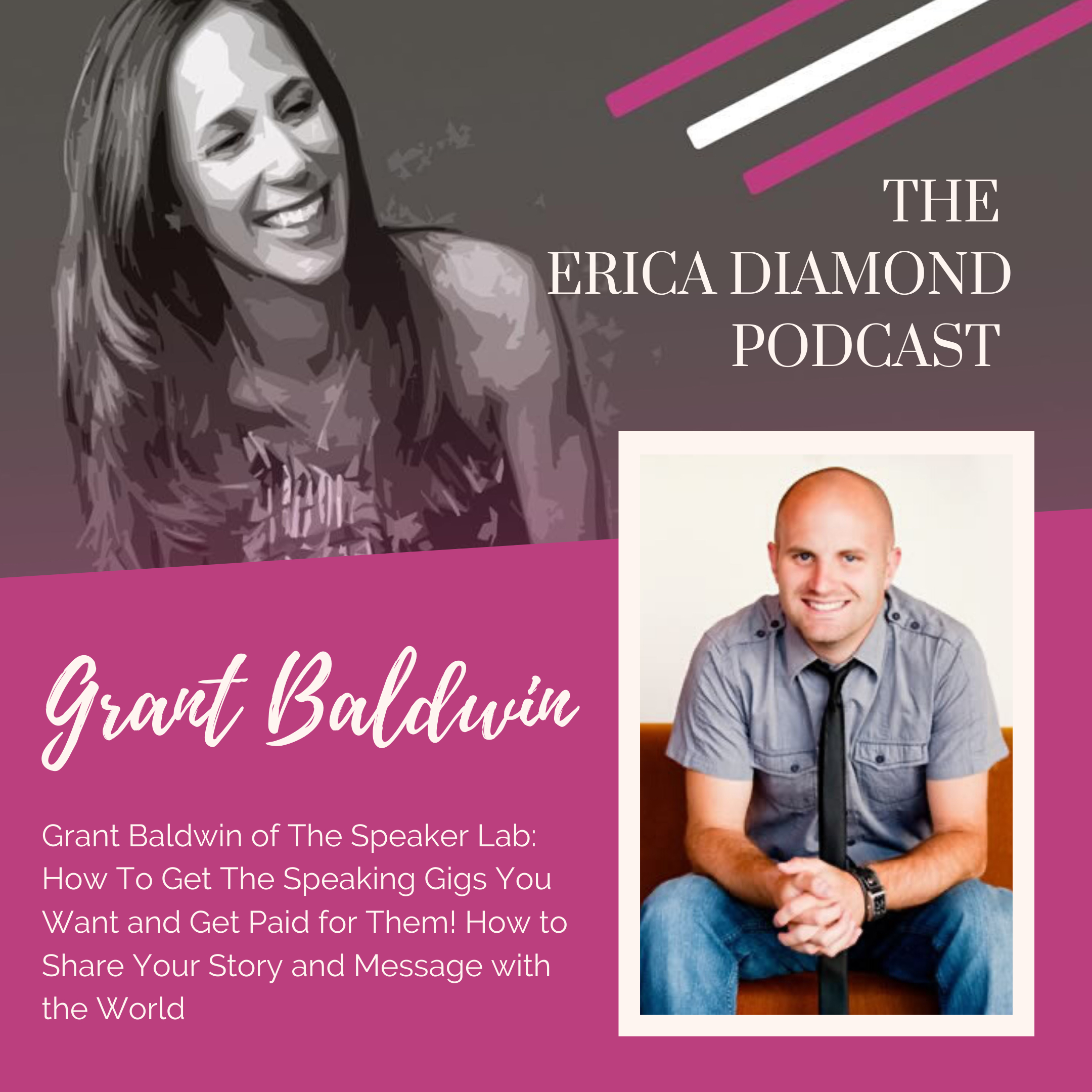 How you can listen to this episode:




Episode Summary
Welcome to season 2, episode 1 of The Erica Diamond Podcast! We hope you enjoyed your holiday break.
Listen for new episodes every 2nd Monday!
If 2020 is the year you want to make speaking your career, get paid to speak, or just improve your public speaking skills, this episode is for you!
Grant shares with us how to get the gigs we want, and get paid for them too. When I met Grant in Nashville this past fall, he blew me away, and I knew I wanted to share him with you.
In This Episode
How Grant got into public speaking
Grant discusses his new book, The Successful Speaker: five steps for getting gigs, getting paid and building your platform, and talks about his S.P.E.A.K. acronym.
Some of the biggest mistakes that new speakers make when getting started
How speakers can know if they have a topic that organizations actually hire for
Grant shares if it's better to develop and have one signature talk and market that one, or have a host of different topics
Tips or tactics that people can use that will make them a better speaker
What marketing assets wannabe speakers need to have in place
We got there! Is it a bad thing to speak for free?
How does a person get in contact with decision makers
An even bigger question: How much should someone charge to speak? Grant answers that question
Grant shares what he wishes he had known when he started out
other ways that speakers can build their brand/message beyond the stage
About Grant
Grant Baldwin is the founder of The Speaker Lab, a training company that helps public speakers learn how to find and book speaking gigs. Through his popular podcast The Speaker Lab and flagship coaching program Booked and Paid to Speak he has coached and worked with thousands of speakers. As a keynote speaker, Grant has delivered nearly one thousand presentations to over 500,000 people in 47 states and has keynoted events for audiences as large as 13,000. Grant has also been featured in national media including. Forbes, Inc., Entrepreneur, and Huffington Post. He now lives near Nashville, Tennessee, with his wife, Sheila, and their three daughters.
Links
Learn More about Your Host
Teaching Empowered Living, Erica Diamond is a leading Women's Expert in Lifestyle, Wellness and Empowerment. A Certified Life Coach and Certified Yoga Instructor, Erica is the Founder and Editor-In-Chief of the Award-Winning Women's Lifestyle Brand Women On The Fence®, Weekly Lifestyle and Parenting Correspondent on Global TV, Award-Winning Entrepreneur, Speaker, Spokesperson, and Author of the women's entrepreneurial book, 99 Things Women Wish They Knew Before Starting Their Own Business. Erica founded the Global Get Off The Fence Movement inspiring people worldwide to get off the fence, get unstuck and thrive. In November 2015, Erica founded her fourth venture, HADRY, a patent-pending fashion invention for women. Erica recently launched The Erica Diamond Podcast in summer 2019.
Erica Diamond has been named to the coveted list of The Top 20 Women in Canada as well as FORBES Magazine's Top 100 Sites for Women and FORBES 25 Most Influential Women In Entrepreneurship on Twitter. Erica Diamond was the Spokesperson for National Entrepreneurship Day and is a Huffington Post contributor.
To learn more about Erica Diamond, visit her blog WomenOnTheFence.com or her website Erica-Diamond.com
Don't forget to SIGN UP for Erica's newsletter and tips:
http://feedburner.google.com/fb/a/mailverify?uri=Womenonthefencecom&loc=en_US
If you liked this, then listen to the podcast episode for even more. And don't forget to subscribe to the show!