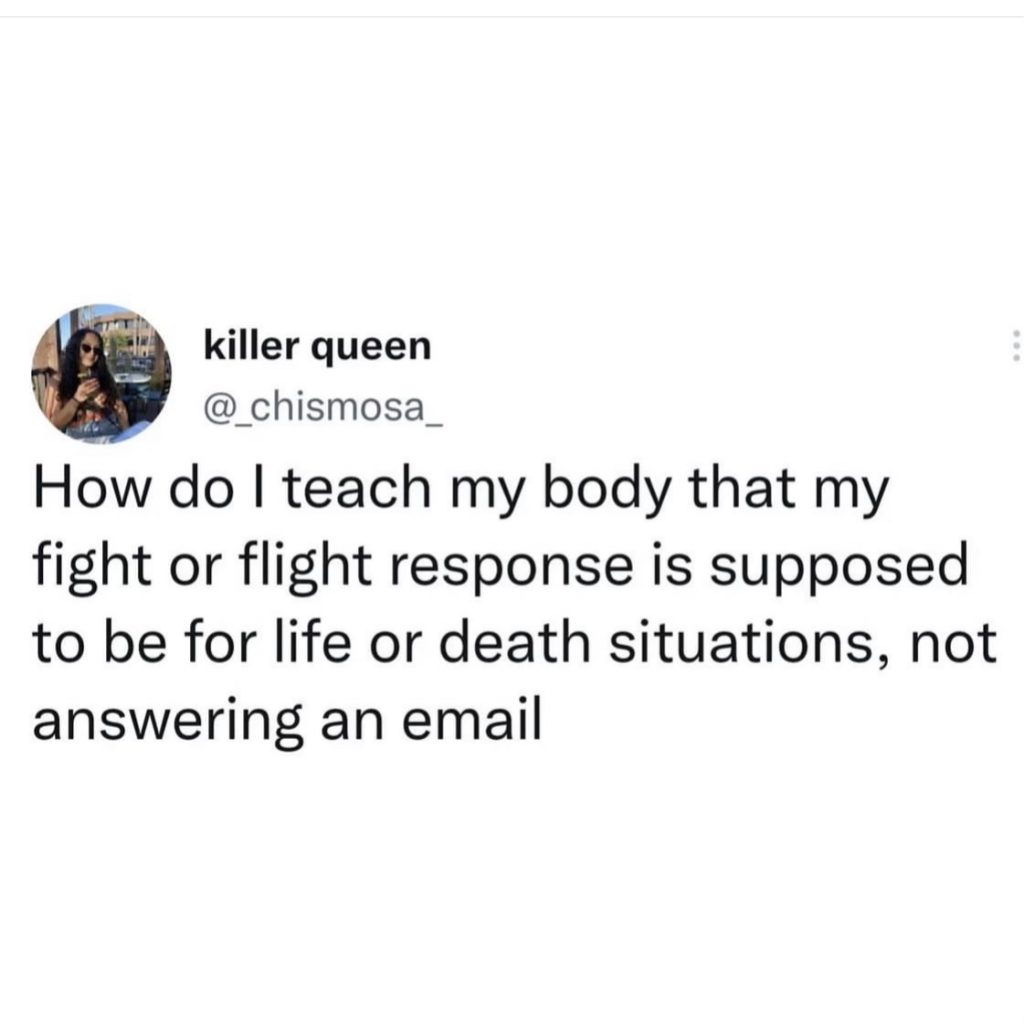 I saw this on social media, as was like, "Ain't that the truth!?"
Can you relate?
Many could.
But here's the truth: unfortunately, stress damages our brain.
How Stress Damages the Brain
Stress, pressure, fatigue, poor diet, alcohol, and drugs damage neural connections between the brain's prefrontal cortex—or "CEO"—and the rest of the brain. When you are overtired or under intense mental or physical stress, the brain bypasses its "higher," more evolved, rational frontal executive circuits—it starts using more primitive stimulus/response pathways. Consequently, you respond to daily demands without thinking; you make impulsive, shortsighted decisions. When the CEO goes "offline," strong emotions, such as fear and anger, take over, adversely coloring your view of the world.
If answering emails makes you go zero to 100 real quick, here are 5 things you can do:
1. Schedule 8 deep diaphragmatic breaths (in through nose and out through mouth) into your calendar 10:30am and 3:30pm. Do this for a few weeks and watch your life change. 
2. End procrastination. When you're already behind the 8 ball, an email will get your cortisol pumping. Don't leave things for the last minute. 
3. Make sleep a priority. If you struggle, start incorporating a bedtime routine. Try gentle stretching before bed, a meditation app, journaling, powering down early (charge all out electronics of bedroom), diffuse Bliss Essential sleep blend – life changing. Find what works, but make sleep a priority. 
4. Incorporate 15 minutes of movement into your day. A brisk walk (keep running shoes at your work desk), jumping jacks, a yoga flow. Our bodies MUST move. 
5. Make sure to pencil in social connection into the calendar each week if you can. Yup! And plan it. Lunch with a coworker you like, knitting or mahjong group, book club, date night, a walk after dinner with partner or friend. You'll get out of your head. 
If you're ready to finally start prioritizing your self-care this year so you can experience less stress and more joy this year, I've got you. Visit for more info.
And if the above sounds like you, please check out The 7-Day Burnout Rescue Blueprint – it is only $27.  This is the quick course correct you are looking for now to get you started in 2023.
I'd like to know if you can relate to the above,