"Four years ago, I sat at my desk overlooking the Manhattan skyline from the 25th floor of 3 Times Square. I was in my mid-twenties, earning a six-figure salary at Bain & Company, which has now been rated the #1 global consulting firm by Consulting Magazine for 11 years straight. I looked down at the drafted email on my desktop, took a deep breath, and pressed send. The email notified more than 400 coworkers and friends that I was leaving what I'd previously believed was my dream job to pursue the non-profit I had founded, Pencils of Promise (PoP).

What began as a $25 deposit and a request for donations on my 25th birthday to build one school in the developing world had morphed into a 501(c)3 organization run by passionate young professionals who believed that bringing business acumen to humanitarian idealism could produce real innovation. When I left Bain in March 2010, PoP had completed two schools. Today, we have broken ground on more than 200 schools across four countries (Laos, Ghana, Guatemala and Nicaragua) that have served more than 20,000 students." – Adam Braun, TIME Magazine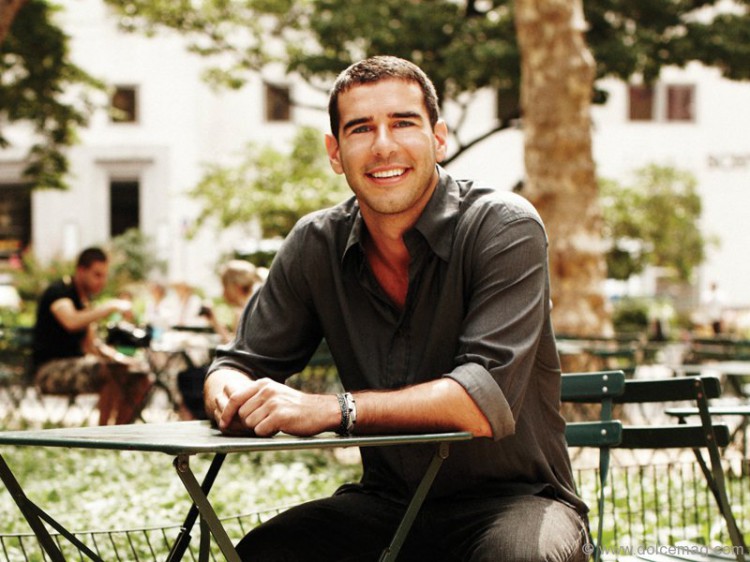 I had the honor and pleasure of interviewing Adam Braun, entrepreneur, philanthropist, Founder of Pencils of Promise and author of the new book The Promise of a Pencil: How an Ordinary Person Can Create Extraordinary Change. I could have talked to him for hours… it felt like chatting with a brother or old friend. This guy is down to earth, not afraid to get his hands dirty, and someone I truly admire. Maybe you already know of Adam and his trailblazing and inspirational story. Maybe you've also heard of his brother Scooter Braun, the guy who discovered Justin Bieber. This family just doesn't cease to amaze me in the hustle, passion and dare-to-live-your-dreams department.
So without further ado, I give you, my interview with Adam Braun.
How would you define or describe Adam in 3 sentences or less?
Great question. Okay here goes.
Relentlessly optimistic of people and their ability to craft a positive path for themselves and others. I see the glass as half full.
I know that if you do the right thing for others in the present moment,  you'll be paid back in multiples in the future.
And third, I'd say that I appreciate good people that see the good in other people.
What role has family played in your life? Your parents, siblings?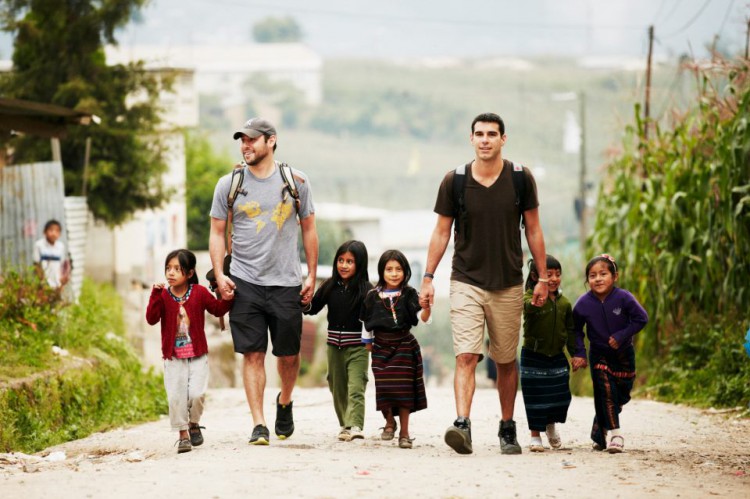 Family is the single most central part of my life. I am really close with my grandparents, parents and siblings. They are my biggest heroes because they set the example. My dad was the one who instilled ambition in me, and my mom instilled integrity. They made sure us kids had both. I think that if you can walk the fine line between both, you will live a successful and significant life.
What makes a friend for Adam? How much of an influence do your closest friends have on your life?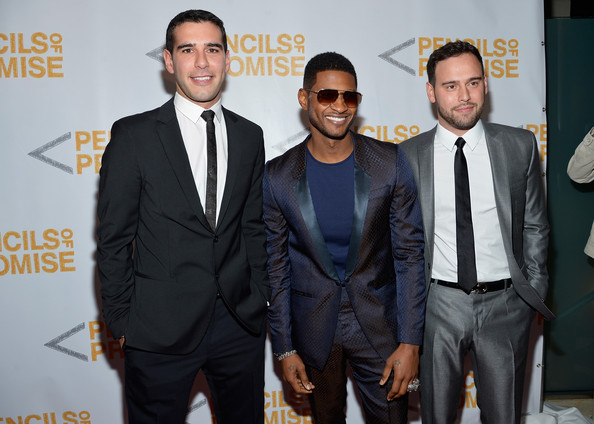 My buddy Dan says that friends are the family you choose. My friends are an extension of my family. We are very close. In fact, Pencils of Promise started with those friends. On my 25th birthday, I made a request. I asked my friends to donate $25 dollars in honor of my 25th birthday party. It was truly them who helped get Pencils of Promise off the ground. In fact, 98% of donations are $100 dollars or less.
What are your strengths, Adam? Your weaknesses?
I think I am strong on vision, communication and identifying the direction of where trends are going and therefore positioning myself or our organization at the forefront of where things are heading in the future. I think I am strong on investing in others and helping them grow. I am strong in mentorship, building infrastructure, and supporting and training others.
My weaknesses? I am not a good manager. I know that about myself. I tend to lack discipline when it comes to knowing when NOT to purse things. I say YES too often. I'm the YES guy.
What keeps you up at night?
Everything (saying laughing)! I don't sleep much. The idea that I could be doing more or better in whatever I'm working on at the moment keeps me up at night. I'm a night owl, but my mantra is to embrace the late sleepless nights instead of stressing about them. It's the restless voice that keeps me up, "you can do more, be more, see more." It's the constant contemplation of the future– how am I going to go and build the next thing?
Describe for us how Pencils of Promise was born? Could you explain where this idea came from? Has it proven successful? If so, what are new goals for P of P?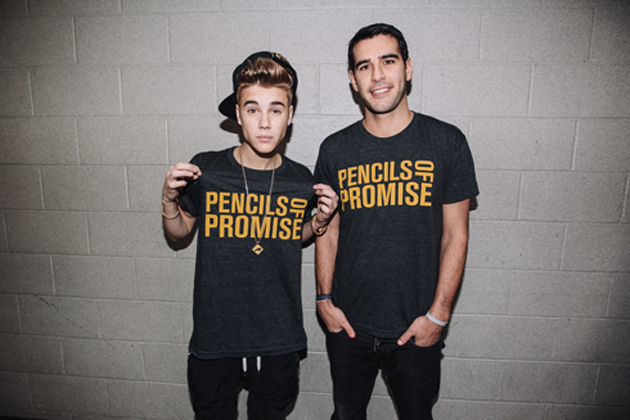 I started a career on Wall Street, working in hedge funds since I was 16. From there, I decided that I wanted to get out of my comfort zone, so I started traveling to the developing world as a college student. I met a young boy begging on the streets of India, and I asked him, "If you could have anything in the world, what would you want?" And I would ask this of one child per country I visited. And this boy's answer was, "A pencil." He just wanted one pencil, and I gave him mine. His eyes just lit up. I realized he had never been to school before. And I realized that this was something I took for granted. Access to quality education is not a reality for millions of children. In fact, 57 million children are currently out of school, and 250 million children are in school, but there is a lack of quality. They're not even able to read or write their own name by the end of 4th grade.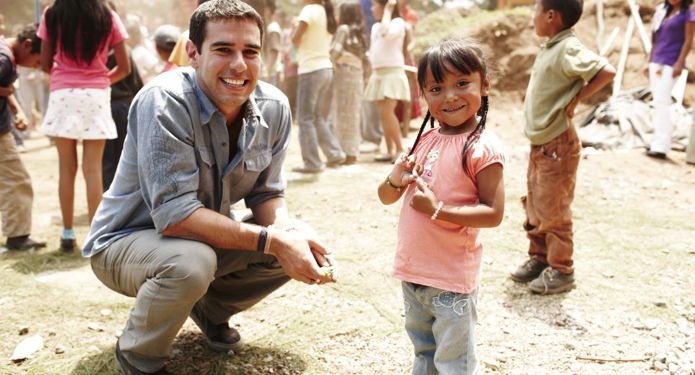 I became really passionate about this issue of education. I moved to New York. I started working at Bain as a consultant. I had the dream life on paper–prestigious company, making six figures by my mid twenties. But I got this idea that I just wanted to do something for someone besides myself. I didn't feel as fulfilled as I imagined I'd be.
So, I got this idea to build one school and dedicate it to my 80 year old grandmother. I put $25 dollars in a bank account, and asked my friends to give donations instead of gifts for my 25th birthday. That helped lead to the creation of our very first school.
Eventually, I ended up leaving my job to focus on this organization full time. It gained traction. Now fast forward five years, and we've broken ground on more than 200 schools globally, and have more than 20,000 students in four countries. We are now breaking ground on a new school about every 90 hours. That is how quickly we are growing.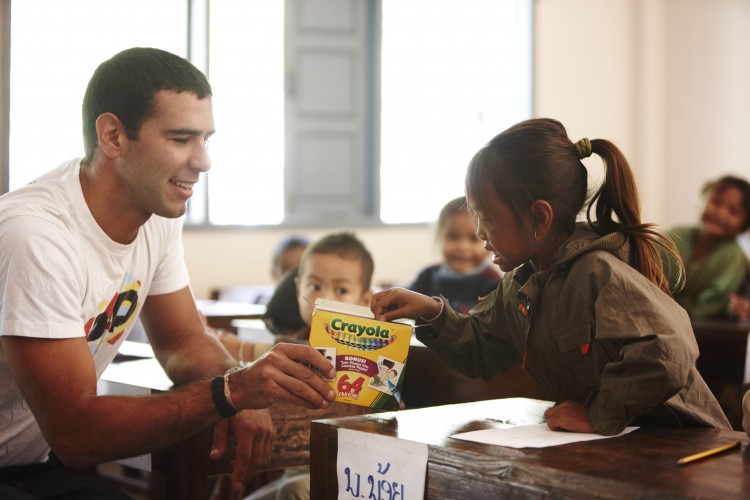 Some of our new goals are, we are launching a series of innovation pilots. Education has changed over the past five years – especially with technology and new teaching methods. We are experimenting giving e-readers loaded with hundreds of books. We're providing literacy tool kits to villages. That is really exciting for us. The fun part is testing and seeing what the future of education looks like. And ultimately, if we're able to succeed out there, we're hoping to have it adapted domestically. It becomes a matter of what can the US educational system learn from developing countries.
If you could give your past self one piece of advice, what would it be?
I've actually thought a lot about this. The only thing I would change in my journey is, I would have told myself back then to find a coach. I played sports my whole life all the way through college. I played college basketball at Brown where I went to school. Every high performing athlete in the world all have one thing in common – they have a coach. And that's not a mentor, that's not a friend, or a board member. Actually an active coach– someone responsible for helping you grow, and it's almost their job to do so. I realized that as an entrepreneur, we think we have to take it all on our shoulders. It would have been really helpful back then to have a coach.
That is the only change I would have made.
Your new book,

The Promise of a Pencil

came out this week, with all proceeds going to Pencils of Promise. Bravo! In relation to your new book, if you could give someone with an idea, a spark, an entrepreneurial idea, 3 pieces of advice, what would they be?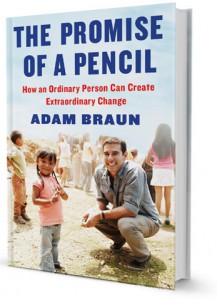 I think If someone has a spark, my whole story is living proof that a spark is definitely significant — I turned $25 dollars into schools around the world. But more importantly, this book provides the guiding steps to success and significance. I think nowadays, you can have both.
So I would say…
If they already have the idea, which is often hardest part, big dreams coupled with small unreasonable acts is okay. People often think they need a lot of resources and "stuff" to get started. But it doesn't have to be that way. For me, it was just a conscious effort to put $25 dollars in a bank account. No harm in starting small.
Find the impossible ones. Chances are, people are going to tell you it's impossible. They're gonna say it can't be done. You're gonna hear no. But you have to find the people who are inspired by that, by the no's. I call them the impossible ones. The ones who get excited by someone saying, "that is impossible."  We look for the ones who aren't afraid of rejection and like to work hard.
And third I would say to invest in your areas of vulnerability. Find out where your weaknesses are, identify them, and work to turn them into strengths. Or, invest in someone to work the area you are never going to be good at. Find the person who can fill that hole and allow them to do it better than you ever could.
What is the saddest thing that ever happened to Adam?
I think losing a loved one is the absolute saddest thing that can happen to someone. For me, my grandfathers have all passed away along with some close family friends, so those were definitely the saddest moments.
What is the happiest thing that ever happened to Adam, other than this interview of course (I say laughing)?
(Laughs) There are two. Personally, the happiest thing that ever happened to me was getting engaged.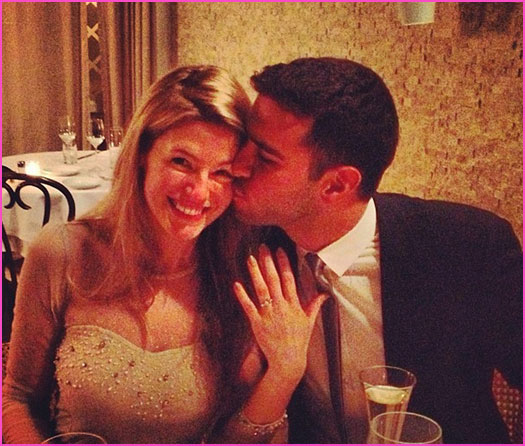 Professionally – breaking ground on our first school. It was so exciting to know that it was becoming a reality. There's nothing like a first.
Adam, I like to ask this final question to everyone I interview. What are the top 3 things on your bucket list? What do you still want to do before you 'kick the bucket?'
That's a great question, Erica!
I'd like to go to Antarctica. I've been to six continents, that would be my seventh.
I'd like to have a family.
It's funny, I used to say I want to write a book, but I've crossed that off. So now, I'd say to hear from someone who has read my book. That's really important to me.
I'd love your thoughts, or feel free to leave Adam a comment. He'll be reading. Happy Friday.