If you are a new reader, I wrote a post two years ago that went like this:
"Have you ever looked at your life, your daily routine, your kids, your job, and thought… I just wanna throw on a pair of heels, and dance the night away? I confess, I have.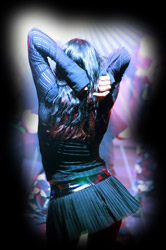 I was just reminiscing with a girlfriend the other day. We used to live in the same apartment building when we were both first married… us on the 5th floor, her on the 4th. And boy was it fun! We all worked hard during the week and partied on the weekends. We slept in till ungodly hours with no distractions.  We hung out smoking in each other's apartments, watching movies, chilling with friends. It was the life… except… we didn't appreciate it. We desperately wanted to get pregnant and settle in, trading late night partying for late night bottle feedings.
And so we did. And it has been unbelievable every step of the way. I wouldn't trade it for anything.
But sometimes, I get the urge to dance. Like totally dance. Like the neat and proper, fundraising, PTA meeting mom that I am… just toss it out the window. Like I wanna put on a short dress (I never do, despite being 5'8? and 117 pounds), heels, and have my hubby see me as someone other than the mud-masked bathrobe momma I am 9/10 times. To have him see me as the hot sexy momma I could be, and dance the night away to my favorite music. With no one to wake me at 6am. And feel no guilt. And I'm on the fence if this makes me bad, or just normal.
And I admit, sometimes, that I get lost in the whole role as mom. When I decided to be a wife and mother, did I trade in my dancing shoes for suburbia? I mean, can't we have both? Can't we BE both? As moms, does all sexy have to go out the window? But in truth, how much time for sexy is there with carpool, homework, dinner preparation, night wake-ups, running around? I think as women, as moms, we are "supposed" to wear all the hats – domestic diva, nurturing mom, career woman, loving wife, sexy wife, but I think too often the "nurturing" takes precedence over all of it. I am guilty of it. And in all actuality, all this reckless abandon I am speaking off, NEVER HAPPENS. I have big plans, and always end up in bed with my night cream at 9PM.  My sexy side usually falls by the waist-side by the end of the day (And that's why I love Vegas!!!! I feel like it's the only place I can let loose and not feel guilty about it)."
So, I decided that I have many facets to me, and that's why my hubby loves me. Sometimes I wanna take to life with reckless abandon, and be dropped off with my man in Ibiza and dance till 7am like I did 15 years ago. Sometimes I just wanna snuggle with the kids and put my bathrobe on and go to bed at 8 o'clock. Sometimes I wanna have sex on my dining room table. And it's gotta all be cool…"
—-
Well, I did go dancing, and it was great. I let my hair down soon after, and it felt free.
But that was over two years ago.
I am feeling the buildup.
They say, "be careful what you wish for." When I started my second business almost 3 years ago, I wished for a large engaged community, a thriving speaking career, a book, corporate sponsors, to mentor and coach women around the world, and it all came true. And because it all came true, every bit of extra reserved energy I have, goes to my family… my children, my husband. I have watched myself fall on the totem pole. And it ain't always pretty.
Making sure the ship runs smoothly and efficiently is a challenge for any woman… stay-at-home mom, working mom. To create an environment of flow– happy children, happy marriage, personal fulfillment, financial soundness, good health, quality friendships takes  WORK. It takes so much work, in fact, we don't even realize how hard we are working to make it all come together.
So today I honor all the women who fight like hell to create goodness for themselves and those around them. Today I honor those who feel like they need to let their hair down. Who need to reclaim themselves. Those women who care for others, I'm talking to you! How are you doing? Who's taking care of you?
Today I challenge you to let your hair down, be free, and nurture yourself in any way can. This picture says it all for me…  it is my reminder today, that I matter. That yes, my family matters, their needs matter, but I count too. And I'm reclaiming myself.
Tell us, do you ever feel like you need to let your hair down and let your freak flag fly? In the words of my cousin, "Today, I'm doin' me."
xoxEDxox