By Guest Blogger Maya Brenner
As a child, I always loved stones, beads and all things that sparkled. I used to take my mother's hippie turquoise jewelry apart, only to put it back together, re-worked into a much better design… at least in my opinion. Years later, when it came time to choose a career, I pursued a master's degree in social work. My interest in jewelry hadn't exactly diminished, but I saw it more as a hobby at that time. Certainly not something one could have as a career.
So, I was 25 years old, working in New York City with drug-addicted adolescents and making beaded jewelry at night to calm my nerves. I always kept the latest issue of US Weekly on my desk at the office, and was fascinated with the celebrities and their style— something that my co-workers always found time to tease me about. I hated the clothes that social workers were expected to wear—our clothes needed to be conservative and not too stylish or revealing so as not to elicit "inappropriate" attention from the clients. Nothing even close to what I was seeing in the fashion magazines.
One day while shopping for a 50th birthday present for my mother, I found a $200 necklace. I bought it. But then subsequently returned the necklace, realizing that I could make a better one myself. And I did! My mom, her friends, and my friends all loved it and wanted their own. I wore my own jewelry walking around Manhattan, and got stopped by women on the street, asking if they could buy the jewelry off of my neck. One of those women happened to work at a little boutique on the Upper West side and asked to see my line of jewelry.
My line? What? I didn't even know what that was. Wholesale prices? I didn't know those either.  But I went home and made 10 necklaces, took photos, made color copies of them and wrote the wholesale price at the bottom: $15.00.  That was my first look book!
My boyfriend at the time (now my husband) worked for Howard Stern, and one morning after a trunk show of mine she had attended, Robin Quivers raved about my jewelry on the show. Listening that day happened to be the buyer for Henri Bendel's, who was a huge Howard Stern fan. She called the radio station to get in touch with me, and that weekend I had a trunk show at Henri Bendel's, where my designs were a huge hit.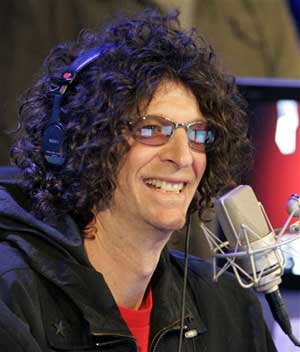 I was very burnt out working as a social worker. Making $28,000 a year was hardly enough to support myself in Manhattan, even back in 1999. I was obsessed with making jewelry and so I tried to do both for a while.  But working a full-time job and trying to launch a jewelry business at the same time meant working around the clock, which made me more stressed out than ever.
I knew in my heart what I wanted to do, but I was still hesitant to give up my career, as I defined myself by it, and it felt like a more legitimate career choice. I felt (and still do) that it was important to give back to my community and help others, and that perhaps it would be a bit of a betrayal to quit a noble profession as a social worker to be a silly jewelry designer.  I thought I would be embarrassed to tell people what my job was if I was just a jewelry designer.
But the more accolades I received from my designs, and the more money I made from jewelry sales, the more confident I became. It was the validation I needed to prove to myself that I was indeed onto something. At some point, I made the decision to cut back my hours and work only part-time at my job, which gave me more time to design and create jewelry. It was a definite "pull the Band-Aid off slowly" situation, but I knew in my heart that jewelry was my true passion.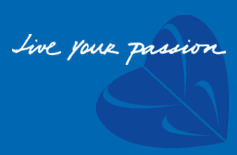 The extra push I needed to finally make the big leap from social worker to jewelry designer came when I moved in with my boyfriend. Knowing I wouldn't be homeless if I couldn't pay the rent, and armed with a $3,000 loan from my grandmother, I finally got the courage to tell my boss I was leaving for good.
That day, he took me to lunch and told me that my talents as a social worker would be wasted and that I was making the wrong decision by leaving. He quoted Dante's "Circles of Hell," and I had no idea what he was talking about, but whatever it was, it solidified my decision to leave.
I knew nothing about starting a business… but I knew that I had made the right decision because I was happy and relieved. I had straddled two worlds for so long and couldn't wait to focus on my new career as a jeweler. I quickly threw out all of my work clothes and started dressing more like what I thought a designer should dress like, and well…  more like myself. I could now legitimately browse the pages of US Weekly and call it "market research!"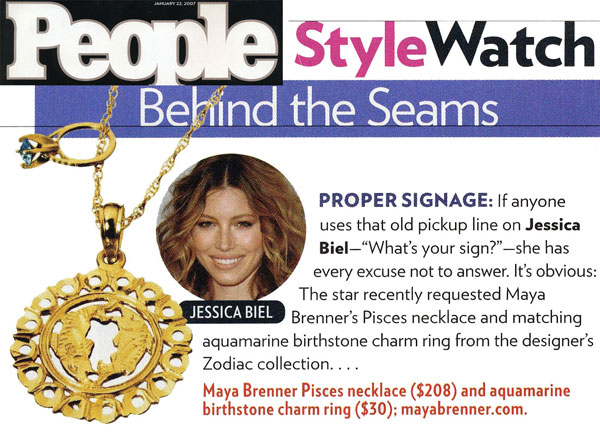 It is now 13 years later, and I still love what I do. Maya Brenner Designs has sold hundreds of thousands of pieces worldwide; I design for Stella & Dot, a direct sales jewelry company; and was recently featured on The Oprah Winfrey Network in a commercial for Nissan about being a mompreneur:
Quest Mompreneurs – Branded Content for OWN – Maya from Kat Ford on Vimeo.
Thinking about quitting your day job to follow your dream of starting your own business? My advice is to:
Start small and grow organically…don't feel as if you have to have a huge business overnight.
Give as much product/services away as possible. Trust me it will pay off.
Call in every favor from every person you know or have ever helped in the past.
Connect with other people in the same field, even if you think they might be competitors. You can learn so much from each other.
Find interns! It's amazing how many people are interested in your business and will work for free.
I still get excited about designing every day. I still love when I see women on the street wearing my pieces. I'm never embarrassed to tell people I'm a silly jewelry designer. I'm proud that I've been able to use my designs to support numerous charities and give back to my community in a different way than I used to.
And I still read US Weekly, except now it's usually to see my jewelry featured on the pages. 🙂
~Maya
MAYA BRENNER BIO:
Maya Brenner brings experience and undeniable talent to her eponymous jewelry collection. A native of California, Maya Brenner Designs is both simple and classic, bold and modern. Founded in 1998, the collection has been sold at finer boutiques worldwide including Henri Bendel, Fred Segal, Calypso, and Anthropologie.
Maya Brenner's jewelry has been featured in the pages of Lucky, InStyle, People, Daily Candy, Cosmopolitan, Glamour, Martha Stewart Weddings, Seventeen, People Style Watch, Star, Shape, OK, In Touch, Life & Style, Self, and US Weekly. Articles written about her career have been posted on CNN.com as well as published in Entrepreneur Magazine and The New York Times "Style" section.
Maya's celebrity following includes Eva Longoria, Katy Perry, Anne Hathaway, Jessica Biel, Penelope Cruz, Rachel Bilson, Cameron Diaz, Reese Witherspoon, Demi Moore, Salma Hayek, Jessica Simpson, Audrina Patridge, Nicole Richie, Rebecca Romijn, Debra Messing, Molly Sims, Lindsay Lohan, Giuliana Rancic, and Rachel Ray among others.
Her jewelry has been featured on The Today Show, Grey's Anatomy, Brothers and Sisters, Alias, Friends, Sex & The City, Desperate Housewives, American Idol, The Bachelor, Las Vegas, and The O.C.
Maya Brenner is a mom of two young children, a wife, and resides in Los Angeles.

——————————————————————————————–
Tell us, have you ever wanted to make your passion your paycheck? For all the seasoned mompreneurs out there, what is your advice on juggling a budding business while holding down a current job? Share with our community.
Or if you just wanted to leave a comment, feel free! This is YOUR SPACE!

xoxEDxox