So when I told my friends I was off to New Orleans to speak at Mom 2.0 Summit, they were all like, "What's a Mom conference?" Even I was a little skeptical, I'll admit. It all could have sounded a little bit flowery– sounding perhaps like a bitch session with a bunch of moms getting together, hanging and kvetching about motherhood and trying to learn the tools to become a better parent.
Well, that could NOT have been further from the truth. The "Moms" I met this weekend were "knock your socks off" capable. These were no silver-spoon mamas. These were serious rockstars. And the Brands that came, came to play ball.
When I arrived in NOLA, having left the 40 degree Montreal weather behind, and walking right into the 88 degree humidity, I realized I had packed all wrong. But hey, I just surrendered and watched my hair-do become a hair-don't. My cab brought me directly to the clean and sunny Ritz Carlton, and that was lovely of course. I left my bags in the room and headed downstairs to meet the "Mompreneurs," many of them whose Blogs and websites I have followed, but never met.
I immediately ran into Anissa Mayhew, LITERALLY, whom you may remember from her two guest appearances on this site. I practically jumped into her wheelchair. I was so excited to finally meet this inspirational and incredible mom and writer. The rest of Thursday afternoon was spent just hanging in the hotel and meeting more fabulous people.
The Thursday night Speaker's Dinner was definitely a highlight. The food was delicious (much of it was cooked in batter, making it all-the-more EXTRA delicious, but NOT great for my ass). I chatted with many of the speakers, as well as with the "MOM OF ALL MOMMY BLOGGERS" herself, Heather Armstrong, AKA Dooce. I was expecting arrogant, I got pure humble joy. She was a doll. Here we are…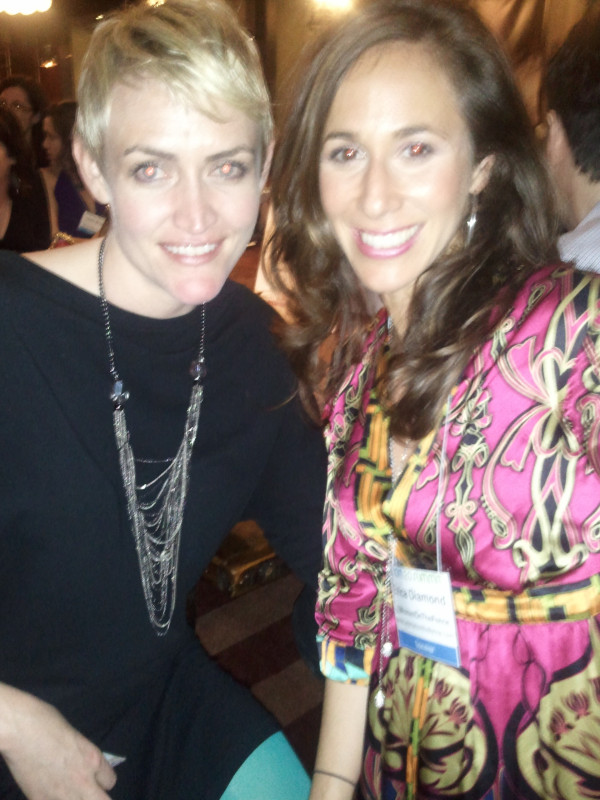 I also got to hang with old friends too. Remember the episode of Mommy To Mommy TV that I co-hosted with Kimberley Clayton Blaine, on the set of CBS's Rules of Engagement??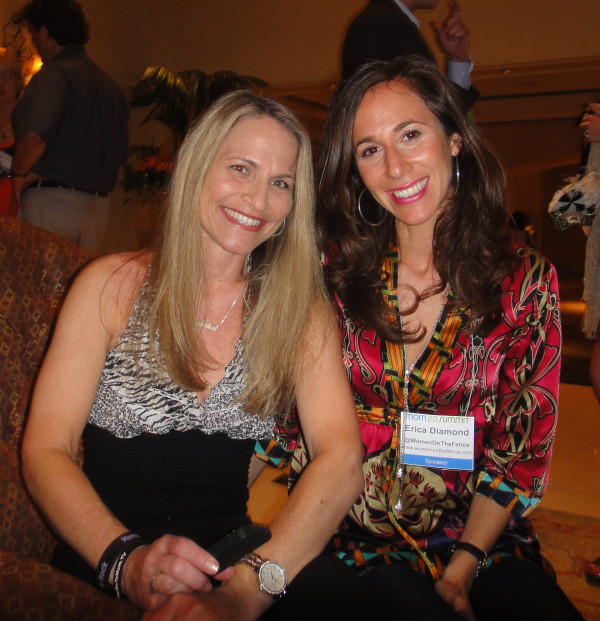 Day one was simply fab. I slept like a baby and kinda enjoyed waking up on my own, without a mini person climbing on top of me at 5:30AM, YOU KNOW WHO YOU ARE! 😉
I was thrilled to be speaking in the AM. I'm always one to love getting things over with. I always ask to speak first, and go first in anything I do in life. It's my thing. I love delivering, and then resting. 😉 The moms on my panel were beyond amazing. My topic was, "The Other New Normal: Entrepreneurial Strategy in a Post-Recession, Post-Web 2.0 World." My co-panelists were Stephanie Smirnov, President of DeVries PR Firm, Shelly Kramer, Marketing and Brand Strategist of www.v3im.com, and Gabrielle Blair, one of the founders of the women's site Kirsty.com (she also has 6 kids!). Hello awesome women!!
It was a fascinating discussion about how all of us are living, thriving and succeeding at entrepreneurship, on our own terms, in our own way, all using different approaches. I learned so much from these savvy women, and was honored to be included in the mix.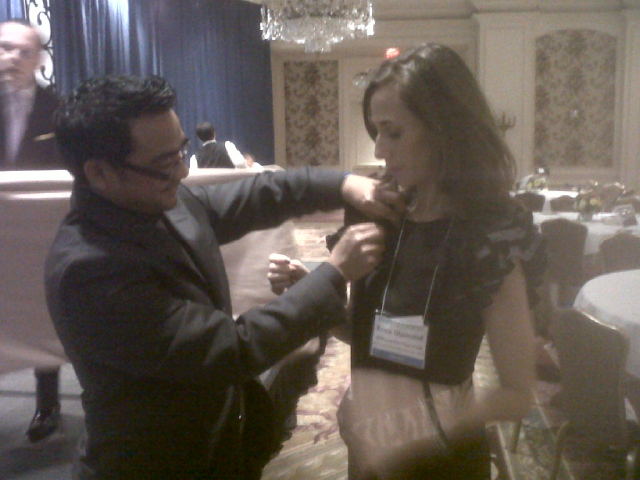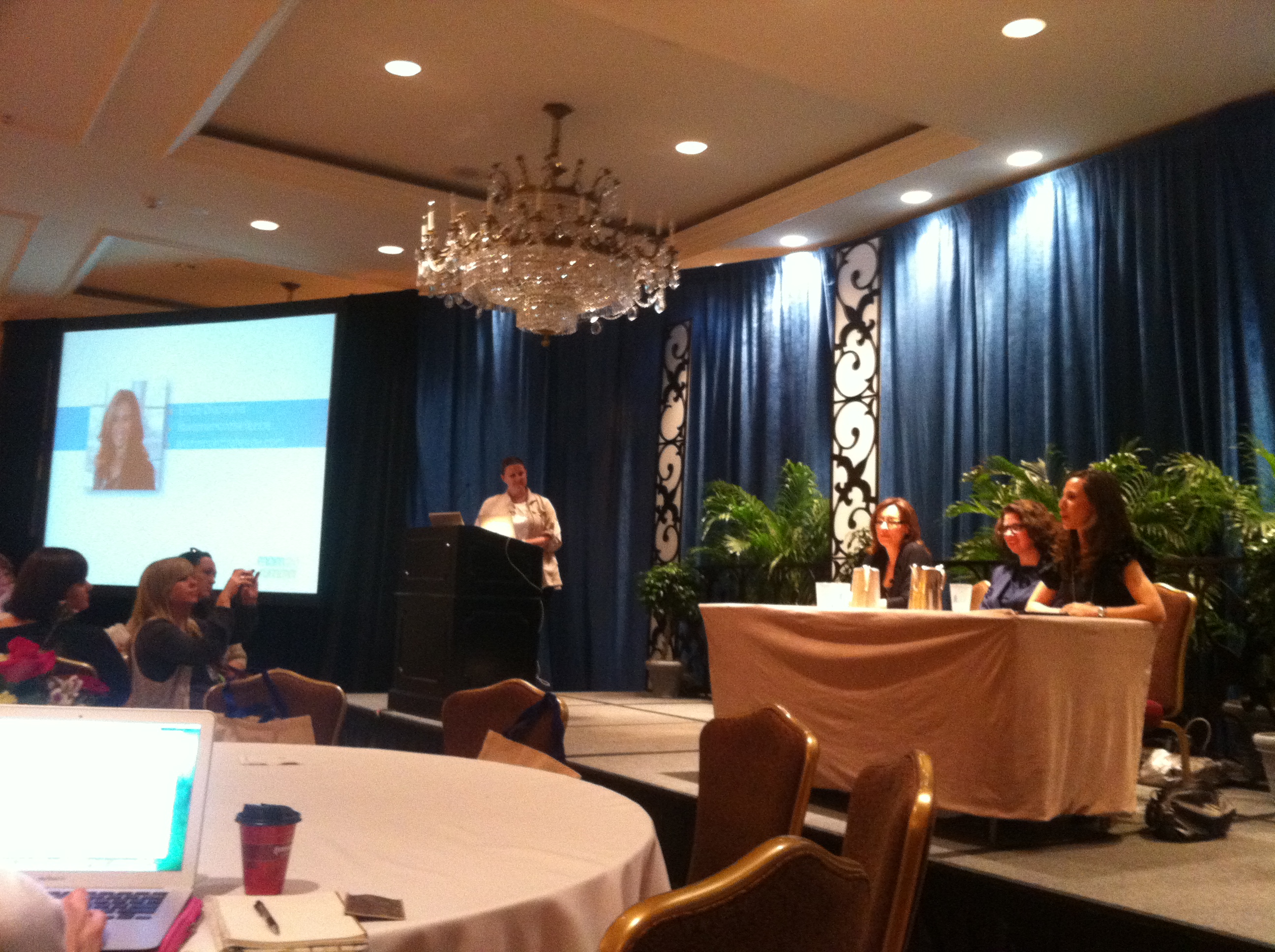 The session went without a hitch. I'm not going to summarize what we discussed, instead for great entrepreneurial tips, click here for some reviews and what "people were saying" about our panel.
http://www.mom2summit.com/the-other-new-normal/
http://digitalmomhandbook.com/good_reads/the-new-normal-entrepreneurial-strategy-in-a-post-recession-post-web-2-0-world
http://thehappiestmom.com/?p=3160 – THANK YOU! This was too kind!
http://treerootandtwig.com/2011/04/17/hits-misses-lived-mom-20-summit/ (Hey, glad to hear we were a "hit" instead of a "miss").
I also got to meet some dynamic women starting their own businesses after our panel, during my book signing. That was definitely a highlight for me.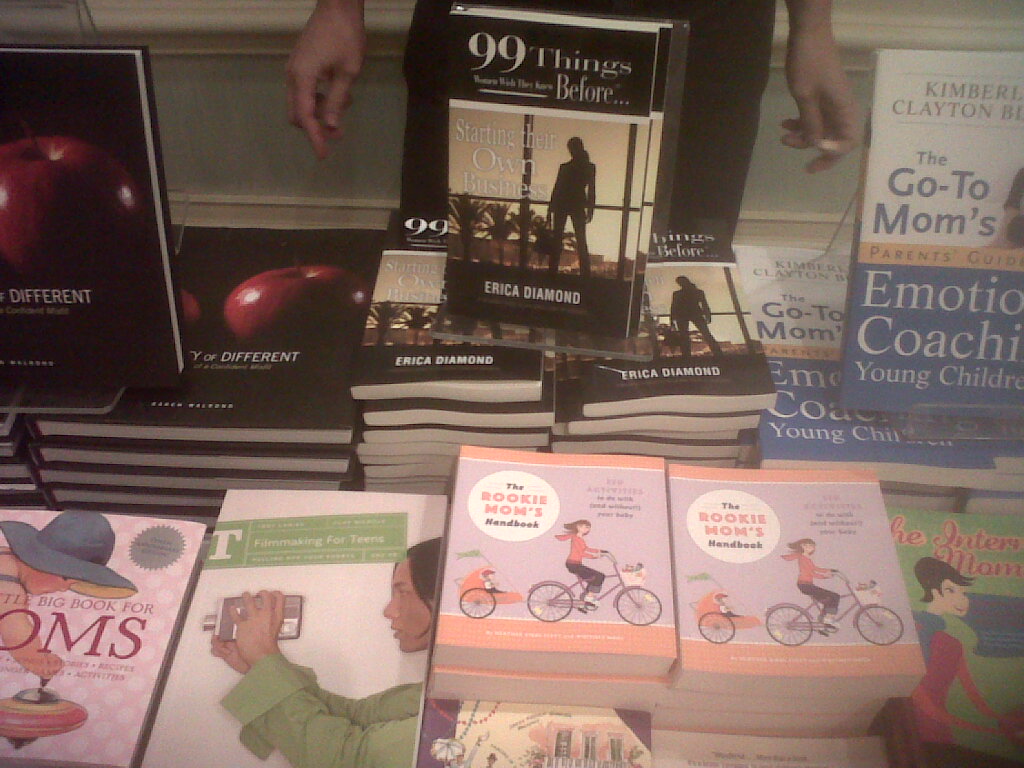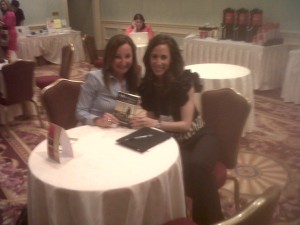 After I finished my talk and book signing, I relaxed, and sat in on some incredible sessions. A favorite was Erin Loechner, Liz Gumbinner and Maggie Mason's session. Honestly, check out the lineup from this year, so you know for next year…
Dinner Friday night was absolutely delicious. I reunited with a Blogging friend I had met at Fashion week in Nashville, and we decided to catch up over dinner. We left the Ritz and walked through the French quarter, jazz in the streets, the town oozing with energy and such a pulse. We ended up at Emeril's NOLA, which was to die for. Here's a pic of us…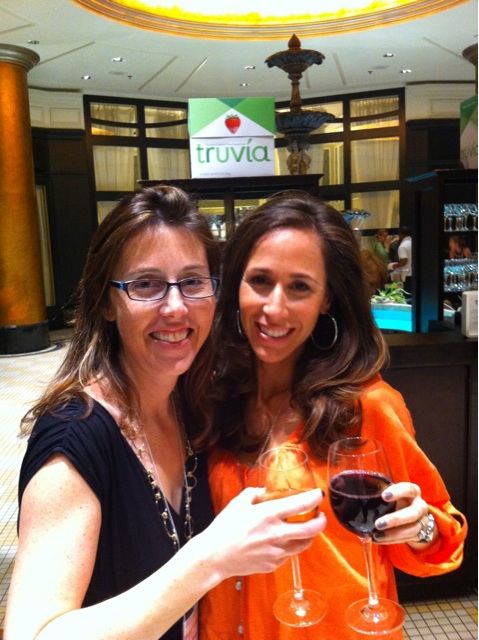 After dinner, Whitney and I met up with some friends at a party hosted by Lego, and I had a ball with some great mom bloggers. The heat was overwhelming, but the vibe was all good.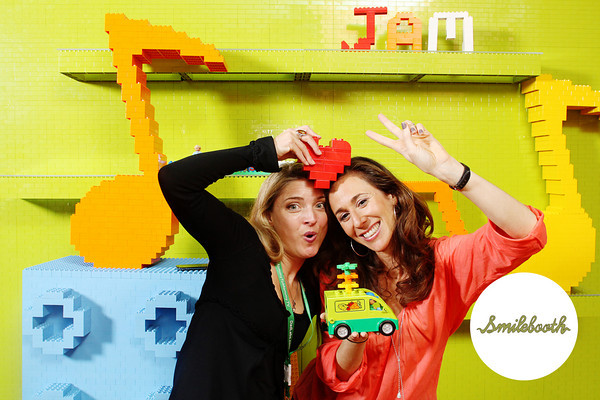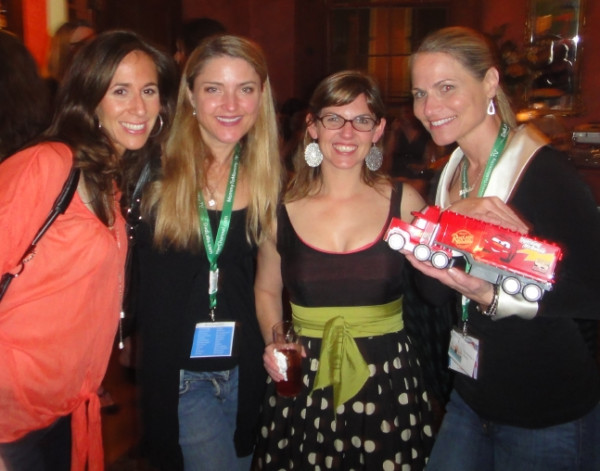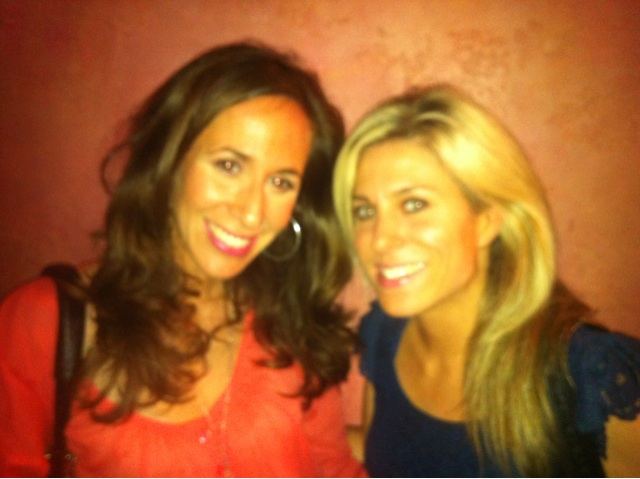 But I must admit, the best part of my trip was the FOOT MASSAGE I received at the Dole hosted Pyjama Party in the Brangelina Suite at the Ritz. Lavender oil on my tired feet was exactly what the doctor ordered. Exactly….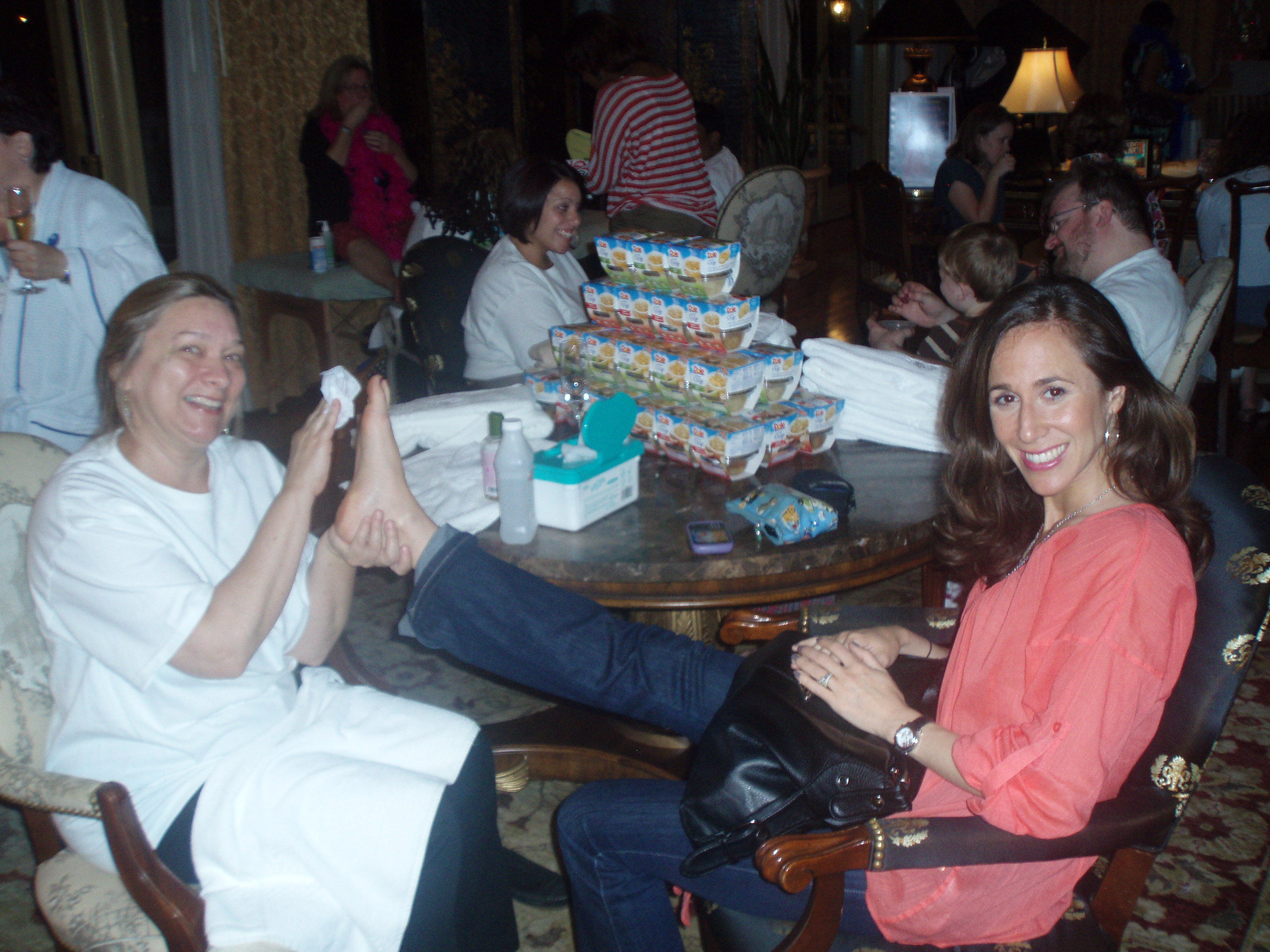 I'm still recovering from the weekend of fun and learning. My ass doesn't fit into my jeans, for real… I didn't need those 4 beignets I wolfed down on my way to the airport. But I'm not going to wax on about it.
I also want to sincerely thank my amazing corporate sponsor Microsoft. My Windows Phone was in my hand the entire time at Mom Summit. When we walked to Emeril's for dinner, I TALKED to it, literally, and it mapped out my route for me in 2 seconds flat. The camera took amazing pictures, many of which are shared right here on this post, and the 7 hour talk time and battery life was such a pleasure.
Seriously, if you are a busy mom or woman on the go, this phone has an unbelievable amount of features you need to know about. My favorite one being, with the click of the SEARCH button, the voice recognition feature takes over on the BING search, and you simply tell the phone exactly what you want it to search, and boom, it's right there.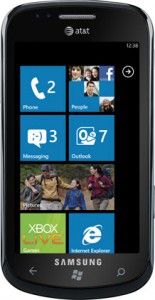 I also used Twitter, Facebook, downloaded music on Zune, opened an excel document (remember this is a WINDOWS phone, so you have Microsoft Windows with Word, Excel, etc…), and way more. Read more about the incredible features I love about Windows Phone, click here.
I also met the incredible team at Windows Phone, Microsoft Office and Windows, and we had a great time filming an interview.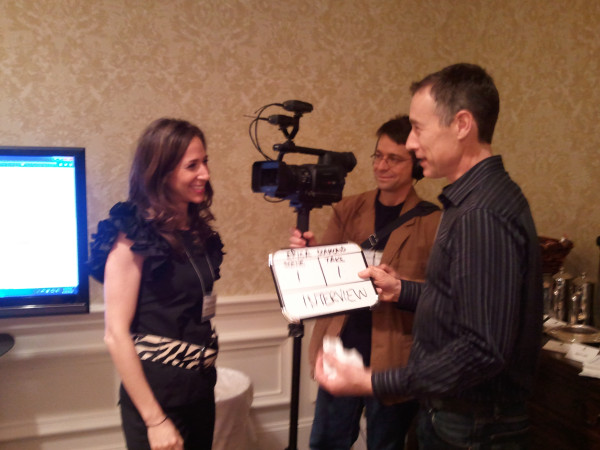 It was truly a magical weekend. If you're a regular reader, you know that I never go anywhere without a lesson learned, or a take-away to implement into my life and pass on to you. After spending 48 hours with other moms, most of them also building a business from scratch, I have come to realize a few things:
I am more independent than I thought I was. This has served me well.
Despite being more independent, I am nothing without my family, namely my role as wife and mother.
If you always remain OPEN, good things come.
If you plant enough seeds, eventually something sticks.
I realized that not all women are catty. At least not the ones I have allowed into my life. Give and you shall receive friends for life.
Work hard, play hard. Whether you're working out of necessity, or a trust-fund baby, you can't simply live off the fat of the land. Give back. Life is nothing without purpose.
"Let me tell you the secret that has led me to my goal. My strength lies solely in my tenacity" ~Louis Pasteur
What do you think?
xoxEDxox
PS – If we met in NOLA, can you say hi below?