By now, you girls know I am the Brand Ambassador for LE CHÂTEAU, and today I wanted to share something really wonderful for my local Montreal ladies.

PUMPS & PEARLS EVENT: SHOP FOR A CAUSE
November 17th, 2016 at LE CHÂTEAU's CF Fairview Pointe-Claire store, you can get your footwear fix and make a difference at the WIWS Pumps & Pearls Event.

All day long as the cash register rings, they'll be donating 10% of all footwear and pearl necklace sales to the West Island Woman's Shelter, with whom they've been partnering with since January in various programs such as their Outlet Charity Drive and our Avancez Avec Style Program. And from 5:30PM – 8:30PM, come and enjoy light refreshments (hello, mini cupcakes!), and meet some of the organizers behind this fantastic charity as well.
And, as a bonus, for every pashmina sold that day, LE CHÂTEAU will be donating $5 to the shelter as well.
Can't make it on November 17th? Shop from November 25th – December 6th, during "12 days of Action to End Violence Against Women" and you'll get another chance to have 10% of your footwear purchase donated to the WIWS.
They are thrilled to once again help this worthy cause that does so much for the women in need in Montreal. We hope to see you there!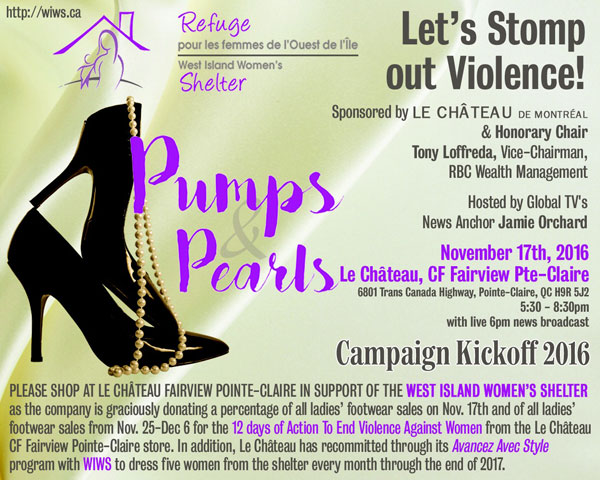 About the West Island Women's Shelter
Since 1979, the West Island Women's Shelter offers a free, confidential and safe haven to women and their children who are victims of conjugal violence. Their multidisciplinary team offers a variety of services to women and children victims of conjugal violence as well as families and friends of victims and professionals working with them. They also provide specific trainings and workshops to educational institutions, businesses and health organizations.
Whatever your mood this fall season, LE CHÂTEAU has you covered – fashion for women and men, career apparel, coats, shoes, handbags, formal wear, accessories. You name it, they have it. I especially love to wear LE CHÂTEAU clothes and accessories on my weekly parenting segments on Global TV. To see more of these weekly looks, you can find them on my Instagram account: Instagram.com/EricaBDiamond.
A recent Global TV look on a fall jumpsuit that I LOVE.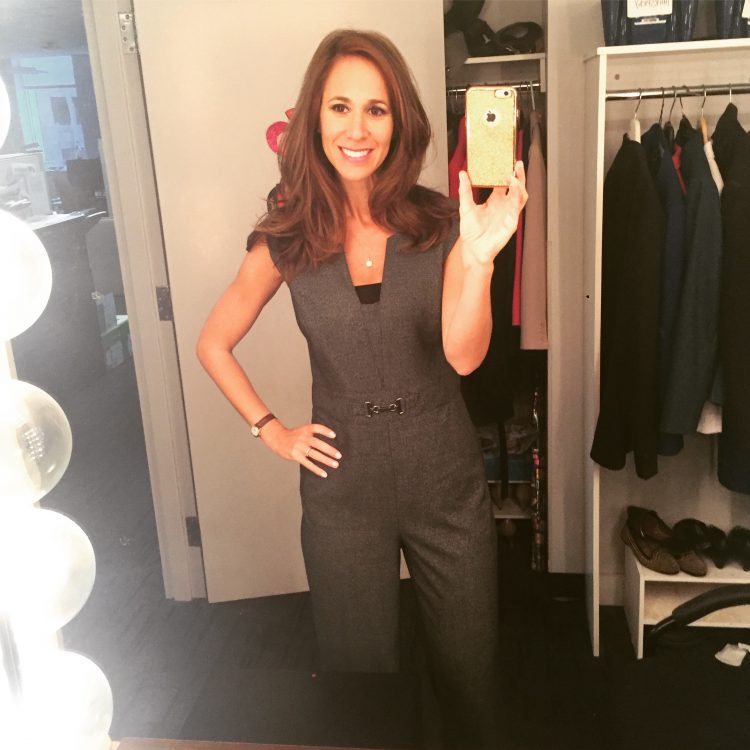 Plus, if you're looking for great GIRLS NIGHT OUT apparel, click right here!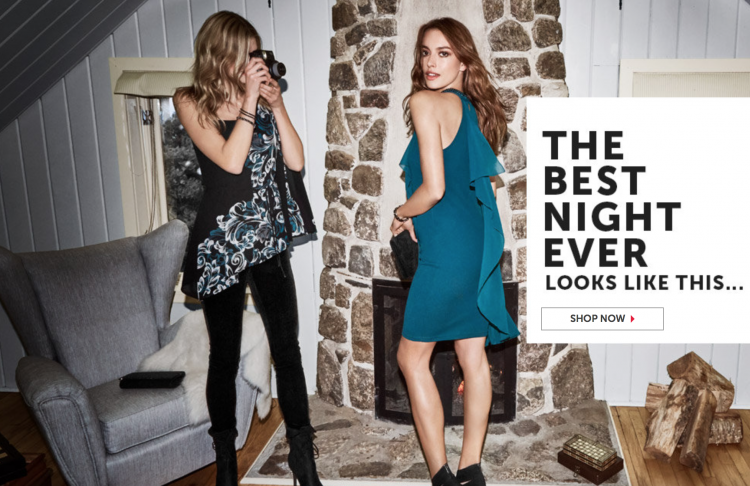 So don't forget to:
Like LE CHÂTEAU on Facebook.com/LeChateauInc
And follow LE CHÂTEAU on Twitter.com/LeChateauStyle
Have a beautiful Tuesday, ladies! Hope you can make it this Thursday. 😉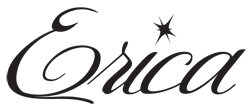 Disclosure: I'm proud to be a paid LE CHÂTEAU Brand Ambassador. All opinions are my own.