We must all suffer from one of two pains: the pain of discipline or the pain of regret. The difference is discipline weighs ounces while regret weighs tons." Jim Rohn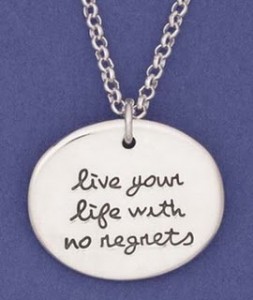 I think we all wonder sometimes what our life WOULD have been like, had we taken that other path. Had we stayed with this person, or taken that job. Kind of like that Gwyneth Paltrow movie Sliding Doors. The main character is about to catch the train, or miss the train. The movie is about how catching or missing the train affected her life in very different ways.
So as we approach a new season, my favorite, summer, I think it's fitting to talk about regrets. I was interviewed last week by Lori.Biz (Ladies Of Real Influence), and the interviewer asked me if I've had any regrets. Regrets, I've had a few, but then again, too few to mention (no, I'm just kidding. I'm not reciting Frank Sinatra's My Life). But seriously, we've all made decisions in our lives that we wish we could have taken back or done differently. I honestly can't say I have any regrets thus far. I didn't lose my virginity young. I tried drugs at a respectable age. The only thing I did too young maybe, was try smoking. Eight is a little young, I agree. But the majors, like my career choice, or my life partner, or how many kids I had, amongst others, I ain't got one single regret. There were, however, a handful of times where I wish I had handled myself differently in certain situations. But, once the cat is out of the bag, it's very hard to put it back in. I also, however, think the things we have regrets about build character and make us harder. Mistakes are stepping stones. It's not BS, it's true.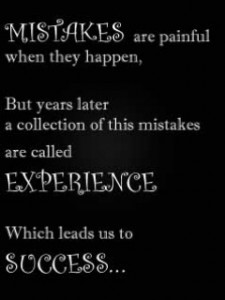 I try and live my life by the motto of, "No regrets." When I make a decision, I never look back. It sometimes gets me into trouble, but I'd rather go for something and falter and learn, than sit my life on the fence… hence this Blog. I actually think this kind of living can build resilience. I think that every moment of every day, we have a choice. We a have a choice about how we want to live our lives. And I think that choice belongs to us, and us alone. I don't think our friends, our siblings, our parents, even our spouses can candy coat our lives for us and give us what we want. It's called personal responsibility. We are the ones who can make our lives great, and we are the ones who can fuck it up. We hold all that power.
I think if you want to live a life that's full, you too have to live it with a "no regrets" motto. No regrets, because at some point, that decision you made was exactly what felt right for you at the time. So that means, moving forward, when you make a list of all you hope to accomplish in your life, you are a work in progress every day. Every day, you should be moving one step closer in the direction of your dreams. Every day, I stalk Oprah a little more, a little more, in hopes of one day meeting her again and talking for longer. Okay, that's a joke. But I do dream of meeting Oprah a second time and asking her many questions about her life and business model. I also dream of my new product invention taking off and reaching women around the globe, but if it fails, and if it doesn't succeed, I swear to G-d, I won't have regrets for trying.
So I say, it's a new season! No regrets ladies. Here's how:
Be committed to pro-active living. You got one chance, and one chance only to make this life the most kick-ass life ever. Commit to being a participant and not an observer. Be pro-active instead of reactive. Commit yourself to working every day towards the direction of your goals and dreams. Life's a journey, not a destination. Commit to living ON PURPOSE.
Don't tolerate. Ask yourself, are you in a relationship you've outgrown? Is your sister burdening you with insults you don't deserve? Now is the time to speak your truth, and decide what you are and are not going to tolerate anymore. Remember, no on can make you feel inferior without your consent.
Don't settle in your career. Are you in a job you've outgrown? We all need our income, so without risking it all, can you ask for a department transfer to spice up your career again? Spending nine hours a day or more doing something you despise doesn't doesn't make for purposeful living. Or as a second suggestion – can you moonlight your dream job or startup on the side working on it at night and on the weekends without giving up the safety net of your day job?
Write it down. As I have spoken about many times, make a vision board. Write down your visions and dreams on a Bristol board or create them in Sway or Pinterest, and post it in a visible place. Or, make a list of 3 things you hope to achieve in the next 6 months for the balance of this year. You won't live with regrets if you keep your eye on the prize. And remember, baby steps.
Don't make the same mistake twice. There's a saying I love that is pure perfection: 'You can never make the same mistake twice. The second time you make it, it's no longer a mistake, it's a choice.' Your opportunities await you, only once you've learned your lesson. Don't keep making the same mistakes over and over again. This can lead to regret. Make mistakes, but learn from them.
And finally, be introspective. Look deep inside yourself and accept that past mistakes are just that… in the past. Look to the future. Work on your resilience. Especially at the start of every new season. New beginnings are incredible. Always another chance to make it right, and live without regrets.
So what are you waiting for? Get off the fence, make a decision, and live your life. Dust yourself off. Summer 2015…  the season that you begin to make your life all it can be. I wish that for all of you.
And remember, failure is never 'failure'- it's always a gift, not so neatly packaged at times, there to teach you how to come out the gate stronger, better prepared next time. Failure is simply a stepping stone in your journey.
Happy 'almost' summer. And I'd love to know… do you believe in regrets? Do you have any regrets?