"Every seven seconds in Canada, a child is bullied. This alarming statistic fuels the passion behind the 5th annual anti-bullying campaign Pink Shirt Day – Bullying Stops Here!" (PinkShirtDay.ca)

I am certain most of you have heard of the dramatic increase in teenage suicides over the past few years. A horrific number. In Houston , Texas an eighth-grade 13 year old boy shot himself in the head after enduring what his mother and stepfather say was consistent harassment from four other students at Hamilton Middle School in the Cypress-Fairbanks Independent School District.
In New York a Rutgers University freshman killed himself by jumping off the George Washington Bridge . Tyler Clementi, 18 was humiliated when a roommate secretly recorded him making out with another male student and live-streamed the video to the Internet.
Seth Walsh, a 13-year-old student from Tehachapi , CA hanged himself from a tree in his back yard after years of being bullied, after nine days on life support he died. Family members confirmed that he was being bullied because he was gay.
Billy Lucas, a 15-year-old freshman at Greensburg High School in Indiana , hanged himself after enduring bullying torment from his peers — just a few weeks into the school year. His mother found her son, hanging, in their barn. On Billy's Facebook web memorial, he's remembered with comments like, "Everyone made fun of him." At least one former student says he made administrators aware of his own LGBT (Lesbian, gay, bisexual, transgender) bullying, and they did nothing.
Sadly, bullying is said to be the possible cause in this week's horrific Ohio Chardon High School shooting, leaving three students dead. According to reports, students told local media that the gunman was student T.J. Lane.  Law enforcement officials described Lane as a "victim of bullying" and an "outcast," WKYC-TV reported.
1 out of 4 kids are bullied and 30% of U.S. students in grades six through ten are involved in moderate or frequent bullying – as bullies, as victims, or as both – according U.S. national school bullying statistics.
There are about 160,000 children that miss school every day out of fear of being bullied. (amotherworld.com)
If these frightening statistics don't wake us up as a society, I don't know what will. And because today is National Anti Bullying Day, there is no better time than now, to shed light on this issue. BULLYING MUST STOP.
Here are the possible warning signs that a child is being bullied:
Loss of interest in school and extracurricular activities
Frequent complaints of illness to avoid attending school
Sudden decrease in academic performance
Has few or no friends with whom he/she spends time with
Unexplained bruises, scratches, and cuts
Seems afraid of going to school, riding the bus, walking to school, or taking part in organized activities with peers
Takes long or illogical route to school
Seems sad, moody, or depressed
Loss of appetite
Trouble sleeping
Anxiety or low self-esteem (

mychildsafety.net

)
Please watch this video from Anderson Cooper on what you can do if you child is being bullied.
I believe, that while we need to make help available everywhere in our schools and communities, and to teach our children tolerance, I think as parents, it's our responsibility to take it one step further. I believe it starts at home. Open communication must start early, and as parents, we must listen to the good, the bad and the ugly. If our kids just come to us with the good stuff, we have not created a foundation for total communication. We must listen to all their stories, all their hopes, wishes and dreams. That is how you build a solid foundation. If your child knows she can share ANYTHING with you, at any time, you are able to nip problems in the bud as they arise. We have to give our children the message they are good enough, just the way they are, with all their strengths, and all their weaknesses. And to not compare themselves to others, but rather to help them embrace their own uniqueness.
And those are my two cents on why positive self esteem is at the heart of overcoming bullying.
How do you propose we help our children stand up to bullying? I'd love to know how you are dealing with this issue in your home, in your school, and in your community. I am not on the fence here… we must teach our children kindness, acceptance and tolerance, and have a 'zero tolerance' policy on bullying.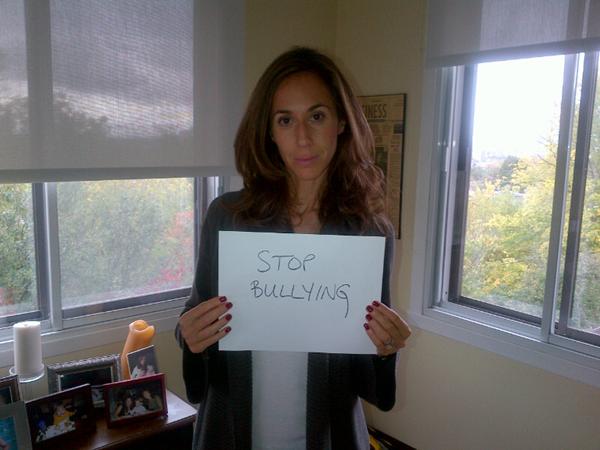 xoxEDxox