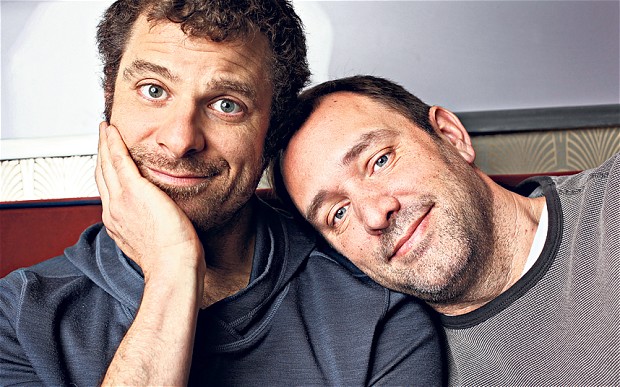 I have been obsessed with Trey Parker and Matt Stone ever since I can remember. It's not that I even watched South Park – the hit show they created. It's simply them together. I've seen them interviewed numerous times, and they are sheer genius. They think completely out of the box, and they trust each other's instincts so intensely, that their quiet confidence and creative energy is palpable when you watch them. Simply put, I would die to have dinner with them.
When I opened my computer this morning and browsed Facebook, I came across Facebook friend Adam Braun's page and noticed a link he had shared. It was a link from Upworthy, a site I frequently visit. And there was a video produced by Trey and Matt. Here it is.
When you think about this truth, it hits you over the head like a ton of bricks. It first makes you realize how we're raising our children without teaching them one important lesson: "We missed the point the whole way along. It was a musical thing, and you were supposed to sing or to dance while the music was being played." Have we missed reminding our children to enjoy the journey and not simply live for the destination?
But it also talks to me as a 39 year old woman, and I think to all of us too… "Then when you wake up one day about 40 years old and you say, "My god, I've arrived! I'm there!" And you don't feel very different from what you've always felt and there's a slight let down because you feel there's a hoax. And there WAS a hoax. A dreadful hoax. They made you miss everything."
Wow.
So, for this Motivation Monday, I challenge you today to NOT miss everything. To not miss the music.  To enjoy the JOURNEY today. To walk away from your desk at lunch and TAKE THAT WALK. To lean in to your happiness. To say YES to your life instead of automatically saying no. To slow dance. To read on a park bench. To ride with the music blaring and your sunroof open. To LIVE your life. Hard. With passion and fervor and intent. To live on purpose.
This lesson is not just for school children, it's a lesson of adulthood. And it's never too late to start enjoying the music.
Thank you to my favorites, Trey and Matt for the important reminder.
Happy Monday,