Happy Monday! I figured many of you would be sluggish returning to the grind today after a long Thanksgiving weekend, so I wanted to keep things light. Today, we're off the fence.
For some odd reason, I have been asked this question a lot lately. WHO IS ON MY FANTASY DINNER LIST?
It's actually a very fun exercise. Ya know, kind of like the fantatsy exercise: IF YOU WON THE LOTTERY, WHAT WOULD YOU DO? Oh, that one is a reeeaaaalllly fun one.
But for the sake of easing into Monday, here are the rules for your enjoyment. Let's imagine these people on your fanatsy dinner list are all dining with YOU, and TOGETHER. It's a dinner party, and you're making the menu.
THE RULES:
Choose five to eight people.
They can be dead or alive (but must be REAL people. No movie or fictional characters).
They can be on your list for

any

reason – you think they'd be fun at a dinner party, you want to pick their brain, you want them in your bedroom– GULP, whatever floats your boat.
Create the menu. What are you serving?
Ok, I'll start:
On my list:
(OBVIOUSLY you could guess my first guest)…..
Oprah Winfrey. Simple… I love her. I admire what she's built on her own name. I'd love to be mentored by her. She's traveled the world and met interesting people, so I imagine she'd also have some great stories and contribute to the conversation.
EITHER JIMMY WILL DO: Jimmy Fallon or Jimmy Kimmel. I LOVE THESE JIMMYS. They would add humor, and I'm hoping- keep the laughs going.
Simon Cowell. I already met and spoke with him in Barbados a few years ago when he was new to the American Idol scene. He sat on the beach daily, smoking cigarettes, sunbathing in oil, and sitting in his spa bathrobe most of the time. But when we chatted, he was THE LOVELIEST guy. Honestly. I said to him, "You're such a jerk on tv. You're so nice in real life. How come?" He replied with a laugh, "That's entertainment." I kind of get the feeling he was half telling the truth, but I admire his life story. He accomplished, he lost everything, he rebuilt himself again. He's interesting. He also is great at spotting talent, which makes his business sense razor-sharp. This is someone to learn from, IMHO.
Stevie Wonder. Because he rocks, is my favorite singer, and if he was coming to my party, I'd make sure to supply a Grand Piano and ask him to play a few tunes– Ribbon In The Sky, Master Blaster, Sir Duke, My Cherie Amour, Do I Do.
Anthony Robbins. Cuz who wouldn't want to learn how to improve their life and reach their maximum potential? I always thought this guy was a snake oil salesman, 'till I saw him in Toronto at a

taping of Oprah's Lifeclass

. I'm a BELIEBER um, I mean, Tony-liever. This guy is the real deal.
Richard Branson. If you read this blog, this won't shock you. I wrote about him in

my book

, met and

interviewed him

, and love his balls. Oh, that DOES NOT sound good! I mean, I love his fearlessness, how he attacks life with gusto, and how he's always thinking outside the box. He's lived a full life, and therefore I think he'd make a great dinner guest.
Steve Jobs. Okay, maybe he wouldn't be the most fun at a dinner party, but I'd still want one of the most relevant human beings of our time, sitting at my table. Surely, there'd be something to learn.
Phil Knight. Are you sensing a pattern here? In the room, I'd have Apple, Virgin, Nike. But seriously, I am fascinated by people who have mastered their craft, and kept their brands relevant decade after decade. If you ever hear Phil Knight speak, he is humble, a visionary, and a great story teller. He'd be someone I'd want at my dinner party.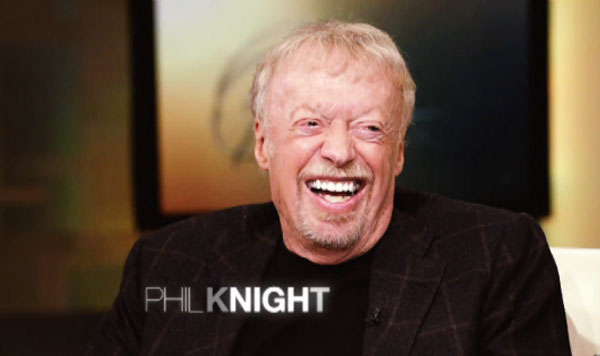 And if I had room for more people, Maya Angelou, Ellen Degeneres, Hillary Clinton, Steven Spielberg, Ralph Lauren, and yes, maybe Marilyn Monroe.
As for the menu, whoops, I'm a horrible cook, so maybe have Martha Stewart at the party, AND to cater?!
Now THAT'S smart thinking. 😉
Happy Monday, girlfriends. I'd love to know, who's on YOUR fanatsy dinner list?
xoxoEDxox