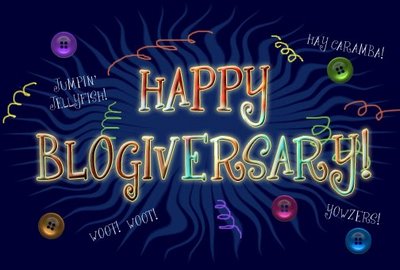 Today we celebrate the 3rd anniversary of a blog that was born out of feeling stuck, on the fence, alone, confused, and wanting to create a space for women to get inspired, get off the fence, grow, succeed and thrive. You have made that happen. I am grateful for this community who has stood by me in my darkest hours, my greatest triumphs, and given me a safe place to be authentic myself. You have also helped each other, and inspired each other into action. Never underestimate the power of a few simple words on a page.
And a warm thank you to those below for their well-wishes on our 3 year blogiversary…
"Congrats Erica!" – Jenny, The Bloggess.com
"To one of our most valued bloggers with sparkling content: Congrats Erica and WomenOnTheFence.com for 3 years of inspiring and empowering women to get off the fence, and live successfully!" – Arianna Huffington, Founder The Huffington Post
"Congrats on an amazing 3 years! I know this next year will be full of more great accomplishments, impacting women everywhere and making a huge difference in people's lives." – Soledad O'Brien, anchor CNN
"Congratulations on your Anniversary! Three years of elevating your voice, key issues and all who read the blog! Congrats Erica!" – Cory Booker, American Politician, Mayor of Newark
"Congrats Erica and Women On The Fence!" – Brooke Burke, Co-Host Dancing With The Stars and Co-CEO ModernMom.com
"Congrats to WomenOnTheFence.com on their 3 year anniversary and for doing great work on important subjects." – Craig Newmark, Founder Craigslist
"Happy Birthday Women On The Fence… beautiful blog, beautiful women." – Mariel Hemingway, Actress, Mother, Author, Granddaughter of acclaimed author Ernest Hemingway
"Congratulations to WomenOnTheFence.com and gratitude to Erica and her always inspiring presence online and in my daily Twitter feed! To many, many more…." – Christy Turlington Burns, Founder Every Mother Counts, Model, Activist, Philanthropist
"Erica, congratulations on three years of being such a positive and supportive voice for women. In blog years, that means you're legal! Here's to the next three, friend." Lisa Stone, CEO and co-founder BlogHer
"Congrats on the big 3 – three years of blogging about women's issues and opportunities.  Your following is in itself a testimony to the quality of your work.  Here is to 30 more!"  – Brett Wilson, Entrepreneur, Philanthropst, Dragon's Den
"Erica is one of the smartest, kindest most giving people I know. That's why her business grows every year. I'm so happy she's reached this milestone! Congrats on 3 years!" – Richelle Carey, anchor HLN
"Congrats on 3 years of pushing fence-sitters off their comfortable–yet confusing–perches, + to wishing you many more years of disruption!" – Lance Ulanoff,  Editor-In-Chief Mashable
"Happy 3rd Blogiversary to Women On  The Fence! Way to go Erica!" – Holly Robinson Peete, Actress and Activist
"I remember when you walked into my office – over three years ago – and told me that you wanted to blog. I remember thinking to myself that it may be too late. Too many others had walked before you and had already caught the trend nice and early. I was wrong. I'm glad I was wrong. You have proven that great content that speaks to a niche always finds a home. Congrats on creating such a warm and welcoming home." – Mitch Joel – President, Twist Image & Author, Blogger, Podcaster, Six Pixels of Separation.
"You are inspiration and light to the rest of out here in the blogerverse finding our place. Happy Anniversary."  –The Daily OWN
"Three years in blogland is like 50 in real life — a real milestone!! Congrats for making it so far and inspiring women everywhere to take the leap!" – Jill Smokler, Founder ScaryMommy.com
"Happy #3!  So proud of you and all the amazing work you do with Women On The Fence." – Tory Johnson, GMA Contributor, CEO Women For Hire, Founder Spark and Hustle 
"Congratulations, Erica, on this milestone! You've done such terrific things on WomenOnTheFence!" – Gretchen Rubin, NY Times Bestselling Author The Happiness Project
"Congrats Erica and WomenOnTheFence.com on all your success!" – Ramona Singer, Real Housewives of New York, Entrepreneur, Founder Ramona Singer Pinot Grigio
"Congrats on your glorious 3 year blogiversary Erica! You are one of my faves. Love you! Thank you for being on my show!" – Kimberley Clayton Blaine, Founder TheGoToMom.com
"So glad to see Women on the Fence has made it to the three year mark and somehow managed to bypass the Terrible Twos! Thank you for all your hard work and congrats on your blogiversary. I believe Crystal is the modern gift given to celebrate this important milestone! Keep on inspiring!"  – Kat, Founder MamaKatsLosinIt.com
"I remember when I first discovered Women On The Fence. I could relate to so many of Erica's blog posts.  As a wife and mom, we tend to put everyone first.  I was "Removing My (Superwoman) Cape" but I was still on the fence about a few things in my life.  Once I read Women On The Fence, Erica inspired me to commit to my goals, get off of the fence and go for them!  I always thought of Erica as a soul sister. We come from two very different backgrounds, but we have the same desire to inspire and that's what she did for me!  Thank you Erica and Congratulations Women On The Fence for a great three years… I wish you many many more!" – Audrey Griffin, Parenting Lifestyle Expert and Wife of Chicago Bulls Coach Adrian Griffin
"Congratulations to Erica Diamond and Women on the Fence on your Blogiversary! I love your passion and applaud your commitment to showing women how to pursue their goals AND succeed!" – Samantha Ettus, Radio Host, Author, Speaker and Forbes Contributor.
"From one industrious Erica to another – Congrats! The thing is, you're anything BUT a women on the fence. You're ambition, driven, and focused with sharing a positive message for women. All the power to you!" – Erica Ehm, CEO YummyMummyClub.ca
"The future belongs to those who believe in the beauty of their dreams" ~Eleanor Roosevelt
We have had the wonderful opportunity to watch you grow from childhood into adulthood with that same determination– to believe in your dreams and make them a reality. And to watch you pass this gift onto your two special sons, is both an honor and a privilege. Congratulations on this incredible endeavor." – Erica Diamond's Mom and Dad
—
September 11th has now become a bittersweet day for me. I celebrate the anniversary of my passion, but I remember those lives lost, 11 years ago today. I encourage you to please read this post from last year. It is the captivating recount of an air traffic controller working on that dreadful day.
"Aviation is in my blood. My family is immersed in it. My mother worked for the 459th Tactical Air Lift Wing from the time I was born until I was almost an adult. My step-father is a pilot for US Airways, my brother, a corporate pilot for a Fortune 100 Company, and my husband and I are Air Traffic Controllers. The aviation community is a like a tribe with its own special language, culture and rituals. When I tell people I am an air traffic controller, most ask me what airport I work at. I've given up explaining that I don't work at an airport at all and that I never even see real life airplanes in my job unless I go out on a break and stare up at the sky.

I was an air traffic controller on duty at the Washington Air Traffic Control Center on September 11, 2001 and will never forget the sense of powerlessness I felt on that tragic day. As someone who tends to try to always be in control, it was a unique perspective into the way your life can change in a moment and the fear that remains after the moment has passed.
September 11th reminds us that life is short, so do what you love.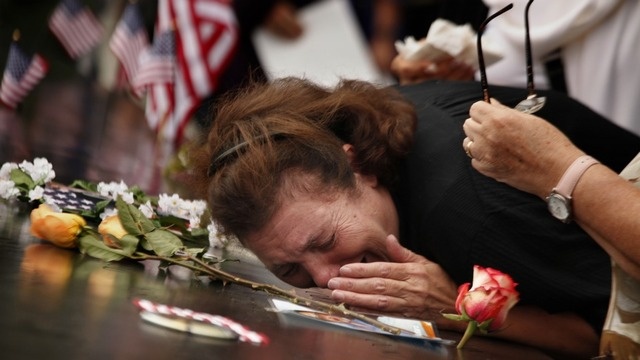 And another thing: we get do-overs in our careers, and actually in many things in life. But we don't get do-overs in our relationships and as mothers. I learned that our children are small for a very short time, and we truly only get one chance to raise them right. No do-overs there. Same goes for our relationships. So a quick tongue, or a fast word can hurt. Be kind, be generous, be loving, be playful, be forgiving, be honest.
You get out of life what you put in. Every time. No shortcuts.
RIP to the 2996 innocent people who died 11 years ago today. We will never forget.
Thank you for reading,
xoxEDxox