Today we celebrate the 4th anniversary of a blog that was born out of feeling stuck, on the fence, alone, confused, and wanting to create a space for women to get inspired, get off the fence, grow, succeed and thrive. You have made that happen. I am grateful for this community who has stood by me in my darkest hours, my greatest triumphs, and given me a safe place to be authentic myself. You have also helped each other, and inspired each other into action.
Never underestimate the power of a few simple words on a page.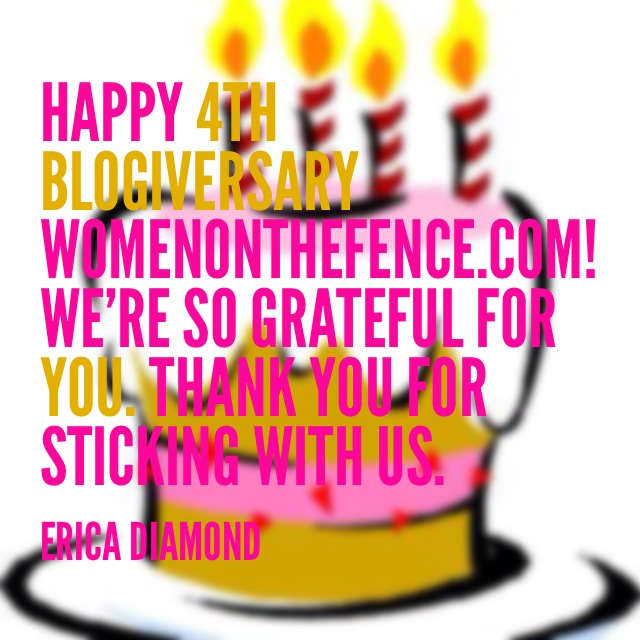 September 11th is always an odd day for me, because our blogging anniversary falls on a most somber day. Today on 9/11, I encourage you to read one woman's journey as an air traffic controller on that fateful day. It is bone-chilling, but important.
Please read: The Day The Skies Went Silent.
Last year we rang in our 3rd blogiversary with beautiful wishes like these:
"Congrats Erica!" – Jenny, The Bloggess.com
"To one of our most valued bloggers with sparkling content: Congrats Erica and WomenOnTheFence.com for 3 years of inspiring and empowering women to get off the fence, and live successfully!" – Arianna Huffington, Founder The Huffington Post
"Congrats on an amazing 3 years! I know this next year will be full of more great accomplishments, impacting women everywhere and making a huge difference in people's lives." – Soledad O'Brien, anchor CNN
"Congratulations on your Anniversary! Three years of elevating your voice, key issues and all who read the blog! Congrats Erica!" – Cory Booker, American Politician, Mayor of Newark
"Congrats Erica and Women On The Fence!" – Brooke Burke, Co-Host Dancing With The Stars and Co-CEO ModernMom.com
"Congrats to WomenOnTheFence.com on their 3 year anniversary and for doing great work on important subjects." – Craig Newmark, Founder Craigslist
"Happy Birthday Women On The Fence… beautiful blog, beautiful women." – Mariel Hemingway, Actress, Mother, Author, Granddaughter of acclaimed author Ernest Hemingway
"Congratulations to WomenOnTheFence.com and gratitude to Erica and her always inspiring presence online and in my daily Twitter feed! To many, many more…." – Christy Turlington Burns, Founder Every Mother Counts, Model, Activist, Philanthropist
"Erica, congratulations on three years of being such a positive and supportive voice for women. In blog years, that means you're legal! Here's to the next three, friend." Lisa Stone, CEO and co-founder BlogHer
"Congrats on the big 3 – three years of blogging about women's issues and opportunities. Your following is in itself a testimony to the quality of your work. Here is to 30 more!" – Brett Wilson, Entrepreneur, Philanthropst, Dragon's Den
"Erica is one of the smartest, kindest most giving people I know. That's why her business grows every year. I'm so happy she's reached this milestone! Congrats on 3 years!" – Richelle Carey, anchor HLN
"Congrats on 3 years of pushing fence-sitters off their comfortable–yet confusing–perches, + to wishing you many more years of disruption!" – Lance Ulanoff, Editor-In-Chief Mashable
"Happy 3rd Blogiversary to Women On The Fence! Way to go Erica!" – Holly Robinson Peete, Actress and Activist
"I remember when you walked into my office – over three years ago – and told me that you wanted to blog. I remember thinking to myself that it may be too late. Too many others had walked before you and had already caught the trend nice and early. I was wrong. I'm glad I was wrong. You have proven that great content that speaks to a niche always finds a home. Congrats on creating such a warm and welcoming home." – Mitch Joel – President, Twist Image & Author, Blogger, Podcaster, Six Pixels of Separation.
"You are inspiration and light to the rest of out here in the blogerverse finding our place. Happy Anniversary." –The Daily OWN
"Three years in blogland is like 50 in real life — a real milestone!! Congrats for making it so far and inspiring women everywhere to take the leap!" – Jill Smokler, Founder ScaryMommy.com
"Happy #3! So proud of you and all the amazing work you do with Women On The Fence." – Tory Johnson, GMA Contributor, CEO Women For Hire, Founder Spark and Hustle
"Congratulations, Erica, on this milestone! You've done such terrific things on WomenOnTheFence!" –Gretchen Rubin, NY Times Bestselling Author The Happiness Project
"Congrats Erica and WomenOnTheFence.com on all your success!" – Ramona Singer, Real Housewives of New York, Entrepreneur, Founder Ramona Singer Pinot Grigio
"Congrats on your glorious 3 year blogiversary Erica! You are one of my faves. Love you! Thank you for being on my show!" – Kimberley Clayton Blaine, Founder TheGoToMom.com
"So glad to see Women on the Fence has made it to the three year mark and somehow managed to bypass the Terrible Twos! Thank you for all your hard work and congrats on your blogiversary. I believe Crystal is the modern gift given to celebrate this important milestone! Keep on inspiring!" – Kat, Founder MamaKatsLosinIt.com
"I remember when I first discovered Women On The Fence. I could relate to so many of Erica's blog posts. As a wife and mom, we tend to put everyone first. I was "Removing My (Superwoman) Cape" but I was still on the fence about a few things in my life. Once I read Women On The Fence, Erica inspired me to commit to my goals, get off of the fence and go for them! I always thought of Erica as a soul sister. We come from two very different backgrounds, but we have the same desire to inspire and that's what she did for me! Thank you Erica and Congratulations Women On The Fence for a great three years… I wish you many many more!" –Audrey Griffin, Parenting Lifestyle Expert and Wife of Chicago Bulls Coach Adrian Griffin
"Congratulations to Erica Diamond and Women on the Fence on your Blogiversary! I love your passion and applaud your commitment to showing women how to pursue their goals AND succeed!" – Samantha Ettus, Radio Host, Author, Speaker and Forbes Contributor.
"From one industrious Erica to another – Congrats! The thing is, you're anything BUT a women on the fence. You're ambition, driven, and focused with sharing a positive message for women. All the power to you!" – Erica Ehm, CEO YummyMummyClub.ca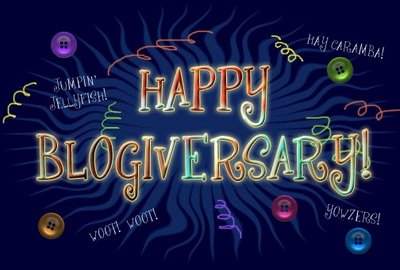 When I asked you this year via social media how I could honor YOU on this day, you asked for giveaways to pamper yourselves as women.
And so, I have done that for you today. Today we are doing something different. Today we are holding our first-ever Facebook contest! To enter is simple…. you just have to like this post on our Facebook Fan Page. More details below.
But let's get started, shall we?
One lucky random winner will go home with each of these funtastic items to pamper yourself!
A One-Year Netflix Canada Subscription AND Apple TV!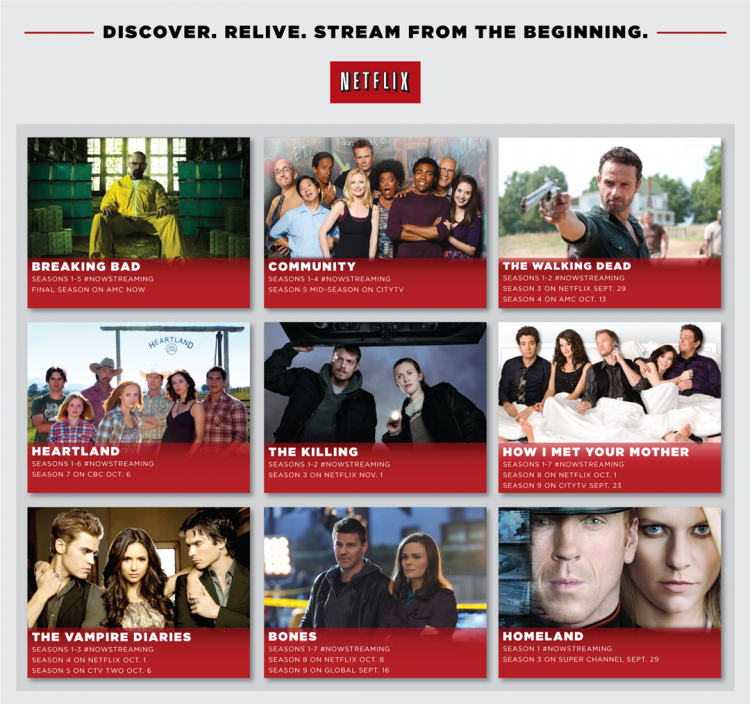 About Netflix, Inc.
Netflix is the world's leading Internet television network with more than 36 million members in 40 countries enjoying more than one billion hours of TV shows and movies per month, including Netflix original series. For one low monthly price, Netflix members can watch as much as they want, anytime, anywhere, on nearly any Internet-connected screen. Members can play, pause and resume watching, all without commercials or commitments. Learn more about how Netflix is pioneering Internet television at www.netflix.com.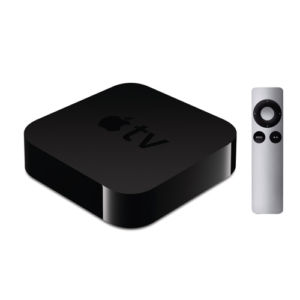 About Apple TV 3rd Generation
The ultra small Apple TV is packed with huge features that change the way you view your entertainment. Enjoy movies, TV shows, and photos in stunning 1080p high definition. Its sleek Apple A5 processor makes it effortless to stream your media from your Apple devices using AirPlay or iCloud. And built-in Wi-Fi means you can rent or buy the latest HD titles right to your HDTV (Goes with Netflix Canada subscription)
—
$100 Aeroplan American Express Gift Card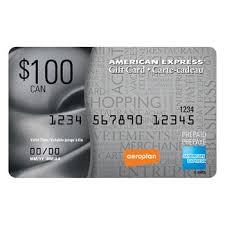 Want to check into a hotel for the night? How about treat yourself to a mani, pedi or spa day? Feeling romantic for a dinner date? With the Aeroplan American Express gift card, you've got $100 to spend anywhere AmEx is accepted around the world!
About Aeroplan
Aeroplan is Canada's premier coalition loyalty program. Aeroplan's millions of members earn Aeroplan Miles with its growing network of over 75 world-class partners, representing more than 150 brands in the financial, retail, and travel sectors. In addition to flights, members also have access to over 1,000 exciting specialty, merchandise, hotel, car rental and experiential rewards. Visit www.aeroplan.com for more details.
—
A Ticket To Stimulate Your Mind at the WIE Symposium in New York City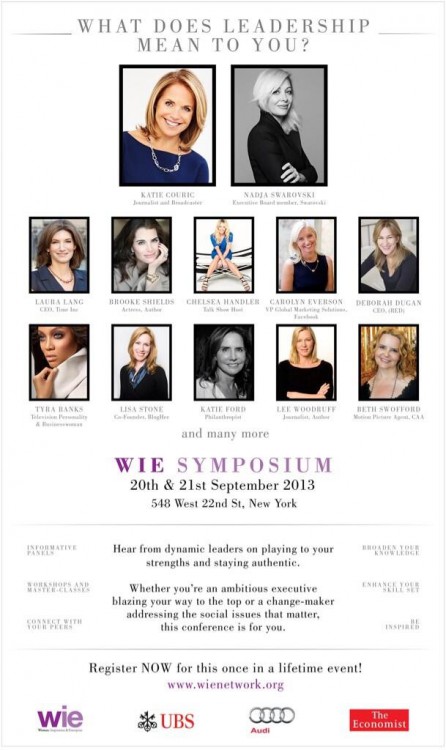 I will be there next week, and now another lucky winner will be there too! Airfare and hotel not included.
Read more about this BRILLIANT symposium (and all the speakers): https://www.WieNetwork.org
—
30-Minute Coaching Session With Erica Diamond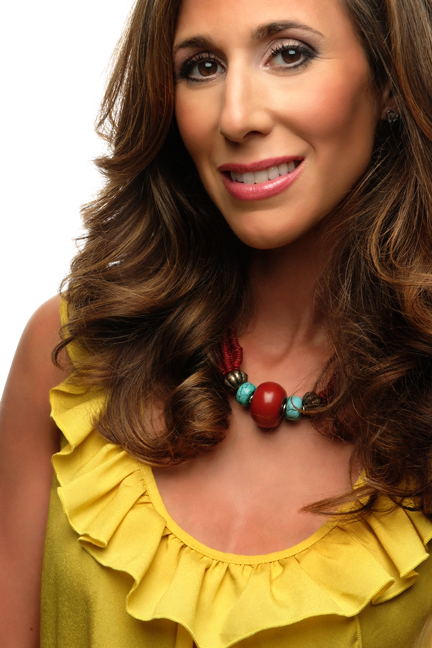 About Erica Diamond
Erica Diamond is the Founder and Editor-In-Chief of the Forbes acclaimed Women's Lifestyle blog WomenOnTheFence.com and the new global Get Off The Fence Movement (www.GetOffTheFenceMovement.com). Erica Diamond is a Certified Women's Success and Lifestyle Coach, Weekly Parenting Correspondent on Global TV, Award-Winning Entrepreneur, Speaker and Author of the popular women's entrepreneurial book, 99 Things Women Wish They Knew Before Starting Their Own Business.
Erica Diamond has been named to the list of The Top 20 Women in Canada, FORBES Magazine's 25 Most Influential Women In Business on Twitter, Spokesperson for National Entrepreneurship Day 2011 and is a Huffington Post contributor.
To read more about Erica's coaching, visit: http://Erica-Diamond.com/Coaching
—-
NEXT, HOW TO WIN!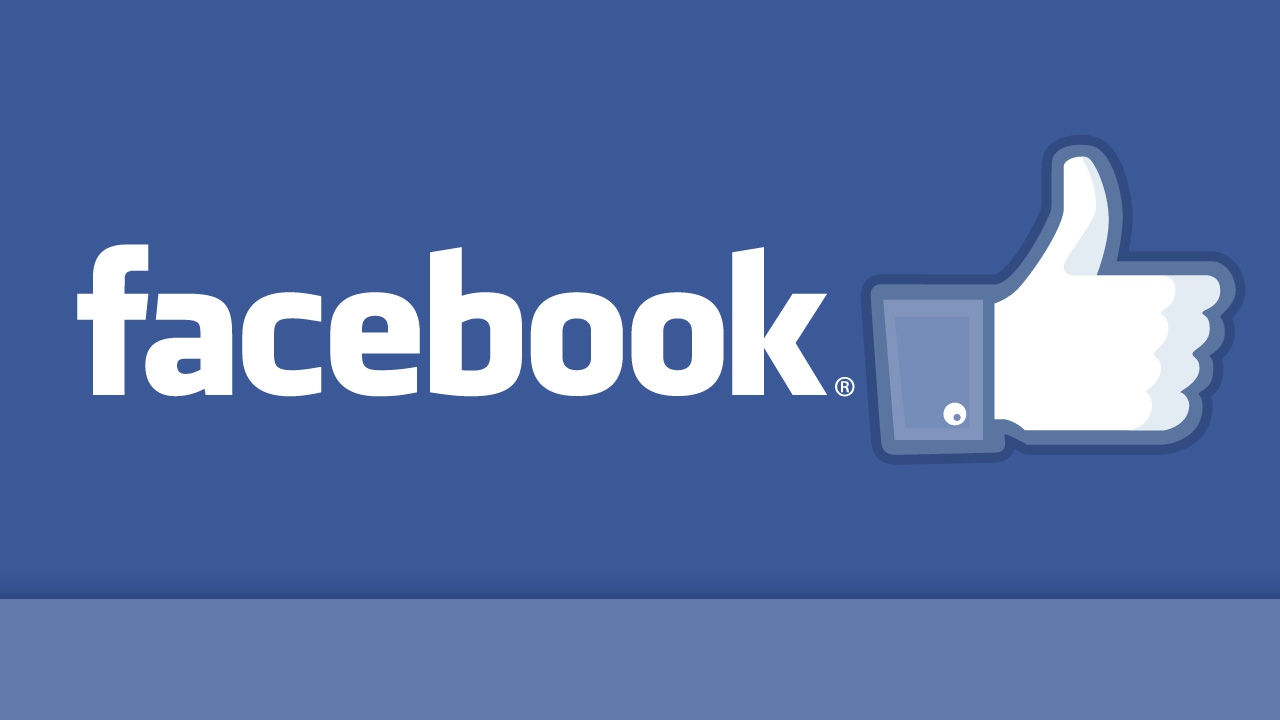 1. Head over to Facebook and like our Facebook Fan Page: http://Facebook.com/WomenOnTheFence.com
2. And next, LIKE the Facebook status update here and read on: http://goo.gl/oMoJ2C
All the likes on that Facebook link will be entered to win. Winners will be drawn September 30th, 2013 and notified via Facebook private message. The only exception is the one random ticket winner to the WIE Symposium, which will be selected and notified September 15th, 2013.
Good luck to all! Now start liking and sharing away for a chance to win!
Happy Blogiversary WomenOnTheFence.com,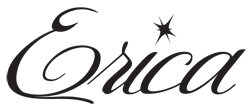 * If you don't wish the accept the giveaway, kindly let us know and we will choose the next random winner. As well, if you win the Netflix and Apple TV prize, this giveaway is only eligible for Canadians.
* All winners must be 18 years of age or older.
* We are not responsible for anything other than providing you with your giveaway.