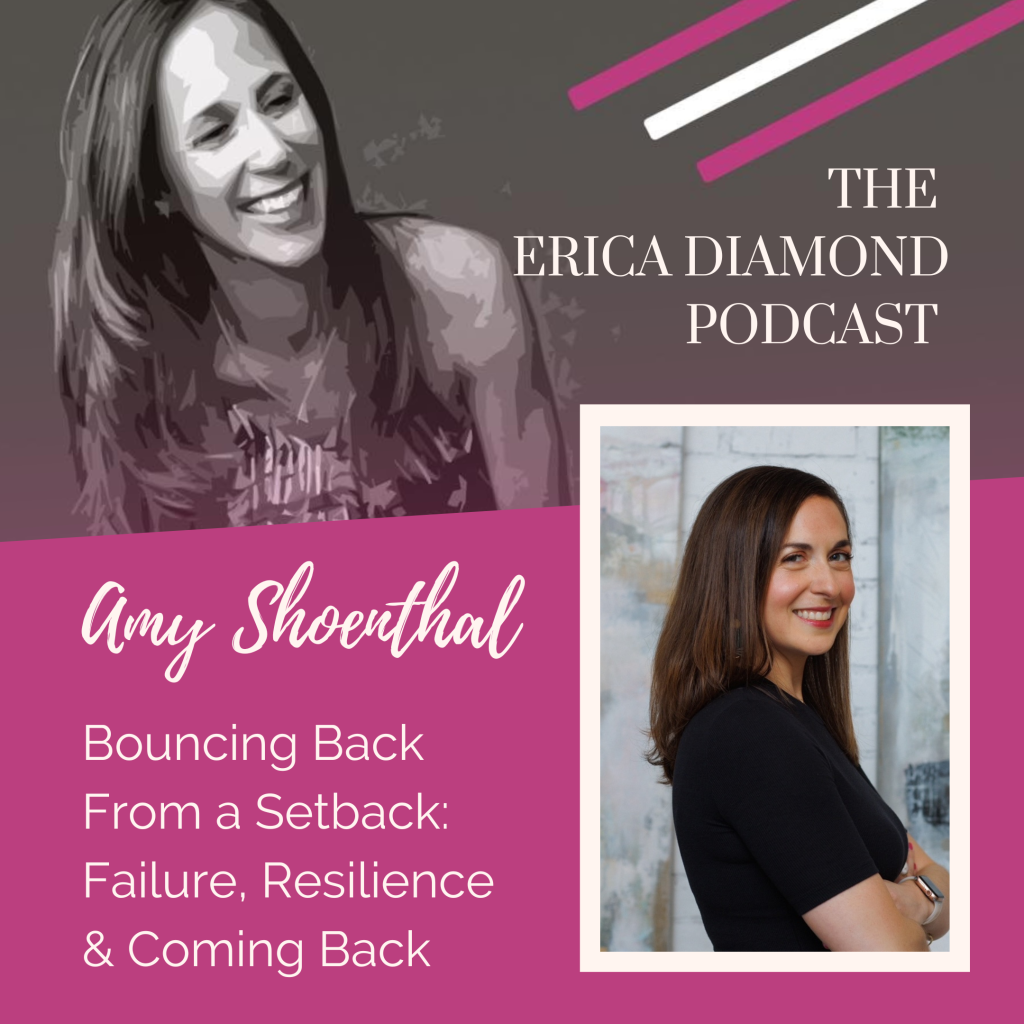 Episode Summary
Welcome back to the show!
Today we have a great guest on a great topic – failure, resilience, and coming back from a setback.
I can't wait for you to five into Season 3, episode 1 with myself and Amy Shoenthal.
In This Episode
Can you tell me a little bit about your background, how you got into journalism and your line of work in resilience and overcoming setbacks?
Tell us about your book, The Setback Cycle. It looks so wonderful! I'm so excited for you!
When facing a setback, some people might feel stuck or overwhelmed. Resilience is of course a key factor in bouncing back from setbacks. What are some actionable steps that our listeners can take to begin their journey towards bouncing back from a recent setback in their lives?
Can you share some inspiring stories or examples of individuals who have successfully bounced back from significant setbacks? What can we learn from their experiences?
Setbacks can sometimes lead to self-doubt and a loss of confidence. How can someone regain their self-esteem and belief in themselves after a setback?
Are there any common misconceptions about setbacks or resilience that you would like to address and share?
I like to ask – what would you tell your younger self and because we're talking about setbacks, failure and resilience, I'd love to know – WHAT WOULD YOU TELL YOUR YOUNG SELF?
Anything else you'd like to share that we didn't cover.
Where can out listeners reach you?
About Amy Shoenthal
Amy Shoenthal is a renowned journalist, author, and marketing consultant. As a top contributor to Forbes Women, she shines the spotlight on those who have been historically underestimated yet are doing the work to solve society's biggest problems. Her work has included interviews with a wide range of leaders such as Senator Mazie Hirono, Tory Burch, Marie Kondo, Norma Kamali, and more. Her book, The Setback Cycle, about how founders and leaders triumph over setbacks comes out in March 2024, and is currently available for pre-order anywhere you buy books.
Links
Learn More about Your Host
Teaching people globally how to prioritize self-care, Erica Diamond is a Certified Life Coach and Certified Yoga & Meditation Teacher, Lifestyle and Parenting Correspondent on Global TV,Founder of Bliss Essential (BlissEssential.co), Professional Speaker, Host of The Erica Diamond Podcast, Course Creator of Busy To Bliss (BusyToBliss.com), and The Burnout Rescue Blueprint, Author of the bestselling new release List Your Goals Journal, and Founder & Editor-In-Chief of the Award-Winning Lifestyle Platform EricaDiamond.com® (previously WomenOnTheFence.com®),
Erica Diamond has been named to the coveted list of The Top 20 Women in Canada, FORBES Magazine's Top 100 Sites for Women and a Profit Hot 50 Canadian Company. Erica Diamond was the Spokesperson for National Entrepreneurship Day and is a Huffington Post contributor.
To learn more about Erica Diamond, visit her website EricaDiamond.com
Don't forget to SIGN UP for Erica's newsletter and tips: https://wellness.ericadiamond.com/subscribe
If you liked this, then listen to the podcast episode for even more. And don't forget to subscribe to the show!