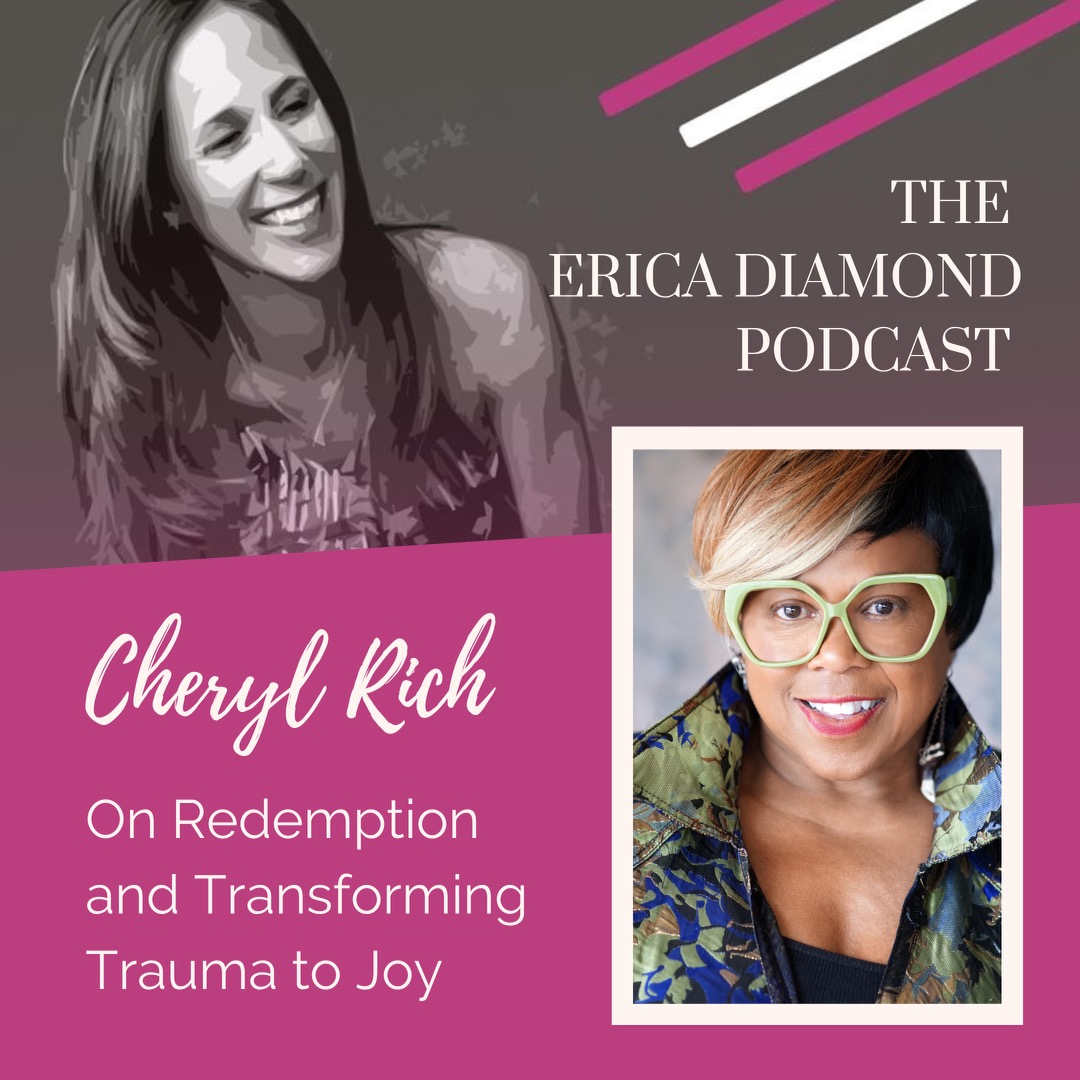 Episode Summary
Welcome back to the Erica Diamond Podcast!
Today I have a very special guest. One who is the definition of resilience. I stumbled in a room recently on Clubhouse, and there I heard Cheryl Rich speaking. 
I listened to her share her life's story and tears were literally streaming down my face. Cheryl was pregnant at 11 years old. At 18 years old, her only child, Eric, was killed in a car accident. After a treacherous journey through drug addiction and then prison, Cheryl rose from the ashes with brutal courage and fierce determination to overcome the most mind-shattering tragedies.
I felt her pain as she spoke, and yet I felt her resilience and her triumph and her power.
I reached out to her and asked her if she would share her story with you– our beloved listeners. Well, I'm so grateful she said yes.
Enjoy our very candid, and very intimate and raw interview.
In This Episode
Take me back to your childhood. To understand how far you've come is to share where you began.
Cheryl, pregnant at 11. I can only imagine the fear in discovering this news.
Cheryl, can you share with us about your son Eric, who passed away in a car accident?
How did you find the inner strength to make it through those difficult times of addiction, incarceration, and the loss of Eric?
What was the mental shift in your mind that had to take place for you to go from victim to thriving survivor.
Talk to me about the role of forgiveness as part of your recovery.
Are there teachable moments here, because I imagine there are? If so, what would they be?
For someone listening going through a very difficult time, what advice or wisdom could you share with them
Tell me about your book that you're writing.
What would u tell your younger self?
About Cheryl Rich
Cheryl Rich is a reality TV personality and executive producer who principally collaborates with Doug Deluca of Jimmy Kimmel Live. She is also a seasoned public speaker and founder of Self-Acceptance Academy. For over a decade Cheryl has volunteered hundreds of hours with other non-profit organizations. She has been a board member of the Pico Youth & Family Center and was the Director of Community Outreach for AIM4theHeart.
Cheryl is an "Oprah-like" psychologist for those in desperate situations. Pain does not discriminate, therefore whether she is conducting therapy for at-risk youth or white-collar housewives, Cheryl has the uncanny ability to provide much-needed hope to the hopeless. Cheryl has facilitated therapy sessions within churches, foster homes, drug rehabilitation centers, juvenile halls, and prisons.
She was pregnant at 11 years old. At 18 years old, her only child, Eric, was killed in a car accident. After a treacherous journey through drug addiction, incarceration and a "self-made-hell," Cheryl rose from the ashes with brutal courage and fierce determination to overcome some of life's most mind-shattering tragedies.
After many years of self-exploration Cheryl completed a master's degree in clinical psychology from Antioch University. She is a certified Intervention Specialist and licensed Victims Assistant Mediator. Cheryl's nonconventional therapeutic technique literally meets people where they are. Today she relentlessly guides others from mental imprisonment to liberation and from self-hatred to self-love.
A quote by the author Og Mandino has become Cheryl's personal mantra: "I am here for a purpose and that purpose is to grow into a mountain, not to shrink to a grain of sand. Henceforth, I will apply ALL my efforts to become the highest mountain of all. And I will strain my potential until it cries for mercy."
Links
Learn More about Your Host
Teaching women how to prioritize self-care, Erica Diamond is a Certified Life Coach and Certified Yoga & Meditation Teacher, Lifestyle and Parenting Correspondent on Global TV, Professional Speaker, Host of The Erica Diamond Podcast, Course Creator of Busy To Bliss, Author of the women's entrepreneurial book 99 Things Women Wish They Knew Before Starting Their Own Business, and Founder & Editor-In-Chief of the Award-Winning Lifestyle Platform EricaDiamond.com® (previously WomenOnTheFence.com®).
Erica Diamond has been named to the coveted list of The Top 20 Women in Canada, FORBES Magazine's Top 100 Sites for Women and a Profit Hot 50 Canadian Company. Erica Diamond was the Spokesperson for National Entrepreneurship Day and is a Huffington Post contributor.
To learn more about Erica Diamond, visit her website EricaDiamond.com
Don't forget to SIGN UP for Erica's newsletter and tips:
https://wellness.ericadiamond.com/subscribe
If you liked this, then listen to the podcast episode for even more. And don't forget to subscribe to the show!