Disclosure: This article is sponsored by the Holiday Inn Express® brand. All opinions are my own. 
Calling all sports families!
Are you that family? Do your kids play sports? Better yet, are you the team manager?
I am super excited to announce a new partnership today. I think you will agree it is the perfect collaboration for this hockey mom of two boys. I've teamed up with Holiday Inn Express brand that has 96 sports-friendly hotels across Canada!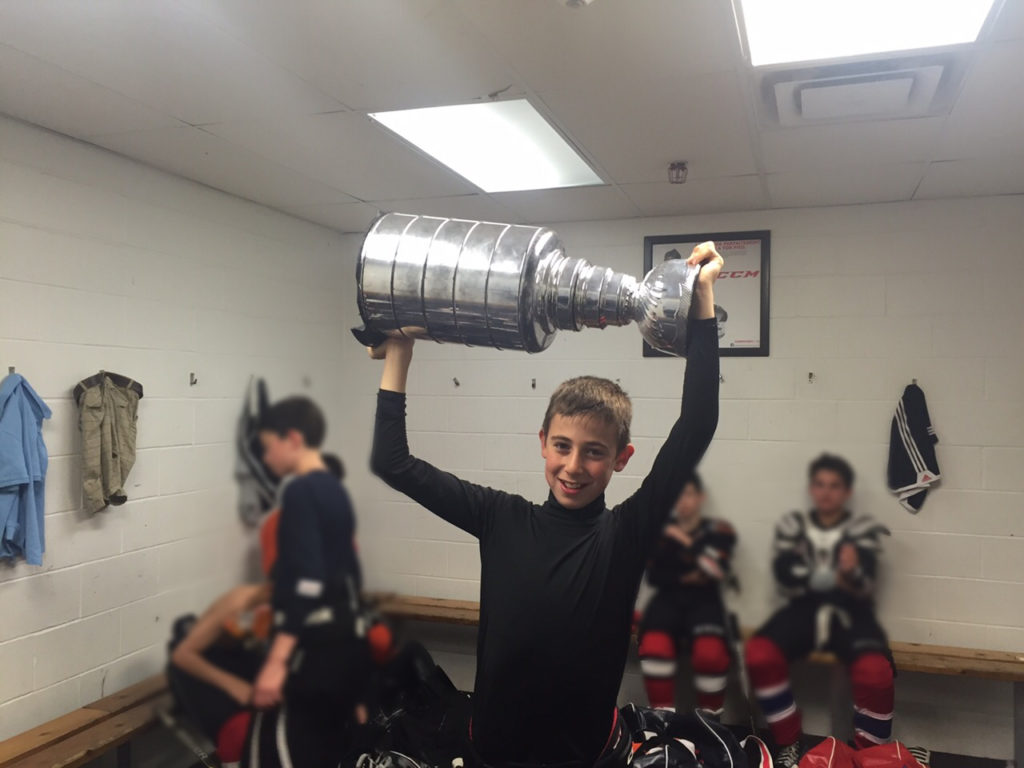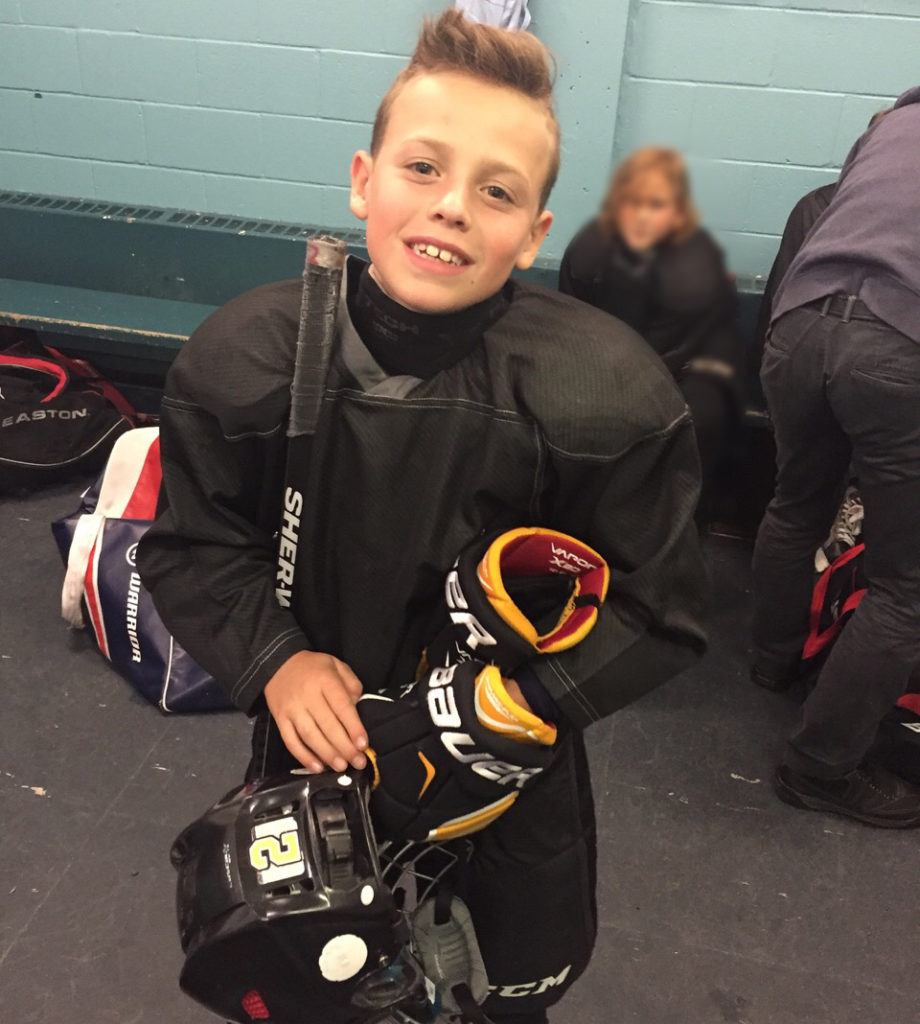 Before I get into what you need to know if your child's sports team is on the road for a tournament this season, I want to give a little bit of background as to why this partnership is so meaningful to me and my family. For the past five summers, we have been staying at the Holiday Inn Resort Lake George-Turf during Visiting Day at my children's summer camp. It has become our summer home away from home.
Holiday Inn Express is actually part of the same family of hotel brands. They offer so much to families like us that travel often for competitive sports – free hot breakfast, a great night's sleep and fantastic room rates.
And clearly, they know how to make you feel comfortable. 🙂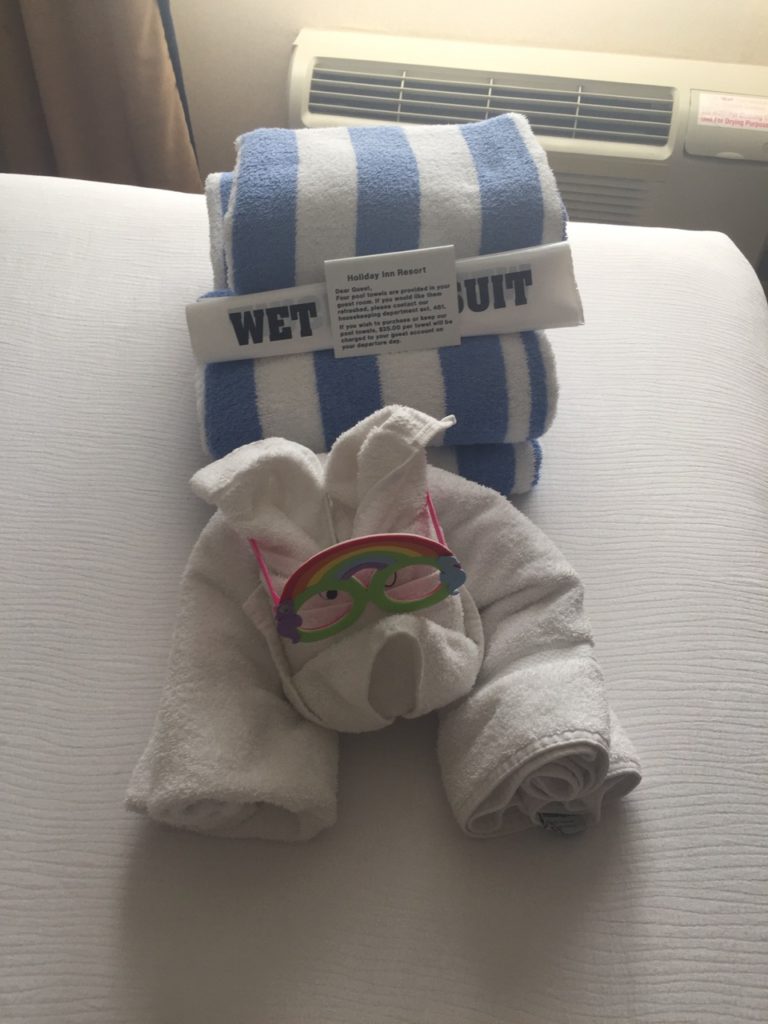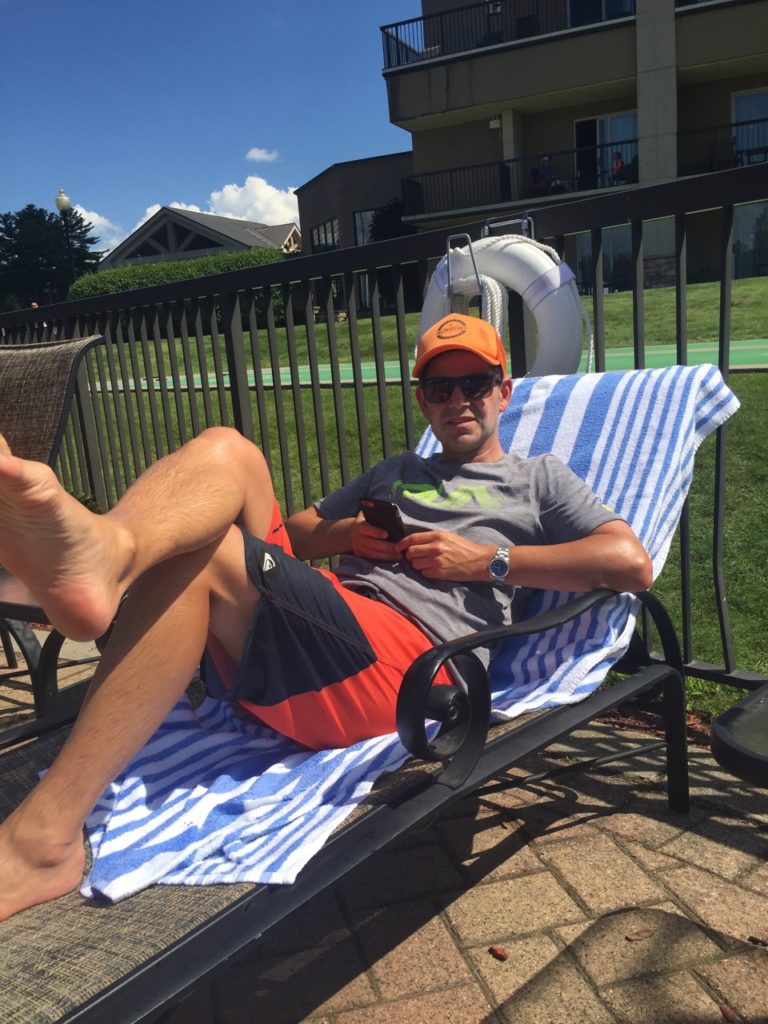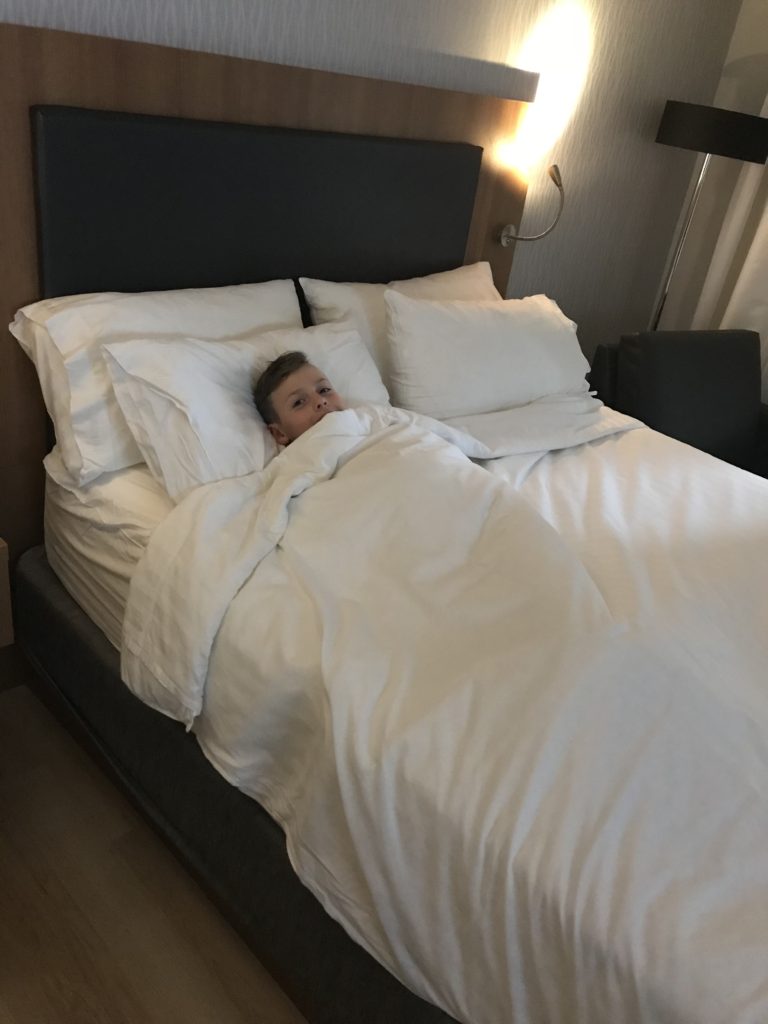 So, if your child's sports team is on the road for a tournament this season, let me show you why the team MUST stay at a Holiday Inn Express. In fact, my son's hockey tourney is coming up in November, and we are staying at the Holiday Inn Express in Gatineau Quebec, and here's why: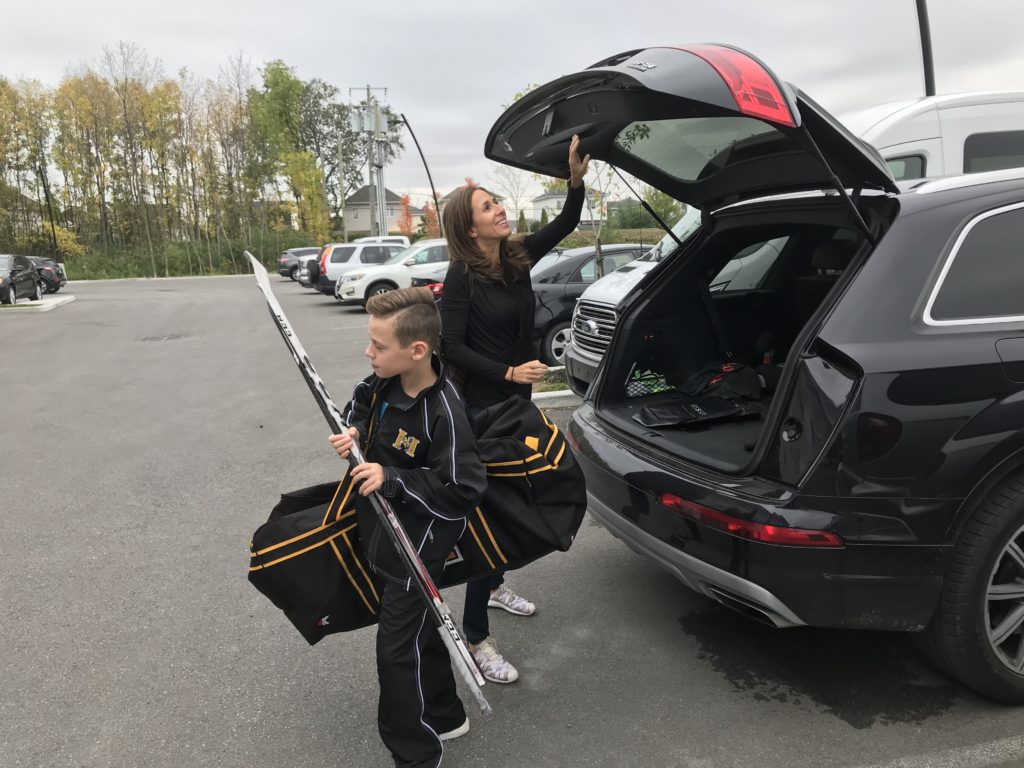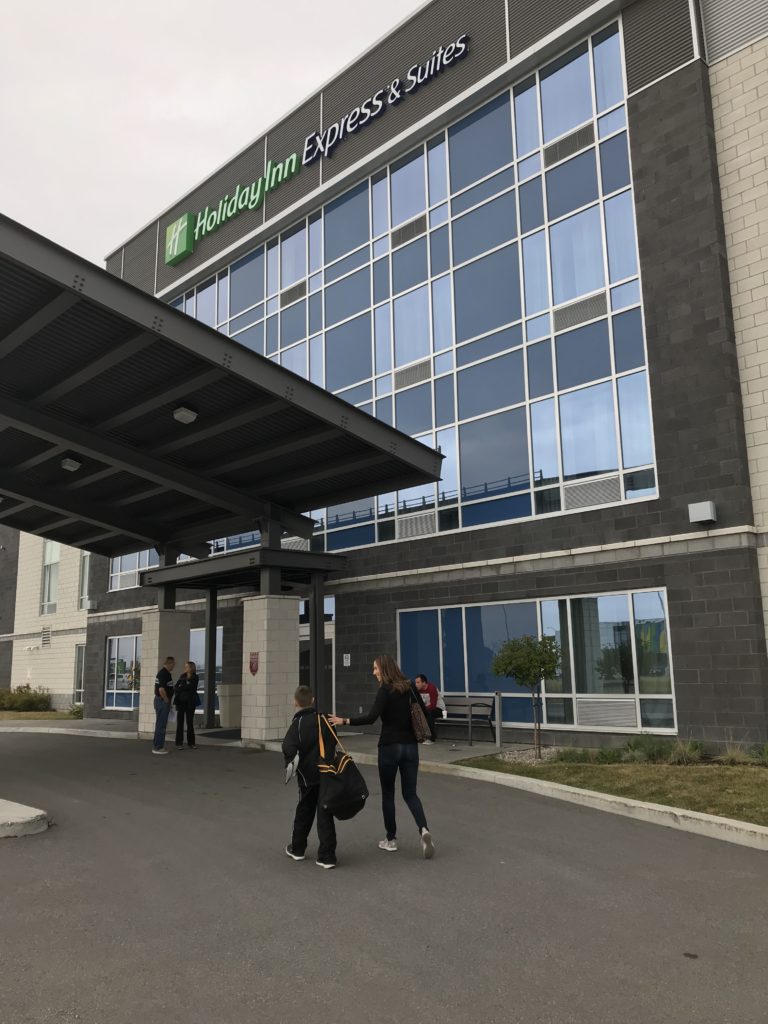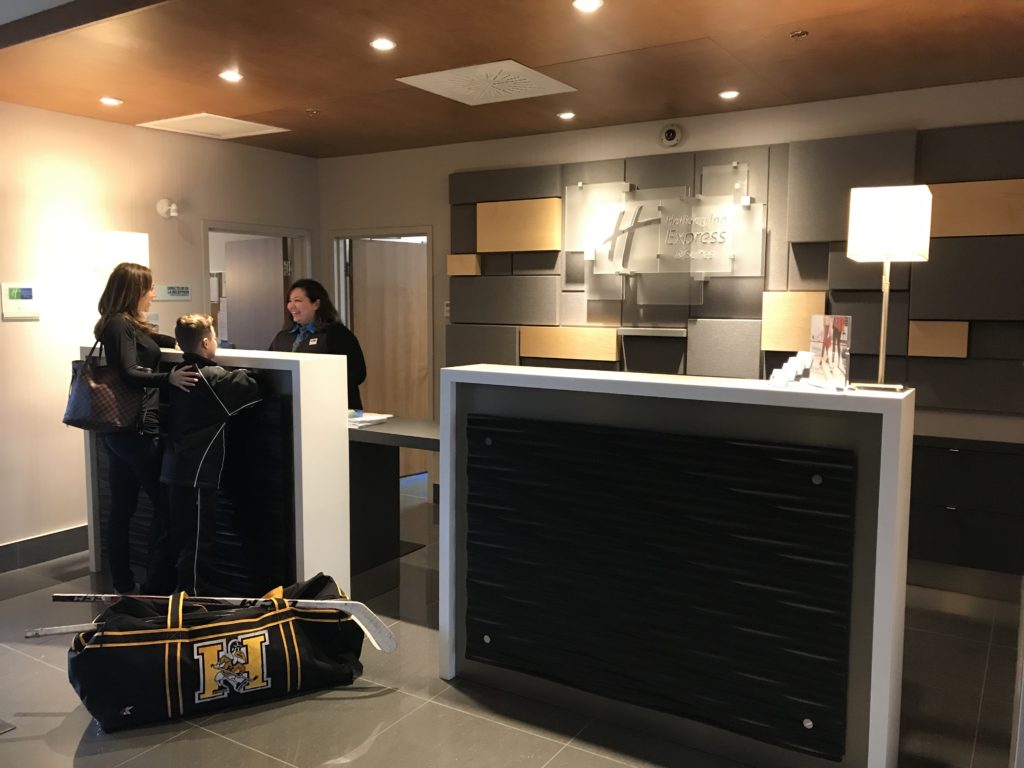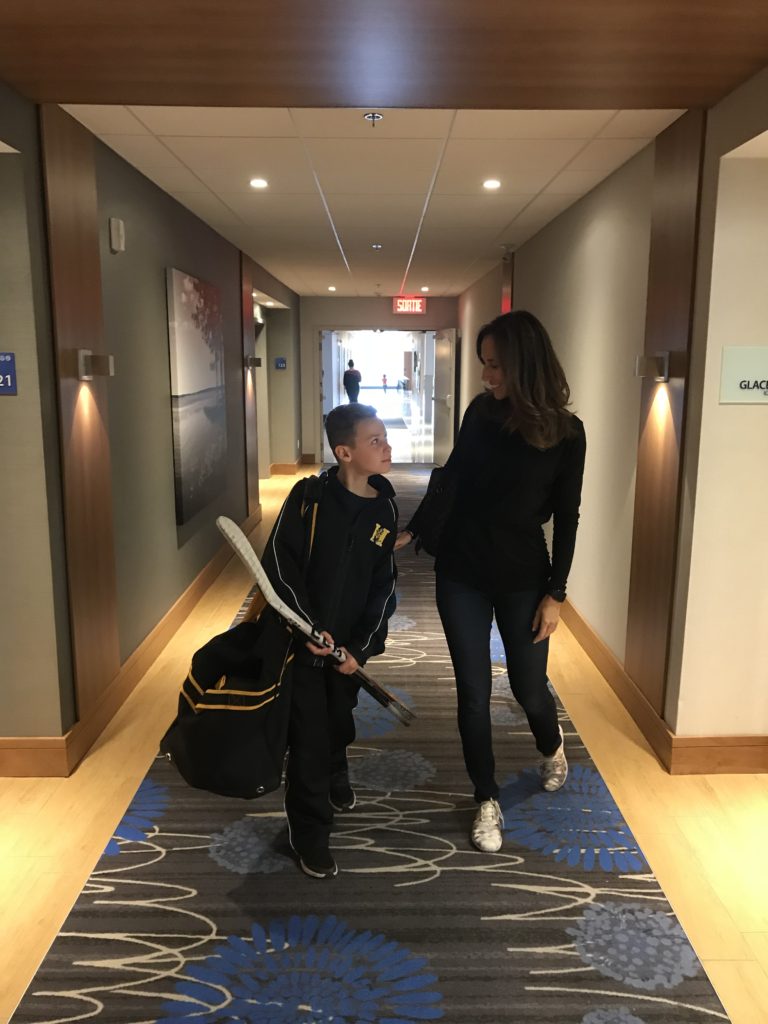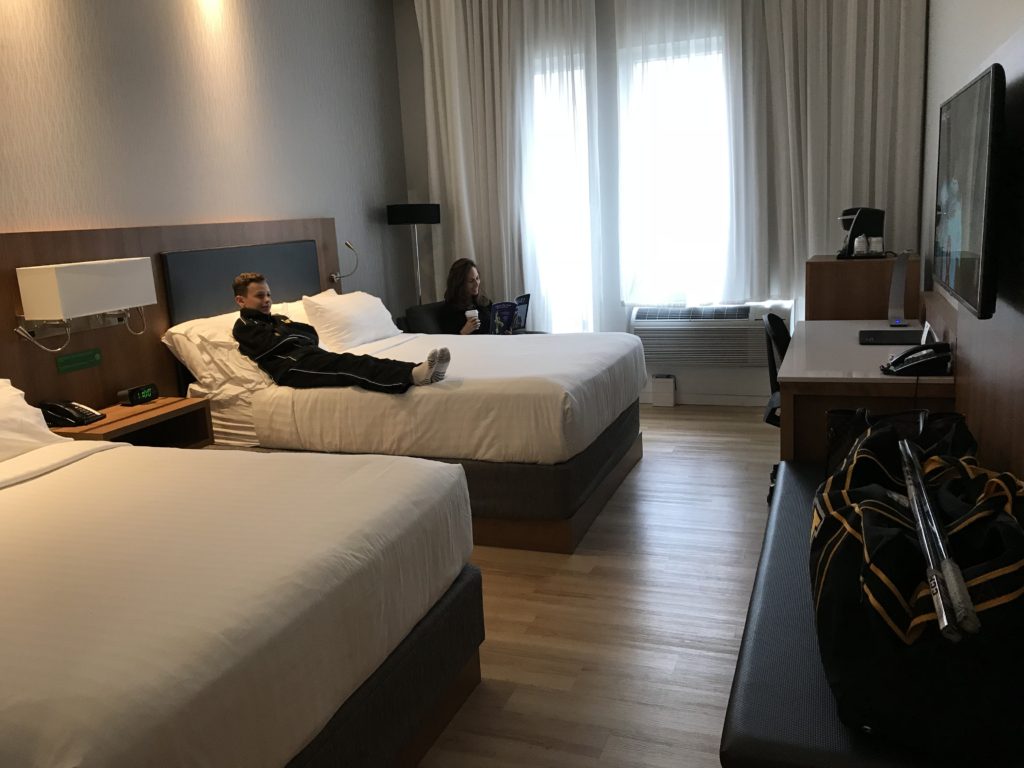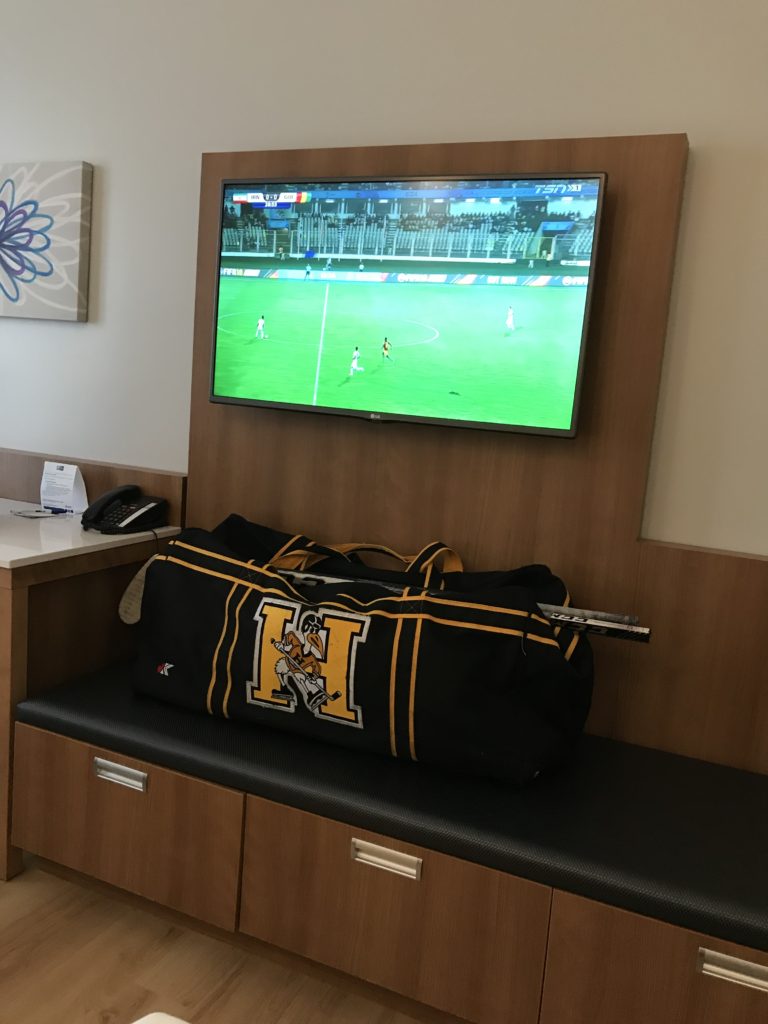 The IHG® Game Changing Advantage

With the fall/winter sports season ramping up, you can really keep the stress out of traveling in big groups by booking the comfortable and sports-friendly hotel like the Holiday Inn Express.  And if your team stays at a Holiday Inn Express, you can take advantage of a program called the IHG® Game Changing Advantage.  If you do book with Holiday Inn Express, you should ask for things like: team- friendly meals, access to equipment storage rooms, extra towels, and free parking for your car or bus! 
Oh yah, and did I mention a pool for the team to take a dip in after the big game?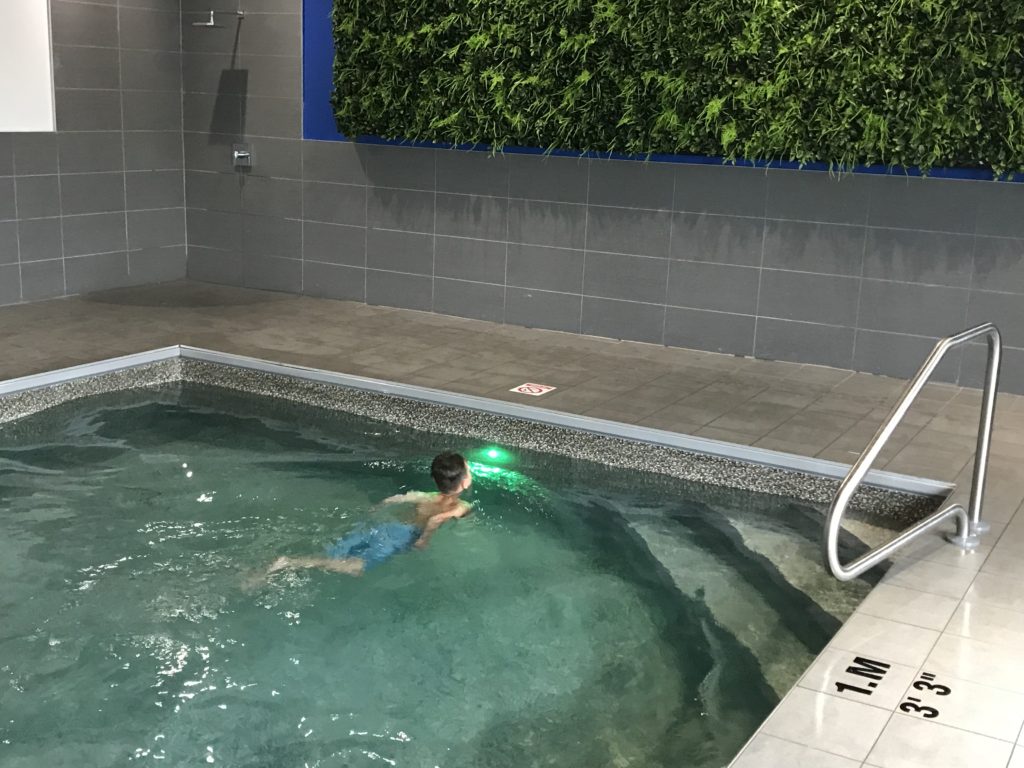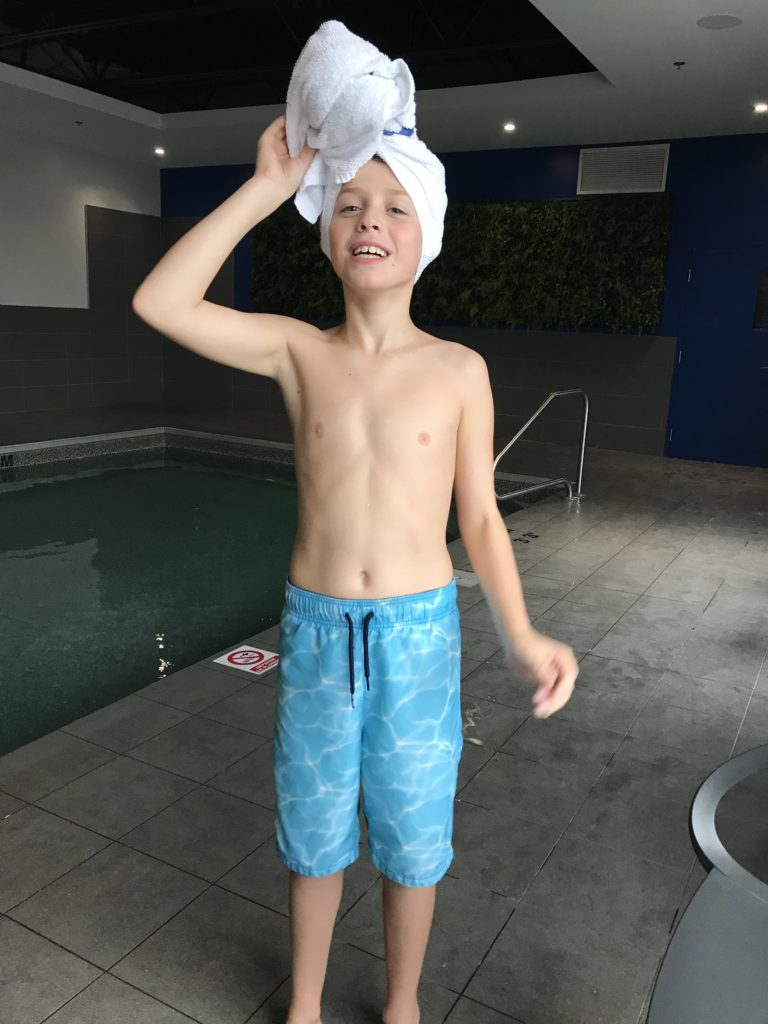 To learn more, visit the IHG® Game Changing Advantage at HIEXpress.com/sports
And speaking of those team-friendly meals, with that delicious hot free breakfast, you must take advantage of their mouth-watering pancakes! They have been doing it for a long time and they are known for it. Clearly my guy ate them up!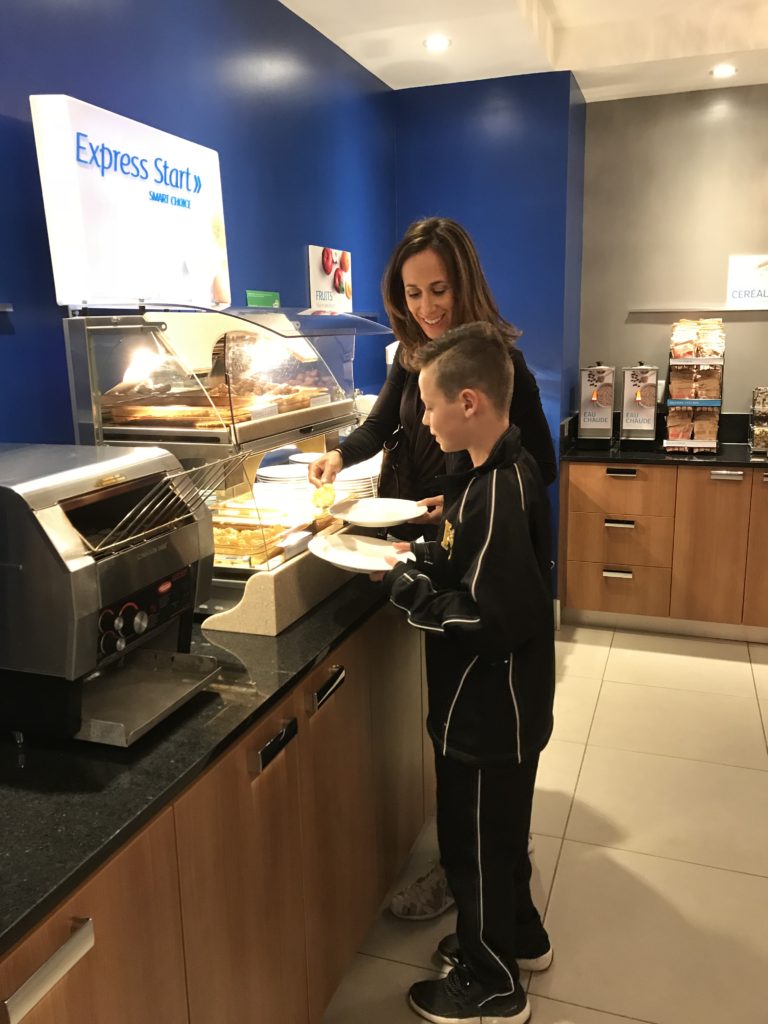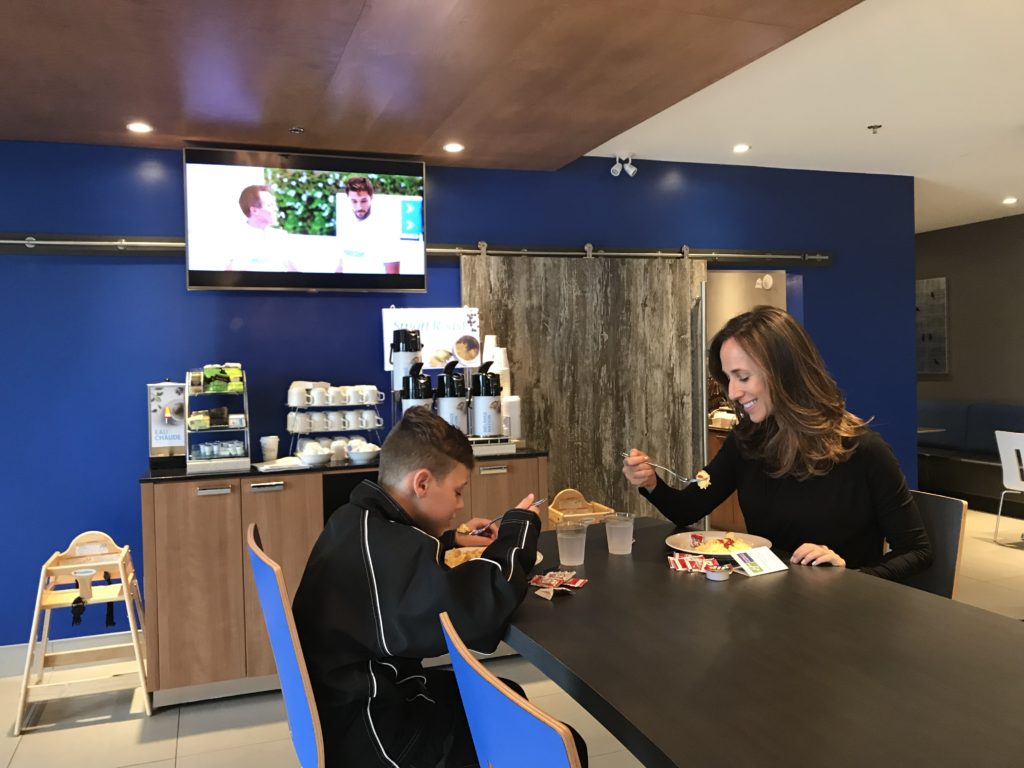 IHG Business Rewards
If you are the awesome parent that has volunteered to book and manage the group room blocks for your team, you can sign up for IHG Business Rewards and earn points for every room you book on behalf of your team! YES! Go mom/dad manager! But seriously, it's a great way to accumulate points and reward yourself at the end of the season with a mini vacation!

Geez, I'm not the manager of my team, but I'm starting to regret it now!
FUN FACTS
The Holiday Inn Express brand is one of 12 IHG (InterContinental Hotels Group) family of brands. With 6 of the 12 IHG brands residing in Canada, over 90% of the 177 hotels participate in an in-hotel program called the IHG® Game Changing Advantage.
There are 96 Holiday Inn Express Hotels in Canada with many locations in sporting cities such: Vancouver, Edmonton, Calgary, Red Deer, Mississauga, and Winnipeg all the way up to Sault Ste. Marie, Dryden and Timmins, Ontario. You'll be able to find your perfect hotel near to the next arena venue in whatever city you are participating in your next team tournament or meet.
IHG believes in supporting local sports teams and associations from Coast to Coast. They have already established partnerships with the following sports organizations/teams: Swimming Canada, Eli Wilson Goaltending, CPRA (Canadian Professional Rodeo Association), Volleyball Canada, Swoosh Canada Basketball, Team Englot and Team Laycock. ?

So remember, if your child's sports team is on the road this season, visit this link and call immediately to take advantage of everything The Holiday Inn Express has to offer you and your kids: HIEXpress.com/sports .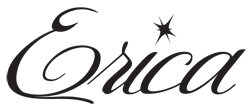 These photos were taken at the Holiday Inn Express & Suites Vaudreuil-Dorion.