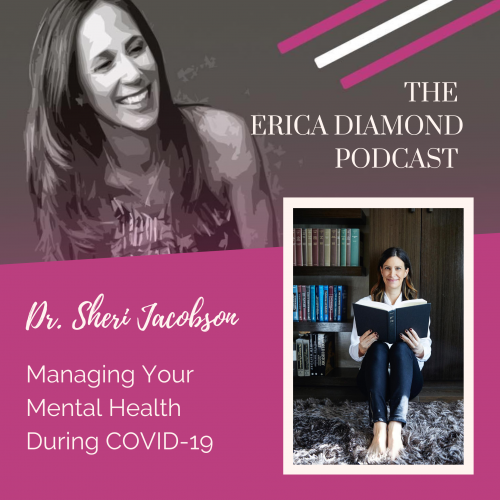 How you can listen to this episode:




Episode Summary
Welcome to the Erica Diamond podcast. Today's guest is very special and dear to me. Sheri grew up my best friend and then she and her family moved away to London, England when we were just 8. We have stayed in touch all these years, and didn't let oceans get in the way.
Today on the show, we're hearing from a true expert on how to manage AND navigate these difficult times we are living through. Today we're going there. Today we're asking the question: HOW ARE WE REALLY DOING DURING COVID-19, AND WHAT CAN WE DO ABOUT IT?
Sheri also shares about her recent journey with breast cancer.
We kicked off the episode by reading something that really spoke to many of Glennon Doyle's fans, and is very apropos to our episode:
"I think—somewhere in the middle of last week—I hit a wall.
I am sad. I feel lost and aimless in my home most of the day. I am cranky with my people. Even though we're together all day—I'm somehow gone. I'm claustrophobic in this covid world. The news makes me terrified and so full of rage I want to scream. I wander around all day with this nagging feeling that I'm not doing enough writing enough helping enough creating enough parenting enough wifeing enough BEING enough—that I'm wasting my time, my hours, my days, my life.
Crawling along.
Gonna keep going.
Love you madly.
"No feeling is final."
In This Episode
What the climate is like in the UK.
Let's start with the self and managing mental health: What are 3 things we can do when we feel overwhelmed or anxious, which is the reality for many around the globe.
Let's move onto marriage and relationships. Corona has not exactly been a passion booster for many during corona, all this togetherness! How can couples keep the peace and manage stress? How can we make it work during these times?
It's also a lot of together time with our kids. The kids have been home every day since March 12th, and personally, I'm out of meal options and out of family activity ideas. I even find myself getting on my kids nerves. How do we keep the peace with our kids, and how can we help them manage the disappointments from the pivot that THEY have had to make.
Let's move onto to work. Can you share some work from home mental health tips. How can we create healthy boundaries around work at home and from the office.
Let's talk about the role of screens and the increased screen use in both ourselves and our kids. Can we loosen the rules? I know my kids have become nocturnal since the onset of COVID-19. How normal and healthy is all of this?
Sheri, you have been going through your own journey during COVID. You were diagnosed with breast cancer recently. How are you feeling? What has cancer taught you about yourself?
What are you reading now?
Answer these quick question:I'm happiest when…

I'm most uncomfortable when…

Favorite movie…

Favorite meal…

Top item on my bucket list…
About Dr. Sheri Jacobson
Dr Sheri Jacobson is a retired senior psychotherapist and Founder of the renowned Harley Therapy Clinics in London, and the more recently formed Harley Therapy Platform – a network of therapists across the UK with fees from as little as £25 per session. She is committed to raising the standard of therapy in the UK and making it a positive mainstream topic.
Links
Learn More about Your Host
Teaching Empowered Living, Erica Diamond is a leading Women's Expert in Lifestyle, Wellness and Empowerment. A Certified Life Coach and Certified Yoga Instructor, Erica is the Founder and Editor-In-Chief of the Award-Winning Women's Lifestyle Platform EricaDiamond.com® (previously WomenOnTheFence.com®), Weekly Lifestyle and Parenting Correspondent on Global TV, Award-Winning Entrepreneur, Keynote Speaker, Spokesperson, and Author of the women's entrepreneurial book, 99 Things Women Wish They Knew Before Starting Their Own Business. Erica founded the Global Get Off The Fence Movement inspiring people worldwide to get off the fence, get unstuck and thrive, and launched The Erica Diamond Podcast in summer 2019 to spotlight trailblazers and change makers around the world.
Erica Diamond has been named to the coveted list of The Top 20 Women in Canada as well as FORBES Magazine's Top 100 Sites for Women and FORBES 25 Most Influential Women In Entrepreneurship on Twitter. Erica Diamond was the Spokesperson for National Entrepreneurship Day and is a Huffington Post contributor.
To learn more about Erica Diamond, visit her website EricaDiamond.com
Don't forget to SIGN UP for Erica's newsletter and tips:
https://feedburner.google.com/fb/a/mailverify?uri=ericadiamondcom&loc=en_US
If you liked this, then listen to the podcast episode for even more. And don't forget to subscribe to the show!