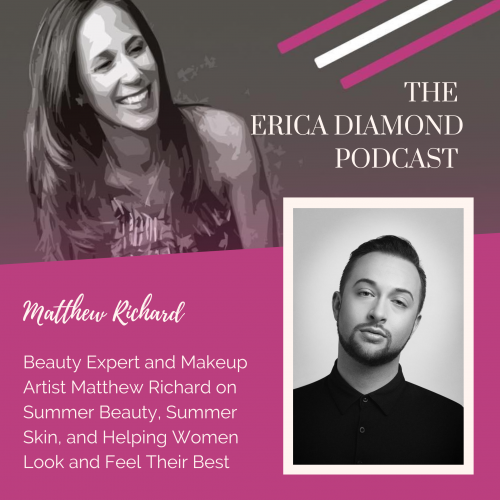 How you can listen to this episode:




Episode Summary
We are living through difficult times– it is no secret. And experts have said to brace ourselves, because this is our new normal for a while.
Between EricaDiamond.com, my weekly segments on Global TV, and social media, I have covered every angle of COVID19: from stress, to work, to family. And because it's summer, and I ALWAYS go lighter in the summer in my lifestyle brand, I decided to introduce a little lightness to our show. And a giveaway! Click here.
I dont know about you, but I am trying to age gracefully, and to fight the wrinkles that are coming on with a welcomed embrace. It ain't easy, believe me. And since we are starting to reintegrate back into social settings, and step out of our homes for perhaps to a backyard dinner date or socially distanced pool party outside, I wanted to have a beauty expert on the show to discuss summer skin, summer beauty, makeup tips, musts for summer, and what the beauty trends are now during our COVID summer.
Today I'm thrilled to have Matthew on the show. Matthew Richard is a makeup artist and Influencer Relations lead for MAKE UP FOR EVER. He is obsessed with helping women look and feel their best.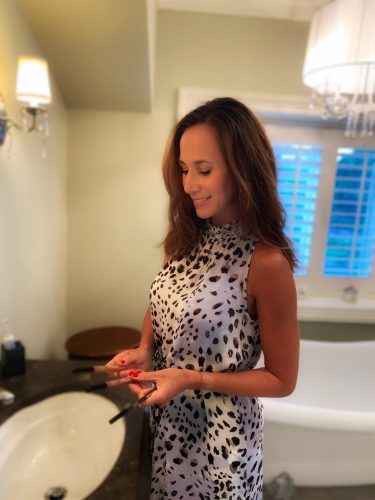 Matthew's personality is magnetic, and I know you're going to love him as much as I do.
If you like what you hear, have no fear… Matthew is back for part 2 in the fall! for Fall beauty and how to care for ourselves in the fall.
In This Episode
Has the industry felt the effects of COVID as well?
So many of us are navigating the new normal. Zoom meetings are where it's at! To keep things simple and natural, how can we be zoom meeting ready – or shall we say, work form home ready?
Summer is here! Let's talk summer skin. How can we care for our skin during the summer (I like to mix foundation and sunscreen, is this even right)?
What are the beauty or makeup trends we are seeing this summer? I assume looks will be more natural, to go with the times we are living in.
What are the 5 essentials we need this summer?
I know that our skin reflects what goes into into our bodies – that means food, how we sleep, exercise, how much water we drink. How does lifestyle effect our skin, and what are some quick makeup tricks to hide tired skin, or imperfect skin? Give us all the professional makeup tips that transform a tired face into a glowing one!
And more!
About Matthew Richard
Matthew Richard is a makeup artist and Influencer Relations lead for MAKE UP FOR EVER. He is obsessed with helping women look and feel their best.
Links
Make Up Forever Aqua Resist Liner
Make Up Forever Aqua Resist Smokey Shadow

Learn More about Your Host
Teaching Empowered Living, Erica Diamond is a leading Women's Expert in Lifestyle, Wellness and Empowerment. A Certified Life Coach and Certified Yoga Instructor, Erica is the Founder and Editor-In-Chief of the Award-Winning Women's Lifestyle Platform EricaDiamond.com® (previously WomenOnTheFence.com®), Weekly Lifestyle and Parenting Correspondent on Global TV, Award-Winning Entrepreneur, Keynote Speaker, Spokesperson, and Author of the women's entrepreneurial book, 99 Things Women Wish They Knew Before Starting Their Own Business. Erica founded the Global Get Off The Fence Movement inspiring people worldwide to get off the fence, get unstuck and thrive, and launched The Erica Diamond Podcast in summer 2019 to spotlight trailblazers and change makers around the world.
Erica Diamond has been named to the coveted list of The Top 20 Women in Canada as well as FORBES Magazine's Top 100 Sites for Women and FORBES 25 Most Influential Women In Entrepreneurship on Twitter. Erica Diamond was the Spokesperson for National Entrepreneurship Day and is a Huffington Post contributor.
To learn more about Erica Diamond, visit her website EricaDiamond.com
Don't forget to SIGN UP for Erica's newsletter and tips:
https://feedburner.google.com/fb/a/mailverify?uri=ericadiamondcom&loc=en_US
If you liked this, then listen to the podcast episode for even more. And don't forget to subscribe to the show!
This episode is sponsored by