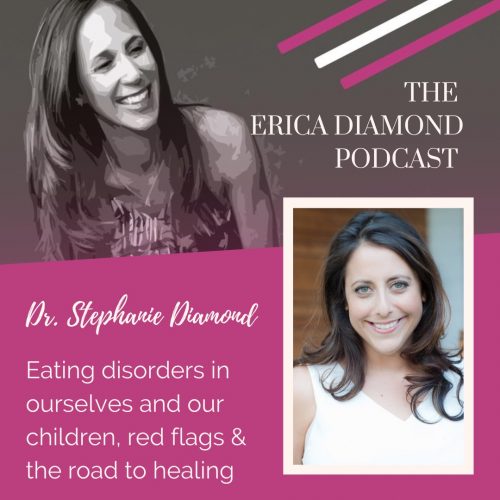 Episode Summary
Welcome back to the Erica Diamond podcast. When I think of today's guest, I think of the tune, "We are family, I got all my sisters with me!" Our guest today is very special and dear to me. She is my sister-in-law, Dr. Stephanie Diamond. I just might be a little biased when I say she's smart, lovely, kind, caring and is a true expert in her field. But I know that after you listen to our interview, you will agree.
Welcome my sister-in-law to the show, AKA Dr. Diamond!
In This Episode
Tell us exactly, what IS eating disorder, can you define it for us
Take us back to high school and then college, when did you realize this was the field you wanted to study?
You are now in outpatient private practice, and before that, you were the director of the Oliver Pyatt Center for eating disorders. Talk to me about both jobs, very contrasting I imagine, and do you miss being in a center with the patients, or do you enjoy being on your own? I imagine COVID has changed a lot for the patients themselves in how they struggle. Maybe you can touch on that as well.
f we are concerned that either we or someone we love might be suffering with an ED, what are some red flags that suggest a possible eating disorder?
I have heard of all different categories of new disorders when it comes to eating, like Orthorexia and other terms. Talk to us about these new disorders and when it becomes more than just food.
You have helped us identify the signs and red flags, and if we spot those signs, what are the next steps we should follow? Let's talk about ourselves first, and we'll get to our children.
And if we see these signs in our children. What should we do next?
Genetic component or not? Are eating disorders a result of biochemistry or environment?
Let's talk about some warning signs of when to know that someone we love is teetering on an unhealthy relationship with food
I know it's a long road and journey, but how can we start to work towards a healthy relationship with food if we're not already there?
You have two daughters. What is your vision to help them develop healthy eating habits and a love and passion for food. Because for me, food is love and passion. For me food is not to be feared, it is to be loved.
What gets you out of bed in the morning?
What are you reading now?
When are you at your happiest?
What is something loving we can say to ourselves or our children that breeds positivity and compassion in our daily lives.
And more!
About Dr. Stephanie Diamond
Dr. Stephanie Diamond is a Miami-based psychologist in private practice. For over 18 years, Dr Diamond has specialized in the treatment of eating disorders at all levels of care, helping hundreds recover from eating disorders and other complex psychiatric illness.
Dr. Diamond has presented nationally on the topic of self-compassion, and on a myriad of themes related to the treatment of eating disorders. She is known for her mentoring and supervision of other professionals, her direct, yet warm, therapeutic style, and her capacity to engage patients with their deeper work.
Links
Learn More about Your Host
Teaching Empowered Living, Erica Diamond is a leading Women's Expert in Lifestyle, Wellness and Empowerment. A Certified Life Coach and Certified Yoga Instructor, Erica is the Founder and Editor-In-Chief of the Award-Winning Women's Lifestyle Platform EricaDiamond.com® (previously WomenOnTheFence.com®), Weekly Lifestyle and Parenting Correspondent on Global TV, Award-Winning Entrepreneur, Keynote Speaker, Spokesperson, and Author of the women's entrepreneurial book, 99 Things Women Wish They Knew Before Starting Their Own Business. Erica founded the Global Get Off The Fence Movement inspiring people worldwide to get off the fence, get unstuck and thrive, and launched The Erica Diamond Podcast in summer 2019 to spotlight trailblazers and change makers around the world.
Erica Diamond has been named to the coveted list of The Top 20 Women in Canada as well as FORBES Magazine's Top 100 Sites for Women and FORBES 25 Most Influential Women In Entrepreneurship on Twitter. Erica Diamond was the Spokesperson for National Entrepreneurship Day and is a Huffington Post contributor.
To learn more about Erica Diamond, visit her website EricaDiamond.com
Don't forget to SIGN UP for Erica's newsletter and tips:
If you liked this, then listen to the podcast episode for even more. And don't forget to subscribe to the show!